New Transfer Protocols at Scripps Offer Stroke Patients Faster Access to Lifesaving Care
Partnership with EMS ensures patients receive transfer and interventions faster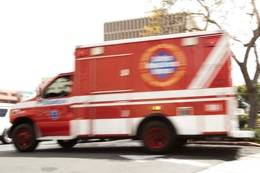 A new lifesaving stroke transfer protocol implemented at Scripps Health was presented at the 2016 International Stroke Conference. The system ensures stroke patients receive faster access to clot-removing treatments that are not available at every stroke receiving center.
Through an agreement with emergency medical services (EMS) providers in San Diego County, when a stroke patient with signs of a large vessel blockage arrives at one of Scripps' primary stroke centers, a critical care transportation ambulance and nurse are dispatched to the hospital and remain on stand-by during the patient's clinical evaluation. If it is determined that a patient needs specialized vascular treatment, such as an embolectomy that can remove blood clots in patients with large vessel blockages, the EMS team immediately transfers the stabilized patient to the comprehensive stroke center at Scripps Memorial Hospital La Jolla or to Scripps Green Hospital for the procedure.
Patients with large vessel blockages as a result of a stroke caused by an obstruction within a blood vessel supplying blood to the brain, known as an ischemic stroke, should be treated with clot-removing procedures within six hours of the onset of symptoms, according to recommendations from the American Heart Association/American Stroke Association.
"At Scripps, we are committed to getting patients the treatment they need as quickly as possible so that we can give them the best outcome," said Gilda Tafreshi, MD, neurologist and stroke medical director at Scripps Mercy Hospital. "The transfer protocols can prevent delays of 30 minutes or longer and when time is brain, every second counts."
According to the American Heart Association/American Stroke Association, stroke is the leading cause of disability and the fifth most common cause of death in the United States.
"The use of endovascular procedures, such as embolectomies, has been a game changer for patient outcomes after a stroke," said Giuseppe Ammirati, MD, director of neuroendovascular services at Scripps La Jolla. "We have seen patients who would have been devastated for the rest of their lives leave the hospital a few days after a major stroke, returned to normal neurological condition."
Scripps provides comprehensive stroke care from the onset of stroke symptoms through stroke rehabilitation. In addition to the highly trained and specialist stroke teams at Scripps, emergency and trauma clinicians are trained to identify the signs of stroke and deliver early intervention care that limits damaging effects.
Scripps Memorial Hospital La Jolla has been designated a Comprehensive Stroke Center by The Joint Commission as part of the new Disease-Specific Care Advanced Certification Program for Comprehensive Stroke Centers, in collaboration with the American Heart Association.
Additionally, all Scripps hospitals with emergency rooms are designated as Primary Stroke Centers by The Joint Commission. The designation confirms that the hospital always has available a team of physicians who provide the most up-to-date and efficient stroke care, along with the tools and expertise to treat acute stroke quickly and competently to minimize or even reverse brain injury.