Scripps La Jolla Named Among Top 100 Hospitals in the U.S.
Hospital receives Everest Award given to highest, most consistent performers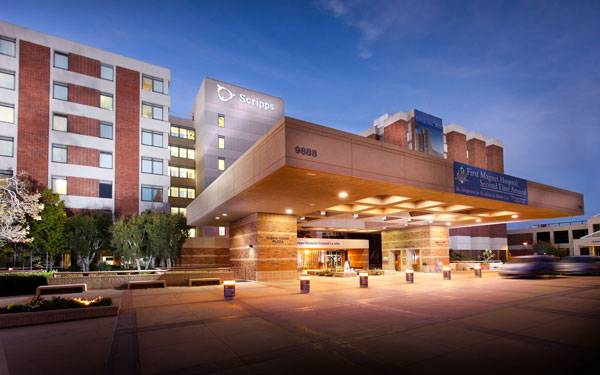 Scripps Memorial Hospital La Jolla has been named among the top 100 hospitals in the nation by the international business research firm Truven Health Analytics.
The 23rd annual 100 Top Hospitals® list released today by Truven identified the best hospitals in the United States based on their overall organizational performance, including patient clinical care measures and business efficiency.
Appearing for the first time on the list, Scripps La Jolla was recognized in the large community hospitals category.
It also was among 17 hospitals from the Top 100 Hospitals list to receive Truven's Everest Award®, given to hospitals that have achieved both the highest current performance and the fastest long-term improvement over five years.
Scripps La Jolla was the only hospital in San Diego County to make the prestigious list this year.
"We are honored to be recognized as a high-performing hospital that delivers exceptional value to our patients and our community," said Gary G. Fybel, chief executive of Scripps La Jolla. "We are proud to be recognized for having systems in place that safeguard patients, produce superior outcomes, provide evidence-based treatments and deliver effective care at a reasonable cost."
The study, which was based on 2014 data, found that the top performing hospitals across the country had lower 30-day mortality and readmission rates, fewer patient complications and higher survival rates than non-winning peer group hospitals, while reducing overall expense per patient.
Extensive hospital evaluations
The Truven Health Analytics annual 100 Top Hospitals study evaluated the performance of nearly 3,000 hospitals across the country. Truven researchers measured clinical and operational performance in 11 areas, using publicly available information from Medicare cost reports, Medicare Provider Analysis and Review data, and core measures and patient satisfaction data from the Centers for Medicare and Medicaid Services Hospital Compare website. Hospitals do not apply for consideration, and winners do not pay to market this honor.
Truven this year added core measures for stroke care and blood clot prevention, in place of the retired acute myocardial infarction, heart failure, pneumonia and surgical care core measures. It also added emergency department throughput measures to expand measurement of process efficiency in a department that is an important healthcare access point to every community.
In 2015, Scripps opened its Prebys Cardiovascular Institute at the Scripps La Jolla campus. The most advanced heart care center on the West Coast features world-class physicians, ground-breaking research and state-of-the-art technology. The tower houses two hybrid operating rooms, four cardiovascular operating rooms, 59 intensive care unit beds and 108 private inpatient rooms. A new emergency and trauma center will open in the institute's ground floor later this year.
The Truven listing came on the heels of an annual state report that designated Scripps La Jolla as the only hospital in California rated above average for outcomes in coronary artery bypass graft surgery (CABG) with valve replacement or repair.
Recent honor for Scripps Green
Other Scripps hospitals have received accolades recently as well.
Earlier in February, Healthgrades named Scripps Green Hospital, also in La Jolla, to its 2016 list of "America's 50 Best Hospitals." The honor is based on overall clinical excellence across a broad spectrum of care. Scripps Green is the only hospital in San Diego County to make Healthgrades' 2016 list of "America's 50 Best Hospitals." Healthgrades is an online consumer resource for hospital and physician information.
Hospitals on the Healthgrades list demonstrated superior performance in clinical quality outcomes for patients in the Medicare population across at least 21 of 32 of the most common inpatient conditions and procedures. These included areas such as cardiology, gastroenterology, orthopedics, neurosciences, and a variety of pulmonary, vascular and critical care issues.
Learn more about Scripps Health, a nonprofit integrated health system in San Diego, Calif.