Scripps Experts Present at Heart Rhythm Scientific Sessions
Sessions cover recent research on Reveal LINQ, Lariat and Watchman devices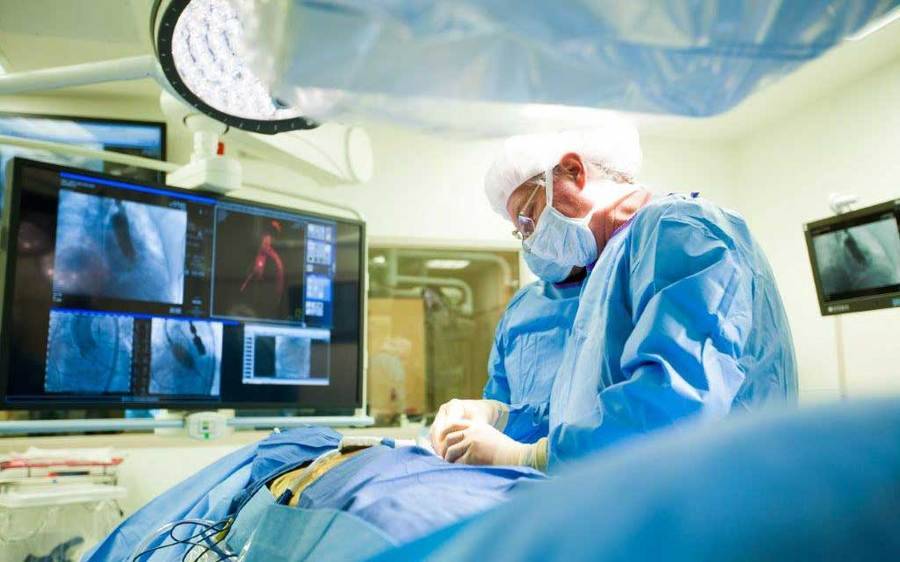 From results of new clinical trial testing of devices that monitor for atrial fibrillation and close off a heart appendage prone to blood clotting, to a session on the future of pacemakers with transvenous leads, Scripps Health cardiology experts will share leading edge techniques for improving heart care during the annual Heart Rhythm Scientific Sessions taking place May 4 to 7 at the Moscone Center.
Scripps presenters are internationally renowned cardiologists specializing in preventative procedures, research and education, as well as being part of one of the nation's top-rated heart care programs.
Reveal LINQ trial results
John Rogers, MD, will present on the use of implantable cardiac monitors in syncope patients. He will also discuss new results from the LINQ Real World Registry study comparing atrial fibrillation detection rates with the CRYSTAL AF study, which found the Reveal LINQ wireless implantable heart monitor to be better at detecting atrial fibrillation in patients with cryptogenic stroke at a one-year follow up. The session is scheduled for 3:15 p.m., Thursday, May 5, in Rhythm Theatre 1, Exhibit Hall ABC.
Placed just beneath the skin of the chest, the Reveal LINQ continuously monitors and records heart rhythms. Dr. Rogers was the first cardiologist in the United States to implant a LINQ following the device's clearance by the Food and Drug Administration in early 2014.
Lariat procedure leakage study
Douglas Gibson, MD, Andrea Natale, MD, and Matthew Price, MD, are among the co-authors of results being presented from a clinical trial that evaluated leakage into the left atrial appendage at least one year after the heart appendage was closed off with the Lariat Suture Delivery Device. The session is scheduled for 3:15 p.m., Thursday, May 5, in the Epicenter Theater 1, Hall D.
The Lariat delivers a tied suture loop that looks similar to a lasso through a catheter inside the patient's heart. Once the loop is in place around the left atrial appendage, physicians pull back on the Lariat device to tighten the knot and close off the appendage. The small sack, which serves no known function, is the primary source of blood clots leading to stroke in patients with atrial fibrillation, a serious heart rhythm disorder that affects millions of Americans.
Drs. Gibson and Price were the first in San Diego to perform this innovative procedure following FDA clearance of the device in 2012.
Additionally, Dr. Gibson will present results of a new study that looked at the safety of implanting the Watchman left atrial appendage closure device while patients continued taking the blood thinning medication warfarin. The presentation is scheduled for 9 a.m., Friday, May 6, in EPicenter, Hall D.
Wednesday night, Dr. Gibson will join a panel of national experts to discuss all aspects of Watchman implantation including experiences since Food and Drug Administration clearance of the device, which have demonstrated significant improvements in procedure safety. Dr. Gibson has implanted more Watchmans than any other U.S. physician since FDA clearance in March 2015. The panel is scheduled for 7 p.m., Wednesday, May 4, at the San Francisco Marriott Marquis, 780 Mission St.
Do transvenous lead pacemakers have a future?
Steven Higgins, MD, director of cardiac electrophysiology and co-director of the catheterization laboratory at Prebys Cardiovascular Institute, will chair a session discussing the future for transvenous leads in emerging era of leadless pacemakers. Six presentations will be part of the session, which begins at 10:30 a.m., Thursday, May 5, in Room 2003, Moscone West.
Dr. Higgins also is a co-author of a late-breaking clinical trials presentation showing that the new leadless pacemakers have less complications than traditional pacemakers. The session is scheduled for 1:30 p.m., Friday, May 6, in Room 135, Moscone North.
Additionally, J. Thomas Heywood, MD, director of the Advanced Heart Failure and Mechanical Circulatory Support Program at Prebys Cardiovascular Institute, will deliver the following presentations at the conference:
•My Patient's Pulmonary Artery Sensor Is Reading an Elevated Pressure But the Patient Feels Well – Treat the Number or the Patient?
11:30 a.m., Thursday, May 5, Room 2010, Moscone West
•How to Prevent Heart Failure Hospitalizations Through Pulmonary Artery Pressure Monitoring
4:55 p.m., Friday, May 6, Room 2002, Moscone West
Each year more than 76,000 patients receive their cardiovascular care from Scripps, making it San Diego County's largest heart care provider. Scripps is consistently recognized by U.S. News & World Report as one of the best providers of heart care in the country.
Learn more about Scripps Health, a nonprofit integrated health system in San Diego, Calif.