New Study Shows Effectiveness of Prostate Cancer Therapy
Scripps part of study on stereotactic body radiation therapy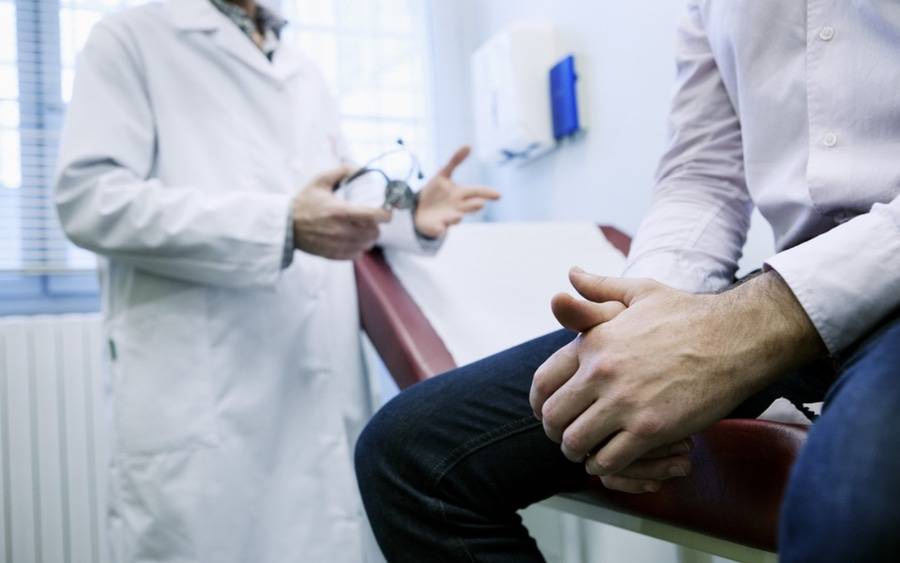 Scripps part of study on stereotactic body radiation therapy
Many prostate cancer patients can be treated effectively using stereotactic body radiation therapy (SBRT), according to results from a national research study published online this month by the International Journal of Radiation Oncology*Biology*Physics. 
The study also will be published in the October print edition of the journal, also known as the Red Journal, the official publication of the American Society for Radiation Oncology (ASTRO).
The trial represents the largest multi-institutional prospective study of SBRT to treat localized prostate cancer. Researchers at 21 medical centers, including Scripps Clinic, followed the clinical outcomes of 309 prostate cancer patients for five years after SBRT treatments. The observational study specifically followed low- and intermediate-risk patients, which comprise the majority of all prostate cancer patients in the U.S.
High survival rate with SBRT
Results from the study showed that intermediate-risk prostate cancer patients treated with SBRT had a disease-free survival rate of 97.1 percent five years after treatment. For low-risk prostate cancer patients treated with SBRT, the five-year disease-free survival rate was 97.3 percent. Patient outcomes were not compared against a study control group, but rather were analyzed against data from earlier research involving other radiation therapy methods.
"The study affirms that SBRT is a very compelling option for men with low- and intermediate-risk prostate cancer," said Patrick Linson, MD, a Scripps Clinic radiation oncologist. Dr. Linson was principal investigator for the San Diego portion of the study and is a co-author on the article.
Dr. Linson and colleagues compared SBRT outcomes with historical controls reported in a separate recently published study, which involved a variety of different prostate cancer treatments, such as proton therapy, brachytherapy, conventional external beam radiation and robotic surgery. In this separate study, intermediate-risk prostate cancer patients had a five-year disease-free survival rate between 75 percent and 82 percent. Patients with low-risk prostate cancer had a disease-free survival rate between 78 percent and 87 percent.
In addition to showing exceptional cancer control, the study results demonstrated that SBRT is well-tolerated, with less than 2 percent of patients reporting significant side effects from treatment. The side effects from SBRT were favorable when compared to historical controls involving conventional radiation therapy and surgery, which have rates of significant side effects up to 4 percent. 
Patients in the SBRT study were treated between January 2008 and April 2010. All study participants were having their prostate cancer treated for the first time and SBRT was their sole therapy. Scripps is the only San Diego-based institution that participated in the study. 
SBRT, also known as stereotactic ablative radiotherapy (SABR), administers high doses of radiation, using several beams of various intensities aimed at different angles to precisely target the tumor.
SBRT begins with one or more sessions of treatment planning with CT, MRI or other advanced imaging techniques to precisely map the position of the tumor. The images are used to design a four-dimensional, customized treatment plan that determines beam intensity and positioning. The goal is to deliver the highest possible dose to kill the cancer while minimizing exposure to healthy organs.
Stereotactic body radiation treatments are usually given as a single dose or up to five doses once a day, although this can vary depending on the type and location of the tumor and the patient's physical condition. The best candidates for this procedure are patients with small, well-defined tumors who cannot tolerate surgery. For some patients, SBRT may be able to replace surgery as a primary cancer treatment.
"For prostate cancer patients who choose to be treated, SBRT offers outstanding clinical outcomes and very low rates of side effects, all in a much shorter course of treatment," Dr. Linson said.
Patients with low- to intermediate-risk prostate cancer typically choose either radiation therapy, surgery or active surveillance. Decisions are usually made in consultation between the patient and physician, based on individual medical considerations and personal preferences.
In 2016, Scripps Health and The University of Texas MD Anderson Cancer Center announced a partnership to create the Scripps MD Anderson Cancer Center, a clinically integrated cancer care program offering the most advanced oncology care in San Diego. The new partnership is expected to launch this fall.
Learn more about Scripps Health, a nonprofit integrated health system in San Diego, Calif.