Father/Daughter Doctor Duo — Prabhakar and Sravanthi Tripuraneni
Mutual interests in medicine and marathon hikes
Dr. Tripuraneni's affinity for hiking has become a family affair. Much in the same way he encouraged his daughter Sravanthi Tripuraneni, MD, to pursue a career in medicine, he also inspired her to follow in his footsteps on the trails. 
Sravanthi, now a family medicine physician at Scripps Clinic Rancho Bernardo, has since tackled the Peruvian Andes as a team with her pop, and they are planning a hike along the coast of Portugal in April.
"He's always out in front," she says.
The second-generation Dr. Tripuraneni may also join her father in Iceland this summer (she hasn't committed yet), and someday, she plans to make her own ascent of Mount Kilimanjaro. 
"His goal for me is to be able to hike for three hours or 10 miles, whichever comes first," she says. Her father can hoof it for five hours, or nearly 20 miles. And of course, she makes her own outings at Torrey Pines, where she keeps up her stamina.
Age doesn't slow down the Tripuraneni family
"It must be something in our genes," says the elder Dr. Tripuraneni. "My dad in India is 92. He walks a half-mile in the morning and evening. All the younger guys who have retired are trying to keep up with him. "I could play golf, too — but I'm a cheapo," he adds. "Hiking is a physically and mentally healthy hobby that you can do for free anywhere in the world at any time of the day."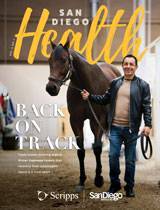 This content appeared in San Diego Health, a publication in partnership between Scripps and San Diego Magazine that celebrates the healthy spirit of San Diego.