Hall of Fame Jockey Recovers from Spinal Cord Injury
Triple Crown winner aims to get back in the saddle after treatment for cervical spine injury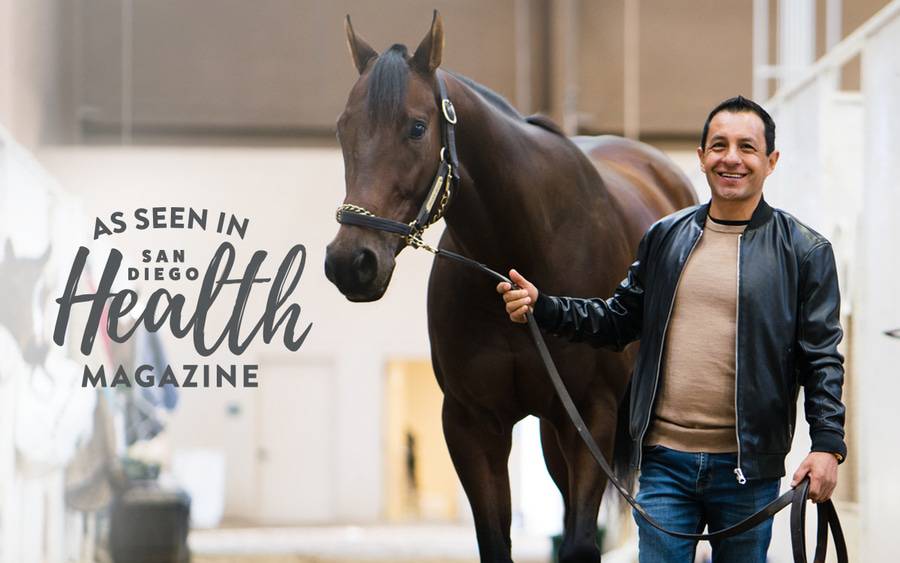 Triple Crown winner aims to get back in the saddle after treatment for cervical spine injury
Victor Espinoza never saw it coming. The Hall of Fame jockey was on a training ride with a colt named Bobby Abu Dhabi when the horse went down. Espinoza was flung forward; his slight frame slammed headfirst into the turf. 
He never lost consciousness, and was rushed to Scripps Memorial Hospital La Jolla, one of only a handful of trauma centers in San Diego County. His neck was immobilized, and he was immediately sent for X-rays.
Slowly, he started to realize his predicament was serious, perhaps dire. In the decades he'd been a jockey, he'd fallen more than a few times, but he'd always managed his injuries and gotten back in the game. This time was different.
A potentially life-changing spinal cord injury
"At first I thought it was a temporary thing, and I'd be normal in a week and back to riding," Espinoza says. "But I couldn't move my arms or legs, and I realized, this is very bad. The worst thing was, in other accidents there was pain. This time, I had no pain and didn't know where my body was injured. I couldn't even tell the doctors where it hurt."
"The worst thing was, in other accidents there was pain. This time, I had no pain and didn't know where my body was injured. I couldn't even tell the doctors where it hurt."
Victor Espinoza
Espinoza has had a storied career. In 2014, he rode California Chrome to victories at the Kentucky Derby and Preakness Stakes. The following year, on American Pharoah, he won the Derby, Preakness and Belmont Stakes — the Triple Crown. Later that year, he also won the Breeders' Cup Classic, becoming the first jockey to win all four events in the same year. 
But in the trauma center at Scripps La Jolla, none of that mattered. The jockey had severe injuries to his C3 vertebra, the spinal region behind his Adam's apple. On the day of the accident, Frank Coufal, MD, medical director of neurotrauma and medical co-director of Scripps Memorial Hospital La Jolla's Comprehensive Stroke Center, was on call for patients with head and neck injuries. He got to the trauma center shortly after Espinoza, and worked quickly with the team to stabilize and diagnose his injuries.
"He suffered a spinal cord injury," says Dr. Coufal. "At that level, if it was a complete injury, it would have rendered him a functional quadriplegic."
Cervical spine injuries increase stroke risk
Espinoza was fitted with a rigid cervical collar, which acts like a cast to immobilize the neck. Blood flow was a key concern. The upper spine protects four major arteries. It's a good design, normally, but in his situation, the injured C3 could generate further damage. The team had to make sure his spinal tissue was getting enough blood, and there were other, even more acute concerns.
"Often, with injuries like this, there is corresponding damage to blood vessels," says Dr. Coufal. "They can be torn during their passage through the spinal column. When they're torn, it can predispose the patient to a delayed stroke." 
Trauma specialists conducted a CT angiogram, part of which involved injecting contrast dye to illuminate the carotid and vertebral arteries. They also ordered an MRI to help diagnose potential soft tissue injuries. The tests showed Espinoza had a bruised upper spinal cord. In addition, an acutely herniated disc was putting additional pressure on it. They also showed that the accident had damaged one of his vertebral arteries, confirming the stroke risk. He was given blood thinners to reduce the danger.
"The first week was the worst ever," he says. "One second, I'm perfectly fine and have all these plans to win races at Del Mar. The next second, I can't even move. It really hit me. Forget about ending my career — this could end my life."
Risks and benefits of spinal fusion surgery
As Espinoza's condition stabilized, the team explored next steps. He would undergo physical therapy, but what about surgery? 
The decision centered on his spinal stability. If his vertebrae remained unstable, he would need a cervical fusion, in which vertebrae are joined together to preserve the spine's integrity. If possible, the Scripps team wanted to avoid that outcome. 
Fusions can be incredibly beneficial, but they also come with serious downsides. Patients lose spinal mobility. In Espinoza's case, he could have trouble turning his head. The procedure also changes the spine's dynamics, placing more stress on the vertebrae above and below the fusion. This could increase wear and tear in daily life, potentially leading to future issues. But even more concerning for the elite athlete, it could make another fall incredibly dangerous. If they fused the spine, his racing career would be over.
Once he had gotten past the stroke risk, it became a waiting game, giving his body time to heal and ultimately determining whether he had any instability that would require surgery. The traumatic bruising on his spinal cord was causing weakness in his arms, though not much in his legs. In addition, he was experiencing constant, burning pain in both arms. 
"He had intensive physical therapy," says Dr. Coufal. "We kept the neck in the rigid cervical collar, and that provided safety until we could do follow-up diagnostic studies to determine if he had spinal instability."
A feeling of relief and a focus on recovery
After a few weeks, Dr. Coufal took the collar off and conducted a dynamic flexion and extension neck X-ray, during which he bent Espinoza's neck forward and back to identify any abnormal movements between vertebrae. The test came out fine; no fusion was necessary. 
"When the doctor took the collar off my neck, I was not ready for good news. I was speechless."
Victor Espinoza
"When the doctor took the collar off my neck, he told me, 'Wow, this is really good,'" Espinoza says. "I was not ready for that good news. I was speechless. I forgot to ask questions."
This was also a big win for the Scripps team, who were happy to succeed with the least invasive approaches. 
"My strong suspicion early on was that he would require a cervical fusion to stabilize his spine and accelerate his neurological recovery," says Dr. Coufal. "You really take the most pride when you shy away from a risky operation."
Physical rehabilitation improves strength, mobility and independence
Rehabilitation plans are customized for each patient's needs, factoring in their injuries and what they need to accomplish to maintain quality of life. 
"We manage them medically to optimize their abilities," says physical medicine and rehabilitation specialist Jihad Jaffer, MD. "How does that person fit into the world around them — interact with family, go to work, drive a car, go to the bathroom, put on pants. How are they going to do that after their own specific injuries?"
From that standpoint, Espinoza had a bigger hill to climb than most patients. He wanted to race again, and that meant recovering all function — even 90 percent wouldn't get him back to Churchill Downs.
Rehab became his job, and outpatient rehabilitation at Scripps Memorial Hospital Encinitas his workplace, four hours a day, five days a week.
"He wanted to race again, and that meant recovering all function. Even 90 percent wouldn't get him back to Churchill Downs."
Jihad Jaffer, MD
"I felt that if I missed one day of therapy, it would set me back a month," he says. "Each day, I had to improve." This positive attitude helped his prospects; so did being an elite athlete. 
"His body is used to exercise," says Dr. Jaffer, "so he was still able to do quite a bit, even with the weakness in his arms. Fitness contributed to his rapid recovery. Plus, he really wants to ride again. He is one of those patients who makes our jobs easier."
Now, just nine months after his accident, Espinoza has significantly improved. He's not ready to ride professionally yet, but he's moving in that direction. Whatever his future holds, he's grateful for the care he received at Scripps. 
"I can move my hands, my arms and my whole upper body," he says. "It's the best feeling you could ever imagine — better than winning any Triple Crown."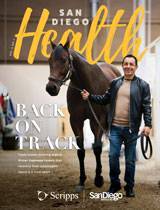 This content appeared in San Diego Health, a publication in partnership between Scripps and San Diego Magazine that celebrates the healthy spirit of San Diego.