Maternal-Fetal Care for Miracle Babies
A San Diego mom and her premature twins are thriving after perinatology and NICU care at Scripps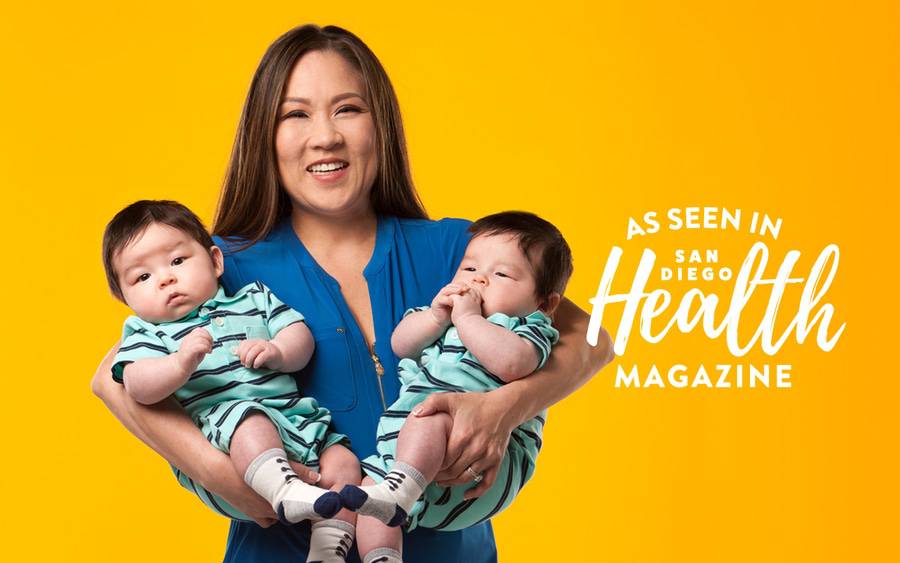 A San Diego mom and her premature twins are thriving after perinatology and NICU care at Scripps
Sarah Kreutzer and her husband Andy faced an agonizing decision. She was 32 weeks into a high-risk pregnancy when her water broke. If she tried to hold off delivery, she and her twins could face additional complications. On the other hand, the closer they came to term before delivery, the better it would be for the babies. Even one extra day could make a big difference.
Because she was 43, Sarah's pregnancy was considered high-risk from day one. Thankfully, she had a large and experienced team backing her up. Allan Silver, MD, had been her Scripps Clinic obstetrician through two earlier pregnancies. Perinatologist Shahram "Sean" Daneshmand, MD, medical director of the Scripps Clinic Division of Maternal and Fetal Medicine and an expert on complex pregnancies, was also in her corner.
In addition, the neonatal intensive care unit (NICU) at Scripps Memorial Hospital La Jolla (as well as in other Scripps hospitals) is run in partnership with Rady Children's Hospital. Beyond that, she had nurses, midwives and other health care professionals ready to help. Despite the challenges, she knew they were committed to the best possible outcome.
Facing another high-risk pregnancy
Sarah was no stranger to difficult pregnancies. Her first daughter, now 6, was unexpectedly delivered at 39 weeks by C-section due to complications. During that pregnancy, Sarah had experienced some bleeding and was placed on modified bed rest.
"We got to know the midwives well because we had to call after hours a lot," Sarah says. "The afterhours care is great — you can reach someone any time you have a question. I've never been able to call someone and have them guarantee they'd get back to me in 30 minutes."
"The high level of attention made me feel like they were really taking care of my family." - Sarah Kreutzer
Her second pregnancy was relatively uneventful, but the twins were a different story. In August, Dr. Daneshmand was brought in to support her care. Because of Sarah's age, her pregnancy had greater potential for miscarriage, gestational diabetes, preeclampsia (dangerously high blood pressure) and other issues.
"Having twins only heightened the risk factors," says Dr. Daneshmand. "Plus, at 23 weeks, Sarah experienced preterm labor contractions and was admitted to hospital to avoid delivering the babies so prematurely. She endured a lot of bed rest, limited activity and worked from home."
But premature delivery was just one of many possible problems. Because her babies shared one placenta, there was concern that one of the twins might not get enough nutrition.
"You can share blood from the placenta unevenly," says Dr. Silver. "One baby can grow bigger while the other is smaller. One baby's blood can flow into the other baby. So we have to monitor growth very closely."
The team conducted regular ultrasounds to keep an eye on this and ensure one baby's growth did not outpace the other's. Despite their best efforts to delay it, Sarah's water broke on November 12, 2018, and she was admitted to the hospital for observation. From there, it was up to her care team to prevent labor as long as they could.
"When a baby is born preterm there are a lot of potential complications," Dr. Daneshmand says. "The younger the baby, the higher the complication rates, and we don't know when some of those complications may come, like developmental delays or cerebral palsy. It's a very stressful time, and especially hard when you have other children at home."
The Scripps perinatology team
To enhance care for mothers and babies, Scripps Clinic recently recruited Dr. Daneshmand's medical group and three other maternal and fetal medicine physicians to provide perinatology services. The perinatal team provides preconception consultations, prenatal diagnosis and ultrasound, genetic counseling, fetal diagnostics and other services. The team also specializes in high-risk pregnancies for women with gestational diabetes, hypertension, autoimmune disorders, twins and triplets, and placenta abnormalities — many of the issues that Sarah was dealing with in her own pregnancy.
Though Scripps had offered these services for decades through an outside medical group, bringing this expertise in-house offered a number of advantages, such as better integration with the Scripps team. They act as consultants for high-risk pregnancies, bringing added skills to support overall care.
"There are certain things they can do that we can't," says Dr. Silver. "For example, we may need Doppler ultrasounds, which measure blood flow in the babies, particularly their brains. Any kind of high-risk situation, we always ask for their advice."
Tough decisions about labor and delivery
The team was working hard to get Sarah to 34 weeks before she delivered. They gave her antibiotics and implemented other measures to reduce infection risk and increase gestation time. But these measures are not perfect, and her doctors were anxious to schedule a C-section.
"Our job is to find a balance between when it's safe for babies to be born and how much of a risk we're willing to take with mom," says Dr. Daneshmand. "This is a debate that goes on all the time. If a membrane ruptures before 34 weeks, the risk of complications from prematurity are less than the risk to the mother and baby from infection."
But Sarah was not entirely convinced. She knew the risk of waiting, but she also knew going forward had its own consequences.
"I was really scared and nervous," Sarah says. "The longer you keep babies in, the closer to 40 weeks, the better it is for them. But the doctors were trying to help me understand the balance between the risk of infection, and the benefit of development they get in utero."
For several days, the Kreutzers and their Scripps team held an open discussion on how best to proceed. Dr. Daneshmand visited often and shared research papers outlining the pros and cons. Dr. Silver also stopped in to reassure her. She wanted more information, and her team delivered. 
"Four of the labor and delivery nurses had twins and delivered early, and they were open about sharing their stories," Sarah says. "Dr. Daneshmand was amazing. He gave me a level of attention I wouldn't expect from anyone. He never rushed me through decisions, conversations or appointments. I think he gave me better care than my mom. Everyone went above and beyond to make sure I understood all my options, and that made me feel great going into surgery."
At Scripps, even high-risk pregnancy patients have an opportunity to make decisions about and communicate their labor and delivery preferences through a written birth plan.
New members of the Scripps NICU family
On November 23, 2018, Leo and Wesley Kreutzer were born, both around 4 pounds, 14 ounces, at Scripps Memorial Hospital La Jolla. They were delivered at 34 weeks, two days — they'd gotten extra time thanks to Sarah's tenacity. 
Still, the risky part was far from over. The twins were immediately taken to Scripps La Jolla's NICU, which is a level III NICU managed by Rady Children's Hospital. The Kreutzers would not be able to hold them for several days. At first, they were uncomfortable that the babies wouldn't be in the room with them, but Sarah's care team answered all questions, putting her at ease. 
"The NICU nurses were like family," she says. "You'd walk in and they'd greet you by name. Even with a full NICU — 16 babies at the time — they all knew how our babies were doing. The nurses would give us updates, 'They did great last night; Wesley drank more than 30 cc's today.' They gave us constant reassurance and information."
"We're lucky at Scripps that we have the Rady Children's neonatal team; these babies are tended to incredibly well," Dr. Daneshmand says.
There were little touches that made a big difference. Since it was the middle of the holiday season, the NICU nurses used the twins' feet to make reindeer name plates and put them over the cribs. Even this small bit of personalization moved the Kreutzers.
"I was really touched," Sarah says. "They did an amazing job helping us feel great about leaving our sons there. The NICU was the best care they could possibly get."
This extra assurance was really important for the family, as Sarah was facing her own postpartum health issues, including high risk for preeclampsia, which can be fatal. But postpartum nurses had found a large enough room for two beds, so Andy could stay with her comfortably.
The Kreutzers wanted their daughters, Olivia and Ruby, to meet their brothers as soon as possible, which represented an additional risk during flu season. Plus, at ages 6 and 4, the girls needed a lot of coaching to understand the need to be gentle with fragile newborns. Once again, the nursing team came through. 
"The NICU nurses sat the babies down on the girls' laps," Sarah says. "It was sweet to see the girls being so nurturing."
Meticulous maternal-fetal medicine
Meticulous maternal-fetal medicine
Due to Sarah's age and other factors, she and her babies had faced a complex situation. But Dr. Silver notes there is no such thing as a "normal" pregnancy. They all can be quite different.
"We prevent a lot of problems by closely managing the mother and baby's care. It makes pregnancy seem routine, but we always approach it with rigor."
That extends from preconception counseling and genetic testing through labor and delivery. This focus on providing the best possible physicians and facilities is part of an overarching belief that good care during pregnancy and the first few years of a child's life can have a big impact on their long-term health. Volumes of research have shown how important epigenetics (the environmental influences on a person's DNA) can be.
"During the first five years of life, we can have an impact on a child's DNA by influencing the function of that DNA," Dr. Daneshmand says. "Sleep, exercise, nutrition, stress reduction — through epigenetics, all these contribute to a much healthier child, not only as a newborn but years later. At age 80, you can go back to what mom and dad were doing during the first years of life."
From high-risk pregnancy to high-energy baby boys
From high-risk pregnancy to high-energy baby boys
"Our miracle babies are thriving, and that's due in large part to the care they received." - Sarah Kreutzer
Because they were premature, Leo and Wesley will be watched closely for the next few years, particularly for their physical and cognitive growth. But so far, their development has been right on target.
"They're doing great," says Kreutzer family pediatrician Nancy Clementino, MD, who is a Scripps-affiliated physician and member of Children's Primary Care Medical Group in Encinitas. "They're healthy, they're thriving."
At home, Olivia and Ruby have become regular helpers, and each one has chosen a twin to nurture. Then, of course, there are the complex logistics of having two infants simultaneously. 
"Once you get one all settled and relaxed and fed, then you've got the other one," says Dr. Clementino. "There's no rest for the weary!"
As one might expect, the Kreutzers are overwhelmed and exhausted — but everyone is healthy.

This content appeared in San Diego Health, a publication in partnership between Scripps and San Diego Magazine that celebrates the healthy spirit of San Diego.