Medicare Wellness Visit or Physical Exam?
Know the difference before you schedule an appointment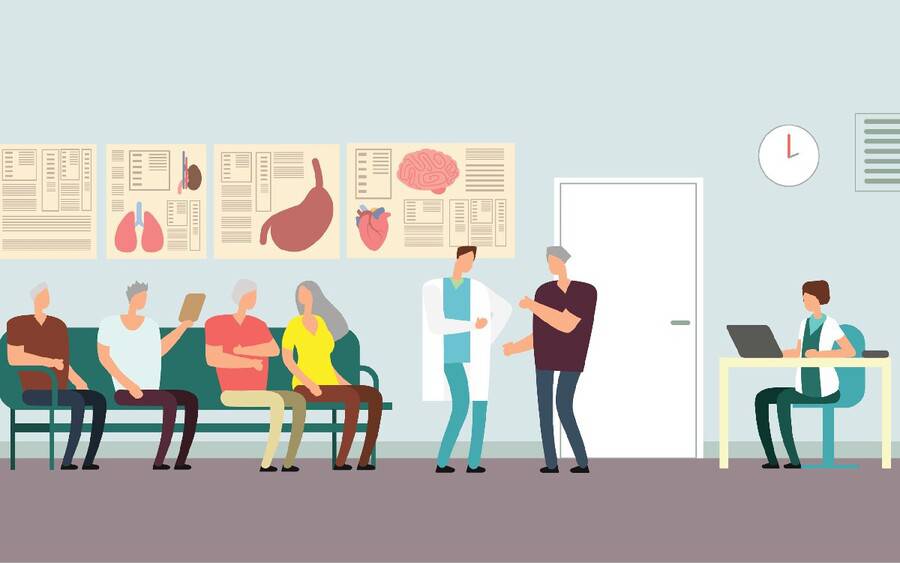 Know the difference before you schedule an appointment
Having an annual check-up with your primary care doctor is a good idea for several reasons. A yearly visit gives your doctor an opportunity to check on your general health, look for anything unusual and talk with you about any concerns.
However, the words "annual check-up" may not mean the same thing to everyone — especially if you have a Medicare plan. Medicare Part B — the part of Original Medicare that provides medical insurance — covers annual wellness visits. These visits may include basic preventive services, but they are not full head-to-toe physical exams.
"During a full physical exam, your doctor may listen to your heart and lungs, feel your neck and abdominal area, test your reflexes and more," says Christopher Cutter, MD, a family medicine physician at Scripps Coastal Medical Center Oceanside. "If needed, we also may recommend lab work, such as a cholesterol screening or a thyroid test."
None of these are part of a Medicare wellness visit. Moreover, according to the Centers for Medicare & Medicaid Services, Medicare wellness visits cannot be used to directly treat an illness or chronic condition, such as diabetes or arthritis.
Review your plan to determine if you have Original Medicare, Original Medicare with Medicare supplemental insurance, or Medicare Advantage (Part C).
If your exam goes beyond the limitations of what Original Medicare covers, you may have to pay the full cost out of your own pocket — unless you have a supplemental plan that covers what this Medicare plan doesn't.
The services allowed during visits under Original Medicare depend on how long you have been a Medicare Part B member.
Read on to understand what Medicare Part B visits cover and when.
If you're new to Medicare Part B
When you enroll in Medicare Part B, you will be able to schedule one "Welcome to Medicare" preventive visit within the first 12 months of your Part B enrollment. Despite its name, this visit is not a full physical exam. It is more of a review of your medical history and health risks, as well as an opportunity for the physician to determine your care needs and make recommendations for further care.
The initial preventive physical exam includes:
A review of your medical history
Height, weight, blood pressure and body mass index (BMI) measurements
A basic vision test
A review of your risk for depression, falls and other safety issues
Recommendations for preventive services and health screenings, such as mammograms and immunizations
Referrals for additional care if needed
Costs: Medicare covers the cost of one Welcome to Medicare visit. If your doctor recommends additional tests that are not covered in this exam, you may have to pay for all or part of them yourself.
If you've been a Medicare member for 12 months or more
After you've been enrolled in Medicare Part B for at least 12 months, you're entitled to one yearly Medicare wellness visit with your primary care provider.
A wellness visit is designed to keep your plan current and identify any new concerns. You can have this exam even if you did not have the Welcome to Medicare visit during your first 12 months as a Medicare member. However, you cannot receive your annual wellness visit within the same year as your initial Welcome to Medicare preventive visit.
Generally, during an annual wellness visit your provider will:
Review and update your personal prevention plan, including health screenings
Assess your health risks
Review your current medications
Take your height, weight, blood pressure and other routine measurements
Costs: As with the Welcome to Medicare exam, Medicare covers the cost of one wellness visit every year. Again, if your doctor recommends additional tests that are not covered in this exam, you may have to pay for all or part of them yourself.
Continuing preventive care
In addition to your Medicare annual wellness visit, Medicare covers ongoing preventive care services, such as:
Screenings for diabetes, cardiovascular disease, depression and colorectal cancer
Mammograms
Healthy weight counseling
Annual flu shots
Pneumonia and Hepatitis B vaccines
Costs: Medicare generally covers the costs of recommended preventive services when you meet the requirements, which you can find on Medicare.gov. 
Tips to help avoid unexpected costs
If you want to schedule your annual Medicare visit, make sure you specify "annual Medicare wellness visit" when you call your doctor's office. If you just say "physical exam" you may be responsible for the cost.
Also, before you have any screenings or lab tests that are not part of the annual Medicare wellness visit, check to see if they are covered at the Medicare.gov website. If they are not, you may have to pay for them. You may also check with your Medicare broker or agent for more information.
"Be assured that when you come in as a Medicare patient for an office visit regarding your established medical conditions, or if you are having medically concerning symptoms, we can order most any tests we feel are needed to diagnose and treat your conditions," says Dr. Cutter.
Make the most of your Medicare coverage. Go to MyMedicare.gov to register for free services to track your preventive services and see a calendar of your covered tests and screenings.
Infographic: Medicare coverage