What Can You Do During Open Enrollment for Health Insurance? (podcast)
You can sign up, cancel or make changes to your health plan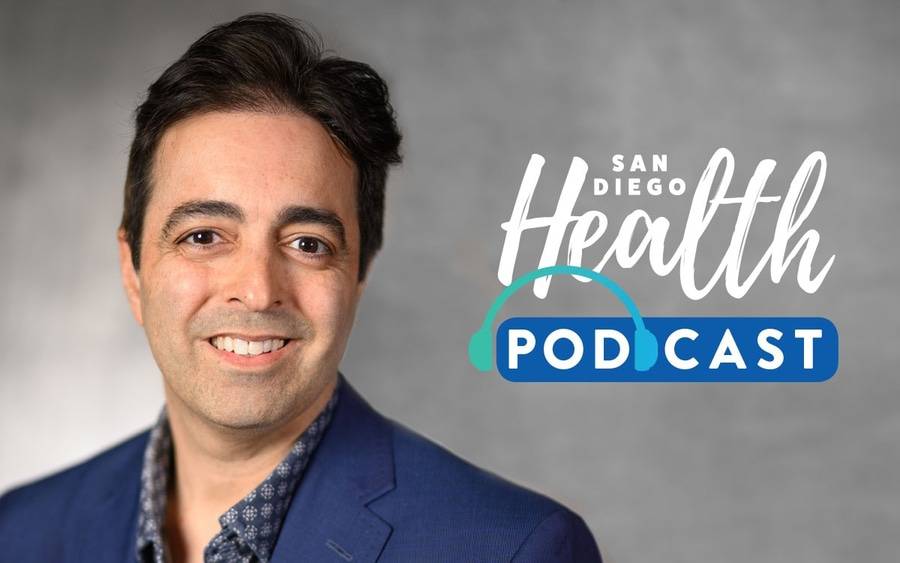 You can sign up, cancel or make changes to your health plan
It's that time of year again — open enrollment! Over the next few weeks, San Diegans will be locking in their health insurance plans to ensure that they're covered for anything 2022 might bring.
Whether you're considering your employer's plan or hoping to sign up for Medicare or Covered California, there's a lot to consider before you make a final decision. Anil Keswani, MD, corporate senior vice president and chief medical officer for ambulatory and accountable care at Scripps Health, joins the San Diego Health podcast to break down everything you need to know about open enrollment.
What should you take into consideration before you finalize your health insurance plan? Dr. Keswani emphasizes that you should check if a new plan covers any medications you take regularly and consider how the plan will factor into any upcoming health events, such as a surgery planned for next year.
You should also choose a plan that works with your preferred system, such as Scripps Health. Staying in your system is critical when you face something unexpected, and with more than 25 locations across San Diego County, Scripps makes it easy to access the care you need, whenever you need it.
Still not sure what type of plan is right for you? Confused about the difference between HMO and PPO? Overwhelmed by the chance to choose a new primary care provider? Tune in for more open enrollment insight from Dr. Keswani or call 1-800-SCRIPPS for personalized assistance.
Listen to the episode on your options during open enrollment
Listen to the episode on your options during open enrollment
What is open enrollment? (0:55)
Open enrollment is a time of year when people can either sign up for a health insurance, adjust their current plan or cancel it.
It's an important time of year because it gives you a chance to look at your plans. If you miss that open enrollment time period, you often have to wait until the following year unless of course there's a qualifying event.
What is a qualifying event? (1:16)
Qualifying events are things like marriages, divorces, birth of a child, loss of a loved one. It's a significant event that may be changing your family.
For example, once you turn 26, you can no longer be on your parents' plan.That's a qualifying event.
How long does open enrollment last? What are the dates? (1:44)
Open enrollment depends on the type of plan that you have. For example, some people are on a plan like a Medicare Advantage plan, which is an HMO plan for Medicare-aged beneficiaries. In those plans, open enrollment is from October 15 to December 7.
Most people have open enrollment through their employer. In other words, it's a health plan that they pick up through their employment. That can vary. Each employer has a little bit different time for open enrollment. You want to check with your company's HR department to find out for sure when that's available.
There's another group of folks that are trying to obtain health insurance through Covered California. Covered California has a great website. You can also call 1-800-SCRIPPS for information that we can guide you through.
When does a new health insurance plan take effect? (2:33)
Once you enroll in a health plan, often times for Medicare Advantage for example, your new plan takes effect the first of the following year. If I sign up in 2021, my plan would take into effect January 1, 2022.
Employer plans vary a little bit, but often times when you sign up with a plan there is a cutoff date of the mid month. If you sign up before the 15th of the month, it could take into effect on October 1. If you sign up after the 15th of the month, often times you have to wait a whole extra month before you are eligible for coverage.
What should you consider for open enrollment for an employer-based job? (3:22)
Find out if Scripps Health is in your plan. We would love to see you here. While we accept most plans, there are some plans that may not have Scripps Health in their network. So check with your doctor's office, call 1-800-SCRIPPS, check our website.
Other things people want to consider are the medications they take. Are the medications you're taking in the plan? Are they a covered benefit? If there's something that's very particular you cannot change, you probably want to know before you select the plan.
The last thing, which is probably the hardest thing to do, is thinking about the year ahead. What are you thinking about the year ahead? Are you planning to have a baby? Are you planning to see some changes in your health? Are you weighing that out to understand the different benefits and options in each plan?
Having surgery, for example, is a big event. Some people may say they really want to see a specific physician. If you know the surgery is happening and you even know where you want to have it or with who you want to have it with, it's probably a good idea to look at that before you go through open enrollment processes.
What should you consider for Medicare open enrollment? (4:54)
When you're going through open enrollment for Medicare there are a lot of different things you want to look at, including network of physicians and coverage for medications.
Medicare Advantage has some nuances as well.
Things you will probably want to look at include: What are my out-of-pocket costs? What are my deductibles? What are my copays? What's my co-insurance? Knowing these terms and questions are really important to better understand what type of plan you're picking.
Another big thing that people look at with Medicare Advantage plans is medication coverage. What does the plan cover in terms of medications?
What should you consider for Covered California open enrollment? (5:36)
If you're new to Covered California, there are different things you want to consider. Most people in Covered California qualify for some degree of subsidies. The other thing you can do is look for the right plan in Covered California. Scripps Health is accessible through Covered California through a few different plans, including Molina Healthcare, Health Net and Blue Shield.
What's the difference between an HMO and PPO? (6:13)
HMOs (health maintenance organization) and PPOs ( preferred provider organization) have been around for quite a while. In essence, they're both health plans, and they're just different types of ways that health plans are structured.
An HMO is a plan where you're often picking the primary care doctor in advance. You can change that primary care doctor at any time during the year, but they're looking for you to pick a primary care doctor. Often there's a network that's predetermined and you want to be aware of what that network is.
A PPO plan is a little bit different. In essence, you're often not picking a primary care doctor in advance, although you're more than welcome to and we encourage you to. The network often times is a lot larger, and there's often times a larger copay or a share of a cost that the patient pays.
A referral through your primary care doctor is a hallmark of the HMO plan. So, if you want to see a cardiologist, you reach out either by phone or email or you go in to see your primary care doctor and you ask for a referral and explain what you need and they refer you to that cardiologist. This is a good thing in many ways. You actually want to have that coordination of care with your primary care doctor. You want to also see what the primary care doctor recommends and which cardiologist they may recommend you see.
On a PPO plan, you still have the same opportunities. You could still go see your primary care doctor. I strongly recommend getting that guidance from your primary care doctor, or you could say, "I want to go see that cardiologist," and just pick up the phone and call them or schedule online.
How do you choose a doctor who is right for you? (8:29)
Picking a physician is very personal. Ultimately, you're inviting that person into your life. When you're in the exam room, you're telling them your story. You're telling them what you're thinking about. It's a very personal decision.
It can be hard to pick a doctor. You may ask: How do I pick a primary care doctor? Do I go on the web? Do I look the person up? The answer is, yes. You can do that. We have a phenomenal website that talks a lot about the primary care doctor, talks about their interest, their patient satisfaction scores, a lot of information available on the web.
Often times people also use word of mouth. They ask their neighbor. They ask their trusted friend, "Who do you recommend?"
We have 1-800-SCRIPPS. These are trained professionals who can help guide you to the type of physician that works well with you. Once you have that healthy, strong relationship with a primary care doctor, and that primary care doctor gets to know you, it becomes a lot easier for them to say, "Okay, you know what? I think you really would do well with this pulmonologist or this allergist." And so then you have a much better connection with understanding which specialist works well for you.
How important is large practice vs. small practice, hospital privileges? (9:46)
Understanding a little bit more about which hospitals your physician goes to is important. For example, I know many people who when they pick an OB doctor and they're looking to have a child in the future, they often also know where they want to deliver their baby. So, it's important to think in advance whether the OB physician you pick can go to the hospital that you want to deliver at.
Once you are a patient with a Scripps physician, we are here to support and serve you as a health system. So whether you need to be hospitalized in one hospital versus another, we have the flexibility and ability to make sure we take care of your needs, where we provide the best expertise.
When you look at where you want to have your primary care, often times people want to have it closer to home or near their community. But nowadays people also want to pick somebody that may be closer to work. We have locations all over. Plus one of the nice things we've implemented is the Scripps HealthExpress. We often have a Scripps HealthExpress walk-in clinic located near you to help meet your needs even if you're away from your home.
Why is having a patient portal like MyScripps important? (11:22)
Having the MyScripps app is probably one of the best things you can do for your health and for access to your information. How many times have you gone to the doctor's office, you walk in, you leave the office and you say, "What was that medicine they told me to take? What was my glucose level? What was my blood sugar?" All these questions come to mind.
I think when people leave the office, they forget a lot of what happened in the office. The nice thing is through the Scripps app, MyScripps app, you can actually go on right onto your iPhone, your iPad, or your computer, and be able to look and see some of the lab tests, some of the notes, some of the results, the upcoming appointments, when you had your vaccine. There's a lot of functionality built into that app.
The other thing is the ability of having all your medical records in one system. At Scripps Health, we have a medical record system called Epic. It's a medical record system that many of the leading organizations across the country utilize. This is great because we have this information all together. So when you go to Scripps HealthExpress, urgent care, a specialist, a primary care doctor, they all can access that information.
The other nice thing is if you are out of the area and a health system out of the area is also on Epic, which is quite common nowadays, that you can allow your information to be shared even externally if you unfortunately have an emergency or urgent issue externally. This electronic medical record system really brings us information, tracks and trends it, and then shares it back with you.
Watch the video on open enrollment