Bariatric Surgery Helped Dustin Smith Conquer New Heights
Expert care and compassionate support helps San Diego man shed over 140 pounds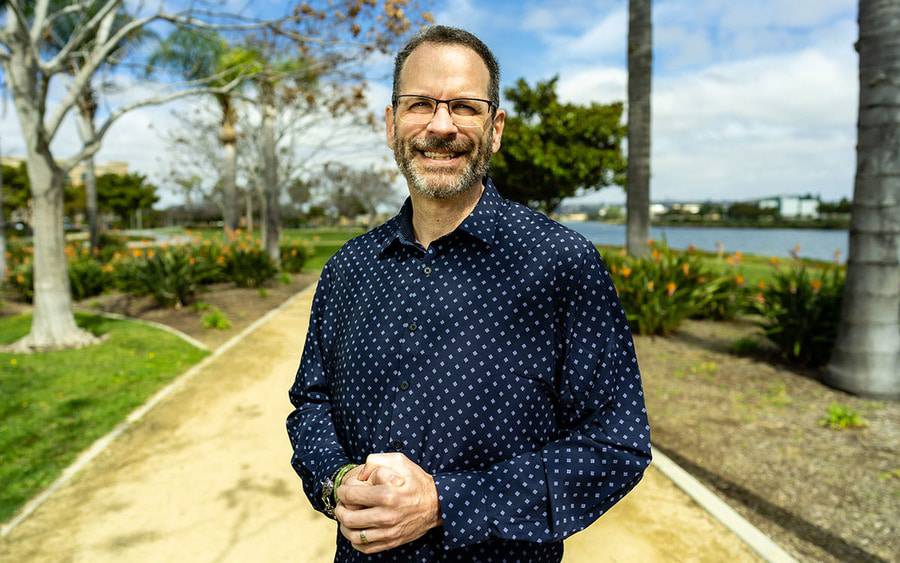 Expert care and compassionate support helps San Diego man shed over 140 pounds
On October 21, 2020, 48-year-old Dustin Smith summited Mt. Jo in the heart of New York's Adirondack Mountains. The ascent, which would have been impossible just one year prior, was a celebration of a decision that forever changed the trajectory of his life.
The beginning of a new beginning
In 2019, Dustin rushed to the emergency room following a back injury. "I threw my back out for absolutely no good reason other than I was incredibly overweight," he says. "And of course, I knew that the first thing the doctor would say was, 'let's address the pain, but have you ever thought about losing some weight?'" The thought had certainly crossed his mind. Even at 6 foot, 2 inches tall, Dustin struggled to manage his weight, which had increased to more than 300 pounds. 
In addition to finding daily activities increasingly challenging, Dustin's excess weight was causing a variety of additional medical problems, including diabetes, high cholesterol and sleep apnea.
"At that point, I was so heavy that I was having problems just trying to get any amount of exercise," he says. "Being able to move, breathe freely, or bend over, all of those things were challenging, and it was not a sustainable path for me. I knew I needed to do things differently."
Around the time of Dustin's emergency room visit, he also became eligible for medical care at Scripps and with it, care for medically supervised weight management. "I had looked into bariatric surgery before, but it wasn't covered by my insurance and the cost was prohibitive. It just wasn't in the cards," he says. Dustin's new primary care physician at Scripps introduced him to the Weight Management program, a multidisciplinary program that addresses all aspects of care, including medical, nutritional and behavioral support.
Dustin set up his first appointment with Samantha Harris, MD, a Scripps Clinic endocrinologist, who specializes in weight management and diabetes care. Together, Dustin and Dr. Harris set up a weight loss plan with guidance from a registered dietitian nutritionist. With a new-found focus and a clear path to guide him, Dustin began to lose weight.
For more than six months Dustin followed the nutrition plan and continued to research bariatric surgery options, thinking it might ultimately be an option. He also met with a psychologist who specialized in weight loss surgery. "We spent time evaluating my relationship with food and looking at whether food was replacing a different psychological need for me. It was a game changer," he says. "Long term, it helped me to realize that my eating behavior had to change for good, not just for right now."
As Dustin got serious about undergoing bariatric surgery, his family was behind him, but some were cautious. "I think a lot of people think, 'why don't you just cut down your portions and increase your exercise?' but it wasn't so simple for me," Dustin explains. "I knew there was no silver bullet here, yet surgery could be another tool to add in my weight loss toolbelt."
Scripps offers accredited bariatric surgery services by some of the most experienced bariatric surgeons in Southern California. Dustin met with Mark Takata, MD, a Scripps Clinic general surgeon who specializes in minimally invasive, advanced laparoscopic and bariatric surgery. Based on Dustin's medical history, Dr. Takata recommended gastric sleeve surgery. Also known as vertical sleeve gastrectomy or gastric sleeve resection, gastric sleeve surgery is a type of bariatric surgery used to permanently reduce the size of the stomach. Done laparoscopically, gastric sleeve surgery may result in less pain, shorter hospitalization, decreased risk of complications, shorter recovery time and better cosmetic results.
"Going into surgery, I experienced some anxiety, second-guessing myself and wondering what was going to be on the other side. But I had done an incredible amount of research and the Scripps team really put me at ease," Dustin says. "Every step of the way, from the phlebotomist who drew my blood before surgery all the way to the person at the front desk, and of course Dr. Takata, everything was very straightforward and organized. Every question was answered. I really appreciated that as I was going into surgery." 
In October 2019, Dr. Takata removed about 80 percent of Dustin's stomach using the latest in minimally invasive techniques. "In doing that, we mechanically restrict how much a patient can eat, but you also create physiological changes that results in decreased appetite," Dr. Takata explains. "The procedure also changes some of the intestinal hormones that are secreted in the digestive system and these factors together will promote weight loss." 
Dustin was up and moving just four hours following surgery. "With those first gentle steps and the support of my nighttime nurse, I felt such gratitude that this was, literally, the first step in what I hoped would be the right direction." 
"This whole process is more than a before and after picture. It's about finding the right path, and I found it at Scripps."
Dustin Smith
Though Dustin's journey to more healthy eating habits began long before surgery, bariatric surgery launched his lifelong commitment to health. "Changing habits is hard. Having a smaller stomach helps," he says, "but this is a journey for life. I carry it with me. I don't carry as many pounds, but I carry the education and knowledge and desire to live the healthiest life possible." 
Since Dustin's gastric sleeve surgery, he has lost more than 140 pounds and maintained a healthy weight. "Eating is an everyday thing, so my choice to stay on this path happens every day. Surgery helped to alleviate all the problems I was having before — my diabetes is resolved, I no longer have sleep apnea, my blood pressure and cholesterol are normal — and it all started with surgery." Today, Dustin enjoys daily activities, exercise, photography and traveling without the added challenges of obesity. He also loves to hike.  
For Dr. Takata, seeing patients respond to surgery and retain healthful eating habits is the most rewarding part of his job. "This is a partnership in which Dustin and I have the same exact goals in mind, which is to achieve better health, achieve improved quality of living and to perform a safe and effective operation. I'm invested in this," he says. "There's nobody else — besides the patient themself — who wants them to have a better outcome."
Dustin is active in Scripps' bariatric surgery support group and is an enthusiastic believer in its ability to change lives. "This whole process is more than a before and after picture," he says. "It's about finding the right path, and I found it at Scripps. I'm so glad that I did."