Pregnant with Triplets: Family Finds Right Care
Scripps perinatologists help couple welcome triplets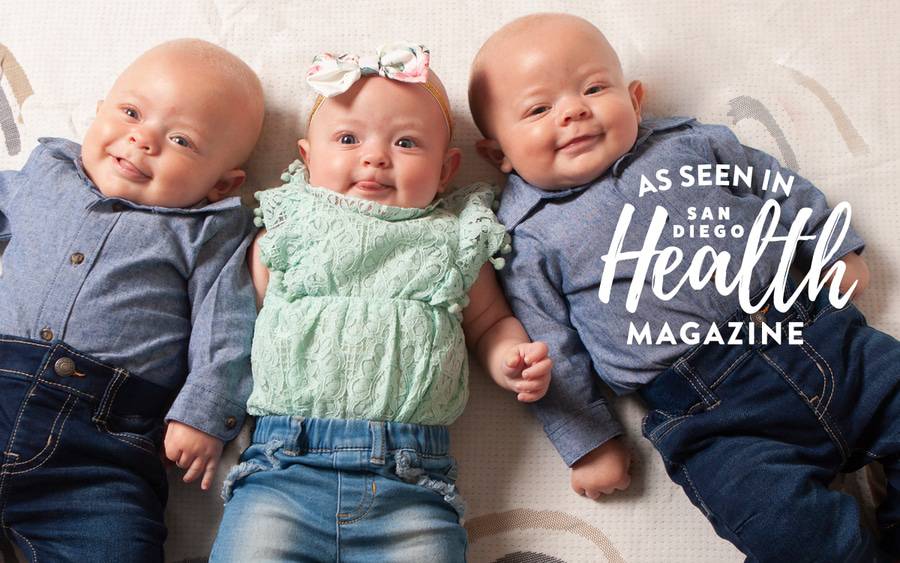 Scripps perinatologists help couple welcome triplets
For 12 years, Amanda and Tommy Gibson tried in vain to start a family. Young and healthy, the Chula Vista couple began their pregnancy journey five years into their marriage expecting it to come easily. 
"Year after year, we tried, and I just could not get pregnant. The most frustrating thing was that we went for all kinds of tests, and they could never find anything wrong. There was no diagnosis, nothing to put our finger on and fix. It was just unexplained," Amanda says. 
The Gibsons tried a few rounds of intrauterine insemination (IUI), none of which were successful, until they finally decided to try in vitro fertilization (IVF). 
"I avoided IVF for a while because I knew that was our last-ditch effort to have children of our own. If it didn't work, that was it," she continues. "Becoming more concerned as I got older, we finally decided to go for it." 
The couple went to a fertility specialist and decided to implant two embryos, with the understanding that there would be a chance of having twins. 
"We had to sign a waiver that we understood that there was a possibility of twins. We said, 'Go for it!' We figured we would have been one and done, and we'd have two babies," Amanda says. "He also said that while they didn't have a waiver for it, there was a 1% chance of having triplets. We joked that if that happened, the doctor could have one!" 
That laughter turned to surprise at Amanda's first ultrasound appointment. 
"After the doctor confirmed the first heartbeat he paused, and my husband held up three fingers. I don't know how he knew what he was looking at, but he did. There were three strong heartbeats! We were extremely excited that there were twins, and then shocked — in a good way — to learn that we were the less than 1% to have triplets!" 
Planning for multiple births
That excitement and shock quickly turned into concern. 
"They talk about all the risks of high-order multiples for the babies and for me," Amanda says. "The pregnancy itself was good, but mentally it was taxing for me because at every appointment, I was worried about everything being OK." 
Amanda had a few more appointments at the fertility clinic before being referred to Shahram "Sean" Daneshmand, MD, an OB-GYN and director of maternal and fetal medicine at Scripps Clinic. A trusted expert in high-risk pregnancies, Dr. Daneshmand guided the Gibsons through the rest of the pregnancy. 
"Dr. Daneshmand is a walking angel on Earth," Amanda says. 
"I don't know even where to begin about how wonderful he is. First of all, you do not feel like a number or just another patient with him. When he comes in the room, you're the only person that exists," she continues. 
"He's really interested in making sure both mom and baby are OK, physically and emotionally. He takes time to ask questions, 'How's your mind? Are you practicing meditation?' If you're not telling him enough, he'll say, 'Tell me more.'
"He's so thorough in every way, it's almost like therapy, too. At the end of a visit, you know you're fine and the babies are fine, and you leave feeling mentally refreshed." 
For Dr. Daneshmand, that connection between mental health and physical health is so critical in the field of maternal fetal medicine. 
"The most important organ in the body is the brain, and there's very limited emphasis on it in general," he says. "A mom's mental status during and right after pregnancy is extremely important. If moms go untreated with depression or anxiety, there is data to suggest an increased risk for behavioral issues with that child (or children) later in school." 
This is especially important when a mom, like Amanda, has experienced fertility issues, Dr. Daneshmand says. 
"It's important to talk to moms and understand how they're feeling, and if there are any signs of anxiety, depression or stress, we need to address them immediately. That's why establishing that trust between the physician and patient is so critical." 
Amanda and Tommy placed their trust in Dr. Daneshmand and the perinatology team from the start. When a few complications arose, she knew she was in good hands. 
At 12 weeks, she experienced a bleeding episode that took her to the emergency room. At 25 weeks, she was admitted again for another bleeding episode caused by placenta previa, a condition in which the placenta partially or completely covers the cervix. That time, the labor and delivery team at Scripps Memorial Hospital La Jolla began preparing for an early delivery. 
"That was scary because it was way too early," Amanda recalls. "Luckily, the babies hung in there and I was able to be released a week later." In fact, the babies were able to hang in there for eight more weeks — time that Dr. Daneshmand says was critical for their development. 
"Obviously timing for delivery is very important when it's earlier than their due date. With high-order multiples, the consideration is safety for both mom and babies," he explains. 
"We always weigh the risk versus the benefit of delivering prematurely for both mom and the babies. In Amanda's case, she was really struggling physically and became immobilized. She also started contracting prematurely. Given the diagnosis of placenta previa and the risk for bleeding, it was time to proceed with delivery at 33 weeks." 
On Oct. 13, 2022, the 35-year-old had a scheduled C-section. She and her husband, Tommy, welcomed triplets Asher, Ansley and Axton into the world in quick succession. 
At 4 lbs. 9 oz., 5 lbs. 4 oz., and 4 lbs. 10 oz., respectively, the babies all arrived at a healthy weight. Still, born prematurely, they had to spend some time in the neonatal intensive care unit (NICU) until they were ready to go home. 
"I can't say enough about how well supported we are as Rady Children's providers at an adult hospital separated from our home base. The way Scripps takes care of us and makes sure all of our needs are met, you really feel like it is a seamless partnership working as one institution."
Jane O'Donnell, MD, regional director of neonatal services, Rady Children's Hospital
Thanks to a partnership between Scripps Health and Rady Children's Hospital-San Diego, the Gibson triplets — and any vulnerable newborns born at a Scripps hospital — have the extra assurance of Rady Children's exceptional care in the NICU. 
"We always say you can't be born at Rady Children's, but thanks to this partnership, you can be born into Rady Children's," says Jane O'Donnell, MD, regional director of neonatal services, Rady Children's. 
Rady Children's has the only level 4 NICU in San Diego County, but through its partnership with Scripps, was able to bring the Rady Children's NICU into the community by establishing level 2 and 3 NICUs throughout the Scripps system. Babies that need NICU care, but are not as high acuity, can stay in their birth hospital near their moms. 
Rady Children's oversee all four NICUs — at Scripps Memorial Hospital La Jolla, Scripps Memorial Hospital Encinitas, and the campuses of Scripps Mercy Hospital, San Diego, and Chula Vista. 
Dr. O'Donnell says that the partnership between Scripps and Rady Children's is beneficial to both new mothers and their newborns. 
"I can't say enough about how well supported we are as Rady Children's providers at an adult hospital separated from our home base. The way Scripps takes care of us and makes sure all of our needs are met, you really feel like it is a seamless partnership working as one institution," she says. 
"I call it a Rady-Scripps NICU because I feel so supported by both systems, and both have the utmost dedication to the best outcome," says Dr. O'Donnell. "It's a win-win scenario for the babies and their parents — a whole system of integration between the obstetricians, the maternal fetal medicine specialists, the pediatricians, the neonatologists, neonatal nurse practitioners and the respiratory team. 
"The way we all coordinate to meet the needs of the patient and the parents is a concerted effort, and I'm proud of the way it works." 
Grateful patients, happy family
The Gibson triplets spent their first 10 days of life in the NICU at Scripps Memorial La Jolla, with their first 12 hours on CPAP machines for added oxygen. Amanda had to be readmitted shortly after delivery due to a bout with preeclampsia, pregnancy-related high blood pressure. 
Amanda was released after a week and the triplets were transferred to the NICU at Scripps Mercy Hospital Chula Vista, closer to the family's South Bay home, before being discharged shortly thereafter, healthy and growing rapidly. 
"They were little feeders and growers!" Amanda says. 
Axton and Ansley went home on Halloween, with little Asher following a few days later. Despite a bout with the respiratory virus RSV that sent all three babies back to Rady Children's in December, the entire family of five was healthy enough to celebrate their first Christmas at home. 
"I was determined that there was no way we were spending our first Christmas in the hospital!" Amanda says.
 At 4 months old in February, the triplets were thriving at between 13-15 pounds — measuring above preemie weight. The Gibsons are adjusting to life as a family of five, sleeping when they can and cherishing every moment. After all, it was a long, trying journey to get here — one that Amanda wouldn't change for anything. 
"It was worth every single tear, disappointment and heartache along the way," she says.
"It's one of those things where I still feel for people in the same situation we were in with infertility. It can take a toll mentally and physically, and it can take a toll on your relationship. 
"Looking back now, it's easy to say this, because I have three perfect little babies now. The struggle is hard, but 100% worth every single little thing along the way." 
About Scripps and Rady Children's Hospital 
Each ranked among the best hospitals in the nation by U.S. News & World Report, Scripps Health and Rady Children's work together to provide exceptional, award-winning care for our youngest patients and peace of mind for families. Compassionate care continues when it's time for babies to go home. Scripps Health and Rady Children's work closely with parents to provide education, support and resources during this important transition and throughout their children's lives.  

This content appeared in San Diego Health, a publication in partnership between Scripps and San Diego Magazine that celebrates the healthy spirit of San Diego.