Sun Protection Equals Skin Cancer Prevention
Learn about sunscreen and advances in diagnoses and treatments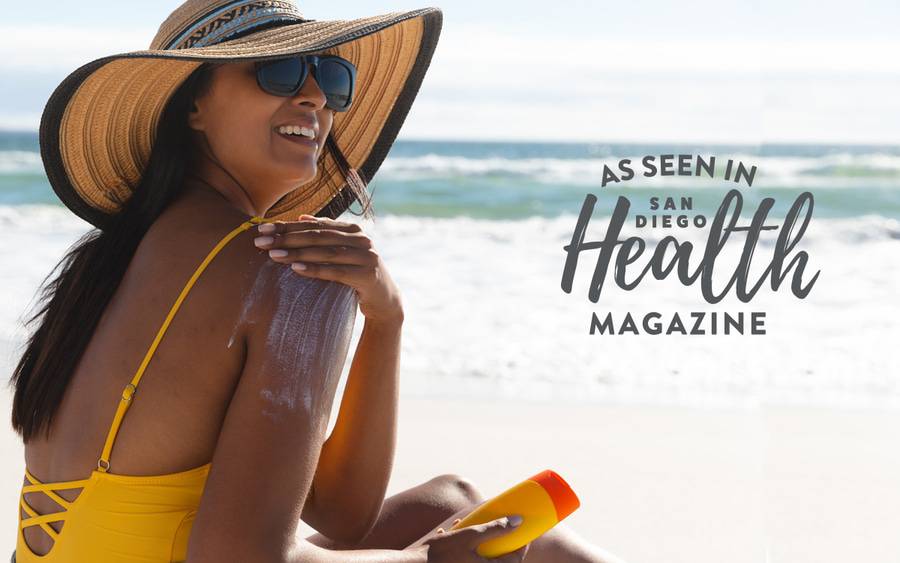 Learn about sunscreen and advances in diagnoses and treatments
When it comes to your skin, an ounce of prevention is worth a pound of cure. Skin cancer is one of the most common cancers in the United States. According to the American Academy of Dermatology, an estimated 1 in 5 people will develop some form of skin cancer by age 70. 
Sun protection should be at the top of your to-do list this summer — sunburns increase the risk of melanoma by 80 percent. There are two types of sunscreens: physical (sometimes called mineral) and chemical, says Hugh Greenway, MD, a dermatologist and chair of Bighorn Mohs Surgery and Dermatology Center at Scripps Clinic. 
Chemical sunscreens work by absorbing UV rays before they can do damage, and some contain antioxidants that may amplify the effects. Physical sunscreens create a barrier that reflects harmful rays. Neither is necessarily better, nor is the formulation of lotion, powder, stick or spray. 
Dr. Greenway says to make sure whichever sunscreen you pick is broad-spectrum, meaning it protects against UVA and UVB rays, is water-resistant and has an SPF of 30 to 50. Use sunscreen daily — not just at the beach — and reapply it everywhere skin is exposed every two to four hours. 
"Use sun protective factors when you're out and about, which includes sunscreen, wide-brim hats, UV-blocking sunglasses and protective clothing — and don't get a sunburn," says Dr. Greenway. "Most of us have had one or two really bad sunburns in our lives, and we need to remind ourselves that we don't want to go through that again." 
In a sun-soaked city like San Diego, annual skin checks are nonnegotiable, says Dr. Greenway. Early detection is key. 
According to the American Cancer Society, the five-year survival rate for early-stage melanoma is 99 percent, but the survival rate drops to just 30 percent for advanced cases. And when it comes to skin and mole checks, leave it to a physician. While there are smartphone apps designed to detect melanoma, they could give users a false sense of security. 
"We all love San Diego because of the sun — that's why we're here," says Dr. Greenway. "But remember that you should have one of your physicians check your skin at least once a year, or if you're at higher risk, twice a year. Your doctor knows what to look for." 
Unfortunately, for many patients, sun damage, sustained years or even decades earlier, has taken its toll. Doctors report an uptick in advanced diagnoses of melanoma — the deadliest type of skin cancer — possibly caused by pandemic-related delays of annual skin checkups. 
However, advances in detection and treatment are giving hope to more skin cancer patients. 
Genetic testing has improved the accuracy in determining melanoma patients' prognosis. Doctors can use what's called a gene expression test to study the genetic makeup of a patient's melanoma and identify the risk of spread during a period of five years. 
A relatively new treatment approach, called immunotherapy, is changing the game in skin cancer treatment. Immunotherapy drugs train the body's immune system over time to target and destroy cancerous cells and stop cancer from spreading. 
"While we are seeing more melanoma, the success in treating advanced-stage melanoma continues to improve significantly with advances like immunotherapy," says Dr. Greenway. 
"With immunotherapy, we've gone from people whose outlook was a matter of months to now a matter of years. Better outcomes in patients with advanced melanoma are clearly related to immunotherapy." 

This content appeared in San Diego Health, a publication in partnership between Scripps and San Diego Magazine that celebrates the healthy spirit of San Diego.