The High Cost of Building California Hospitals
Price tag can be two times higher than in nearly any other state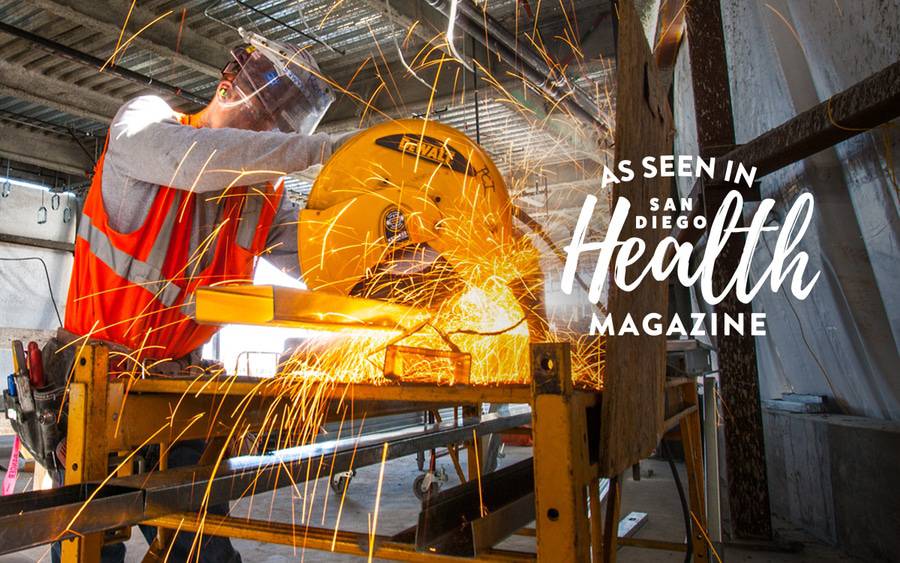 Price tag can be two times higher than in nearly any other state
Gas, groceries, homes, furniture, even movies cost more in San Diego than in other places. Through the years we've come to call it the "sunshine tax" — the price we pay for living in America's Finest City.
When it comes to building new hospitals, the cost difference is even greater. Data show the price tag for building a new hospital in California can be more than twice the cost than in nearly any other state. 
The average US construction cost for a 500,000-square-foot modern tertiary hospital, for example, is about $325 million. A similar hospital built in San Diego or Los Angeles would cost more than $700 million to complete. 
"Every element of hospital construction is more expensive in California," says Sasan Asadyari, a director of corporate construction at Scripps. "It begins with land, construction, labor costs and extensive permitting, and then continues with materials, supplies, HVAC and electrical systems, medical equipment and, of course, adherence to stringent California seismic standards." 
"As hospital buildings in the state begin to age, replacing them has become a significant financial burden. We're facing tight seismic deadlines, higher labor costs and supply chain delays."
Chris Van Gorder, Scripps president and CEO
Those seismic standards are meant to keep hospitals not only standing, but fully operational during and after a large earthquake. They're part of California's Senate Bill 1953, an unfunded mandate that requires all hospitals in the state to meet strict seismic requirements or to rebuild no later than 2030. 
Despite inflationary pressures and today's challenging health care markets, the law has spurred a surge in hospital construction as health systems like Scripps work to meet community needs and the state deadline. 
Hospital construction is under way at Scripps Memorial Hospital La Jolla and Scripps Memorial Hospital Encinitas. And a master plan for the campus of Scripps Mercy Hospital San Diego, calls for a replacement hospital that will cost upward of $1.2 billion, all costs included. 
"As hospital buildings in the state begin to age, replacing them has become a significant financial burden," agrees Chris Van Gorder, Scripps president and CEO. "We're facing tight seismic deadlines, higher labor costs and supply chain delays; and it's all happening in this 'new normal' of staffing shortages, an increased need for care, challenged reimbursement and some of the highest inflation levels in the country." 
"It's a difficult time to be in the health care business," Van Gorder adds. "The level of construction we're seeing today is only the result of years of careful financial planning, as well as the generosity of those in our community who are able and willing to give to help ensure high quality health care for future generations." 
What makes California hospitals different? 
"I think people would be surprised to hear that something like permitting can cost more than $8 million," says Asadyari, who is managing construction of the new hospital tower at Scripps La Jolla. "This includes permits in advance of construction, permits required at various stages of construction, school district permits and funds for needed permit changes or amendments." 
While every state requires permits for hospital construction, California's seismic standards can make the process more complex. 
Materials purchased to construct a hospital or be installed within it must be "shaker test" certified, meaning they must retain their structural integrity during small and large tremors. Electrical panels, air handling equipment and other significant equipment in a hospital must be built and installed to withstand a large earthquake. 
All these requirements must be met before we even get to sophisticated medical equipment, specialized operating room lights and standard necessities, like patient beds. 
Then there are the seismic requirements for construction itself: 
Depending on the seismic zone a hospital is being built within, some structural beams can be as much as four times larger and stronger than standard beams used elsewhere. 
Specialized spring assemblies are needed to act as shock absorbers for piping and other systems. 
Extensive seismic bracing must be installed to support metal piping used for electrical conduit and plumbing. 
Multiple redundancies must be in place for water, sewage, heating, air circulation and other critical systems. 
The actual list of requirements is, of course, much longer. It takes hundreds of construction professionals to build, secure, build some more and then go over it all again to add the necessary brackets, plates and even more safety measures. It's a well-choreographed process that ensures everything is completed in the right order and at the right time. 
"For the comfort and safety of our patients and our staff, Scripps works with some of the best construction companies out there to ensure we end up with the best and safest buildings we can build," says Asadyari. 
In California, it all just costs more. 

This content appeared in San Diego Health, a publication in partnership between Scripps and San Diego Magazine that celebrates the healthy spirit of San Diego.