The Surprising Health Benefits of Blue Spaces
Time spent in nature near water helps with mental health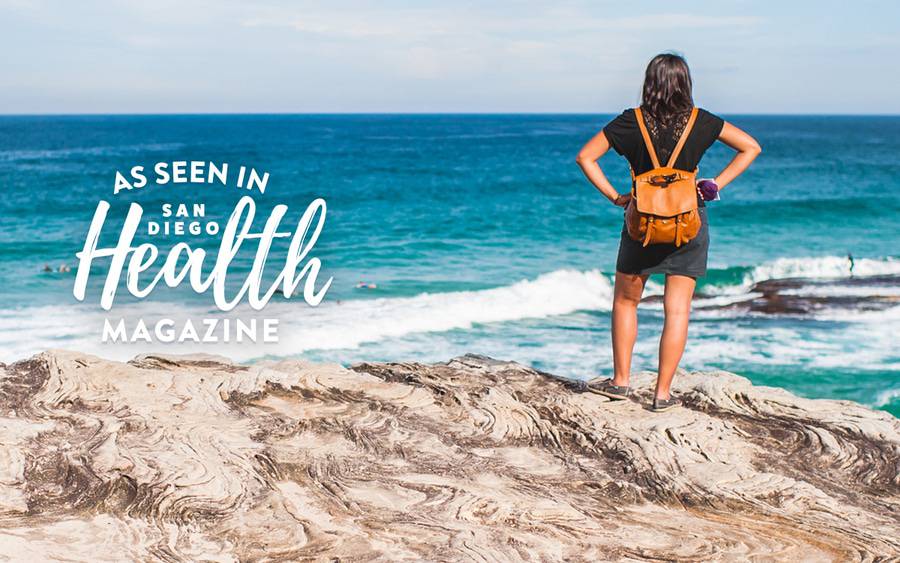 Time spent in nature near water helps with mental health
You've no doubt heard that drinking eight glasses of water a day is good for your health. Now, researchers are finding that simply being near water — oceans, lakes, rivers, ponds and possibly even fountains — also benefits your health. 
"There are definite benefits to spending time in nature," says Farida Valji, MD, a family medicine physician at Scripps Coastal Medical Center Oceanside. "It gets people outdoors, helps create a sense of community and well-being and can lower stress and anxiety." 
What studies say about blue spaces
Outdoor spaces that include water, dubbed "blue spaces" by researchers, can be especially beneficial. Several studies conducted during the past decade confirm the positive effect of being near bodies of water: 
A United Kingdom study that asked 20,000 smartphone users to track their environment and sense of well-being at random intervals found that people in marine or coastal areas were significantly happier than those in urban areas. 
Another study found that people preferred photos of places that featured water over those that didn't, even if the photos showed beautiful green spaces. 
A 2020 review of more than 30 studies of blue spaces agreed that time spent near water in nature supports mental health and well-being. 
Moreover, family vacations to the beach or river may have benefits that last for decades. A 2022 international study that included California residents concluded that exposure to blue spaces during childhood may carry over into better health and well-being later in life. 
What are the health benefits of blue spaces?
Why are blue spaces such powerful influences? Researchers believe they affect us in several ways: 
Natural blue spaces typically go hand-in-hand with natural sunlight, fresh air and low levels of pollution, noise, traffic and crowds. These calmer, quieter environments promote feelings of peacefulness, help us disconnect from our day-to-day routines and pause the nonstop stream of thoughts running through our heads. 
Being near water stimulates our senses, which can be psychologically healing. Gazing at a still lake, trickling stream or seemingly infinite ocean can be calming, and changes in light and wind can have a mesmerizing effect on the water's surface. 
Watery areas are often rich in soothing sounds created by waves and wildlife, and dipping your toes or trailing your fingers along the water's edge creates a comforting physical connection with nature. 
3. Encourages physical activity
People who live near water or seek out blue spaces tend to be more physically active. Even if they don't get in the water to swim or surf, they're more likely to engage in activities like walking or cycling. 
In addition to boosting your physical health, exercise releases endorphins, the "feel good" hormones generated by activity. 
Breathing in sea air is associated with better sleep. One study found that people sleep an average of 47 minutes longer at night after a seaside stroll. 
Blue spaces are everywhere
"You don't have to live by water to get these benefits," says Dr. Valji. "Even just being outdoors around decorative fountains, parks or yards with water features can have blue-space benefits. And don't forget your sunscreen!" 

This content appeared in San Diego Health, a publication in partnership between Scripps and San Diego Magazine that celebrates the healthy spirit of San Diego.