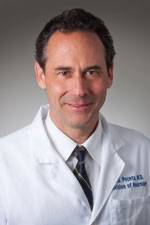 J. Steven Poceta, MD, is a neurologist and sleep medicine specialist who focuses on neurologic sleep disorders such as restless leg syndrome, sleep walking and narcolepsy. He also diagnoses and treats general neurologic conditions such as insomnia and headache.
Dr. Poceta is an advocate of deep brain stimulation for Parkinson's disease and a member of the Scripps Clinic Movement Disorder Center, where he sees a select panel of patients with Parkinson's disease.
In addition to his practice, he participates in clinical trials for restless leg syndrome and narcolepsy. He also conducts his own research in these areas.
Board Certifications
American Board of Psychiatry & Neurology, Neurology, 1989
American Board of Sleep Medicine, Sleep Medicine, 1988
Medical Education
University of Pennsylvania School of Medicine, MD, 1983
Residencies
University of Washington Medical Center, Neurology, 1987
Fellowships
Scripps Clinic, Sleep Medicine, 1988