Medically Supervised Weight Management Programs
Your customized weight loss plan starts with you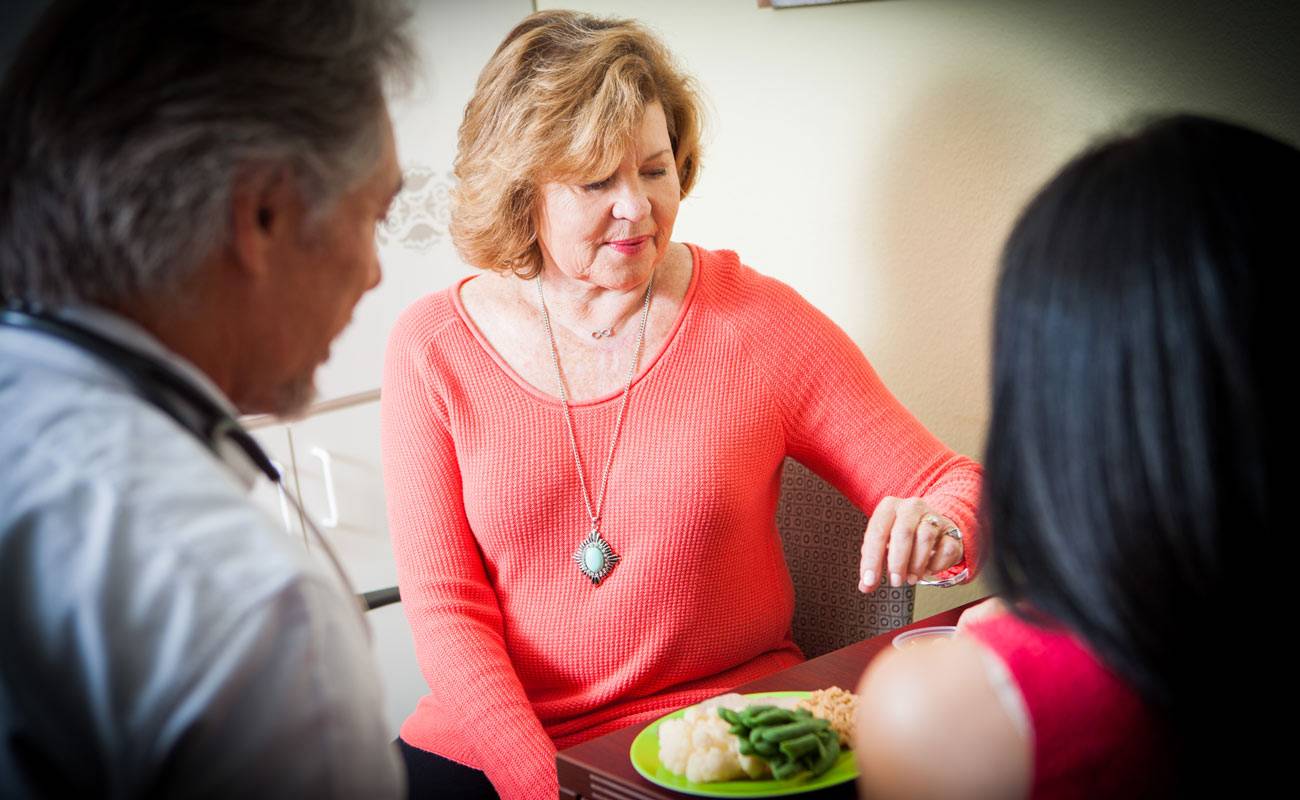 Your customized weight loss plan starts with you
Scripps Clinic Center for Weight Management and Bariatric Surgery helps you tackle any weight-related issue through a comprehensive, personalized approach that includes diet, exercise, lifestyle and, if appropriate, medical treatments.
Step 1: Initial consultation
Unlike non-medically supervised programs that only offer meal replacements and supplements, Scripps Clinic Center for Weight Management and Bariatric Surgery takes a personalized approach to help you lose weight.
During your initial consultation at Scripps Clinic Center for Weight Management and Bariatric Surgery, a doctor or nurse practitioner will review your health history, explore underlying factors that may contribute to your weight gain and discuss your weight loss goals. Following your consultation, you'll be partnered with a team of professionals who are trained to guide you in applying the most effective solutions to help you look and feel your best.
Your evaluation may include the following:
Metabolic laboratory testing
We evaluate each patient for any metabolic conditions that could negatively impact weight loss. Your screening may include tests for thyroid dysfunction, insulin resistance, metabolic syndrome and polycystic ovarian disease (PCOS).
Resting metabolic rate (RMR)
Many factors affect your metabolism, or the rate at which your body burns calories. We may measure your resting metabolic rate (RMR) to individually define the appropriate number of calories you need to consume in order to lose weight.
Medication review
Our medical specialists will review your medications for possible influences on weight and discuss potential alternatives. They will also determine if you could benefit from weight loss medications.
Dietary consultation
Our registered dietitians specialize in weight management, obesity and bariatric surgery. They are also certified diabetes educators (CDE) and are trained to address weight management related to diabetes and other illnesses. During your consultation, you may review your daily eating habits, ask questions and learn how to make small changes that can ultimately have a large impact on your overall weight and health.
What to expect at your appointment with the registered dietitian
Your first consultation with a registered dietitian will be 60 minutes, which allow for enough time to fully understand your nutrition concerns, address any specific nutrition questions you may have and develop an individualized plan based on your food preferences, medical conditions and weight goals. When you arrive for your first consultation, you will be asked to fill out a nutrition questionnaire. This form provides the dietitian with insight into your typical food intake, eating behaviors, current physical activity and nutrition-related medical history.
Follow-up appointments are 15 to 30 minutes, and allow the dietitian to monitor and evaluate your progress and to make appropriate adjustments to your nutrition plan that will help you reach your health and weight goals.
Step 3: Customized weight loss treatment plan
After you have completed your evaluation, your team will develop a weight loss treatment plan to fit your unique needs. Your personalized plan may include the following:
Diet and physical activity prescriptions
Diet and exercise go hand in hand, and we will discuss these two essential components with you in detail. Because we are often dealing with deeply rooted lifestyle habits, we'll provide special care and attention to help you adopt these healthy habits in a successful, sustainable manner. If you require additional guidance, our registered dietitians and/or behavioral health specialists are here to help.
Scripps Living Lite: An inspiring behavioral lifestyle change program
Through personalized one-to-one coaching and weekly meetings to help keep you motivated, you'll experience a life-changing approach to long-term weight management. Led by a professional life coach, the program teaches powerful skills and strategies that will inspire you to live a healthier lifestyle. For your convenience, Scripps Living Lite is now available in Carlsbad, Carmel Valley and Rancho Bernardo. You can begin the program at anytime. Call 858-554-7134 for pricing, more information and registration.
Medications
We know that sometimes you can do all the right things and still not see positive weight-loss results. It is possible that you have underlying issues that cause abnormal weight gain or prevent weight loss, and these issues may require medication to treat before you can successfully lose weight. Our experts will assess your situation and prescribe the most effective, FDA-approved drug or combination of drugs to treat your condition(s). While you are taking the medications, we'll closely monitor your progress and any side effects.
Meal replacement plan
Meal replacement products such as protein shakes, protein bars and protein snacks can be convenient and effective tools for losing weight. We offer delicious meal replacement protein shakes and bars and will help you add these into your overall plan.