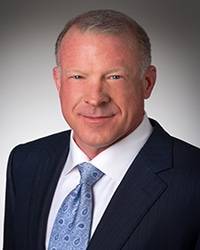 Carl J. Etter
Corporate Senior Vice President
Regional Chief Executive - North
As regional chief executive for Scripps Health's northern region, Carl Etter has oversight of three hospital campuses — Scripps Memorial Hospital Encinitas, Scripps Green Hospital and Scripps Memorial Hospital La Jolla. His focus is on greater alignment of the care and services provided by these hospitals to ensure high-quality, accessible health care and an exceptional health care experience for patients in North San Diego County.
Prior to this position, Etter served as chief executive of Scripps Memorial Hospital Encinitas since 2003, where he was responsible for the day-to-day operations of the 193-bed acute care facility. During his tenure, he led his team through an expansion that more than doubled the number of critical care beds, created a new emergency room and is set for further growth.
Before joining Scripps, Etter served as regional vice president for Community Health Systems, a multi-state hospital system based in Tennessee. Etter provided supervision and leadership to CEOs at 22 hospitals in seven states in operations, strategic planning, physician recruitment, revenue and market growth and new service development. Additionally, he has CEO experience at hospitals in the Southeast and Florida, working for such companies as Humana, HMA and HCA.
Etter holds a Master of Hospital Administration from Yale University School of Medicine and is a fellow in the American College of Healthcare Executives.