Uplifting accounts of prevention and wellness in the community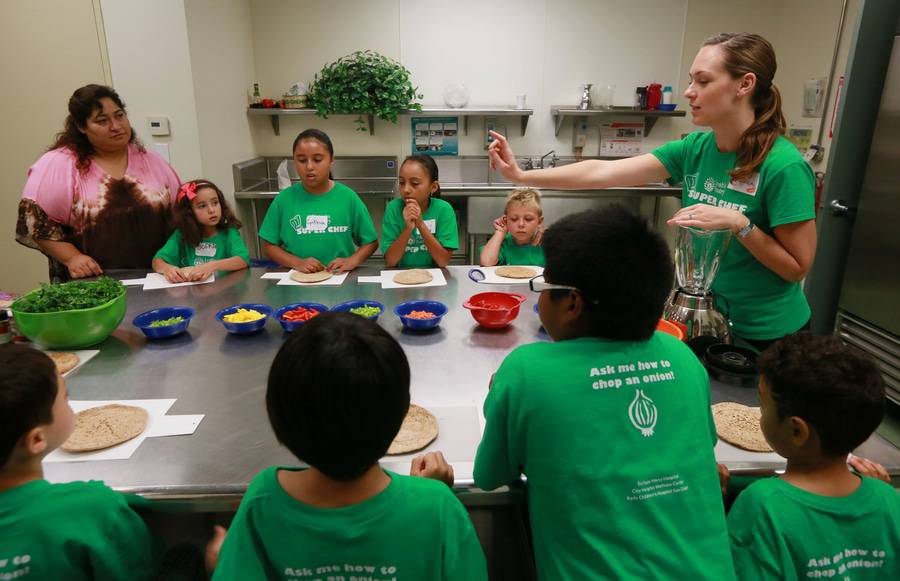 Uplifting accounts of prevention and wellness in the community
Scripps is committed to expanding our scope of community benefit through key partnerships with organizations that share our dedication to improving the health and quality of life for San Diegans. From collaborative programs that address obesity and diabetes, to raising awareness about youth cardiac screening and mental illness, to providing support and case management services to medically fragile homeless patients, to educating physicians and youth interested in medicine. These programs and partnerships are vital to making our community a healthier place.
The following stories provide a closer look at the positive impact Scripps continues to make beyond our hospital walls to ensure the health of our overall community.
Driving diabetes care and prevention with a bilingual approach
Each year, thousands of people learn to manage their diabetes effectively through the education and counseling provided by the Scripps Whittier Diabetes Institute. Group classes held in English and Spanish cover all aspects of diabetes care, including, diet, lifestyle, blood sugar monitoring, medications, coping skills, insulin management, technology and more. Individualized nutrition consultation and meal planning are also available. Scripps has been awarded full recognition by the Centers for Disease Control as a National Diabetes Prevention Program provider, a national initiative developed to help prevent diabetes.
"I decided to enroll because I knew it would be good for me," says Hector Nunez, who was informed by the program that he had diabetes. "I knew that it was best for me, and that I needed to learn the right way to continue to live my life."
In addition, the Woltman Family Diabetes Care and Prevention Center in Chula Vista — home to Scripps' portion of a countywide Diabetes Prevention Program aimed at reducing the risk for developing type 2 diabetes — serves one of San Diego's communities hit hardest by the diabetes epidemic. This center offers a full range of wellness, prevention, diabetes education and nutrition services in English and Spanish.
Screening athletes for sudden cardiac arrest
Every year, three to five student athletes in San Diego County die suddenly and unexpectedly from sudden cardiac arrest, an abnormality in the heart's electrical system that can happen without symptoms or warning signs. But this life-threatening condition can be detected with a cardiac screening exam.
The Eric Paredes Foundation, Scripps Mercy Hospital Chula Vista Family Medicine Residency, Southwest Sports Wellness Foundation and the Sweetwater Union High School District partner to prevent sudden cardiac arrest and death among high school students. Their combined efforts raise awareness on the importance of healthy lifestyles and cardiovascular screenings among active students.
From Scripps, our family medicine residents offer yearly cardiac screening and sports physicals before students participate in organized sports. Residents also oversee an injury clinic during football season to evaluate and treat possible concussions and other injuries.
Helping people with mental issues find employment and care
Brett was an art major when the voices started. Diagnosed with paranoid schizophrenia, he struggled to come to terms with his illness. "I didn't accept that I was ill for several years," Brett says. Today, Brett is hard at work supporting Scripps Mercy Hospital's billing and reimbursement team.
Rose "Posey" Hagarman, who has lived with major depression most of her life, became a master's-prepared surgical ICU nurse. "I was devastated when I couldn't continue that job after a stroke," says Posey. "Through the years I tried a lot of different things that didn't work. And then, there was this beautiful program called A-Visions. Some people are just dropped onto the street after their initial treatment. But here, they lift you up."
These two stories and countless others are all thanks to A-Visions, an innovative and nationally recognized work program launched in 2002 by Jerry Gold, PhD. Along with therapy, A-Visions empowers people like Brett and Rose to secure volunteer or paid employment at Scripps and other organizations.
Paid A-Visions candidates typically limit their work to eight hours per week. This schedule allows them to maintain their disability benefits, medications and medical care that enable them to work.
"Some candidates have lengthy commutes to work," says Kevin Wilson, program lead for A-Visions. "That's how much they value what they do."
"A-Visions has been a joy for me," says Janice Shivers, whose major depression has waxed and waned throughout her life. "I work part-time in health information, and I love what I do. I just opened a new bank account with my paycheck, and the teller said, 'Oh, I love Scripps.' It makes me feel so good to know that I'm a part of this organization. I've had my job for four years — the longest I've ever worked any one place."
Caring beyond the clinical setting
Scripps' commitment to the community expands beyond clinical care. We also are dedicated to helping patients thrive after discharge, even under challenging circumstances. Last year, Scripps awarded a grant to Catholic Charities to provide short-term emergency shelter for medically fragile homeless patients being discharged from Scripps Mercy Hospital San Diego and Chula Vista.
These patients, who no longer require hospital care but still need a supportive environment, receive case management and one week in a hotel, along with food and bus fare to pursue their care plan. Case managers help them connect to more permanent sources of income and housing and provide ongoing support. Ultimately, the partnership aims to reduce the number of return visits to the emergency department and improve the quality of life for these patients.
Inspiring students to lead the future of medicine 
Students who participate in the annual Scripps High School Exploration Program spend five weeks of summer break at Scripps Memorial Hospital Encinitas, Scripps Memorial Hospital La Jolla, Scripps Green Hospital, Scripps Mercy Hospital San Diego or Scripps Mercy Hospital Chula Vista learning first-hand about medical careers, rotating through departments and working alongside our medical professionals.
Recently, two-time Explorer alumna Ellen Douglas spoke to the 2018 Explorer graduates. Now a second-year osteopathic medical student at Pacific Northwest University of Health Sciences in Yakima, Washington, Ellen shared her thoughts with graduates on how the program impacted her career choice.
"I found my path to medicine through personal experience with family illness, coupled with a passion for science and a desire to help others," Ellen says. "By far the most impactful program that shaped my development as an aspiring health care professional was the Scripps Exploration Program."
Growing up in Ramona, Ellen saw the challenges of living in a medically underserved community without immediate access to hospital services.
"If it were not for the Scripps High School Exploration Program, I would have never seen first-hand what superior health services looks like from such a young age. Whether I was standing over an open-heart surgery, following the trauma team up to Life Flight, serving patients lunch with the cafeteria staff, or working with the environmental services team to clean up after surgery, it was inspiring to witness how each department works together in synergy to provide the best patient experience and outcomes in a caring environment," she says. "It was through my experience with the Scripps health care professionals that I truly witnessed what premiere patient-centered care looks like and saw the future doctor I aspire to be."
Ensuring access to behavioral health care
With the expansion of Medi-Cal and Covered California, significantly more people are seeking behavioral health care. To help meet that need, Scripps Mercy Hospital continues to partner with Family Health Centers of San Diego (FHCSD) to strengthen behavioral health services in the community and ensure patients receive timely access to care before their health status becomes critical. The goal is to provide proactive, comprehensive care to reduce the probability of hospitalization.
If a shared patient is admitted, Scripps Mercy and Family Health Centers will help ensure a seamless transition of care at discharge into appropriate outpatient care, preventing a return to the emergency department. Thanks to this partnership's  longstanding focus on integrating behavioral health into primary care, our community clinics have developed considerable in-house resources and expertise to deal with mild to moderate behavioral health issues.