Graduate Medical Education (GME)
GME programs for new physicians in San Diego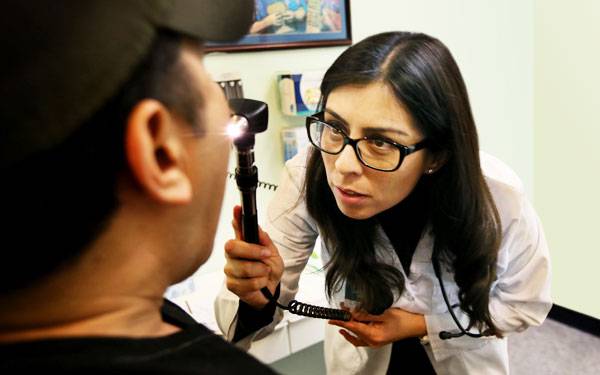 GME programs for new physicians in San Diego
Scripps Health in San Diego offers several highly competitive graduate medical education (GME) programs for new physicians.
With five hospital campuses, a network of outpatient clinics and partnerships with community health agencies, physicians in training have opportunities to care for diverse patient populations in a variety of environments.
With top-notch faculty who emphasize personalized instruction, Scripps GME programs help interns, residents and fellows build lasting professional relationships and gain the skills needed to embark on a successful career in medicine.
Learn more about our medical specialty training programs and opportunities.
At Scripps, we offer a wide range of accredited fellowship programs for physicians who want to pursue subspecialty training. You'll be mentored by expert faculty, care for diverse patient populations and conduct research. Find a match to a specific program below, and visit our fellowship page to learn more about applications, salary and benefits.
Our residents practice in a unique variety of learning environments. At Scripps, you'll have opportunities to conduct research and collaborate with leading faculty in one of San Diego's largest health care systems. Learn more about specific programs below.
Adult Psychiatry Residency 
Family Health Centers of San Diego hosts a four-year ACGME-accredited program offering psychiatric education and hands-on experience with training sites throughout San Diego County. Our program's mission is to recruit, train and retain a diverse group of psychiatry physicians with a passion for providing caring, affordable, high-quality psychiatric care to the underserved.
Our program focuses on training future psychiatrists with a balance between psychotherapeutic techniques and psychopharmacology. Trainees' rotate through state-of-the-art health care systems, namely Scripps Mercy Hospital San Diego and Sharp Mesa Vista Hospital during their first two years of training. In senior years, residents gain outpatient experience in cultural psychiatry through their work with refugee health and the diverse community population as well as other subspecialties such as children and adolescent psychiatry, women's mental health, sports medicine, LGBTQ populations, community mental health, individuals experiencing homelessness and those struggling from addiction. 
To learn more about the Adult Psychiatry Residency Program, please contact psyresidency@fhcsd.org for more information.
Medical student rotations
All rotations at Scripps are four weeks and provide medical students with an opportunity to work as an active member of the medical team. Learn more about specific programs below.
Visiting residents and fellows
If you're interested in a rotation as a visiting resident or fellow at Scripps Clinic and Scripps Green Hospital, please complete the application form below, provide your curriculum vitae and email it to Stephanie Lozano at Lozano.Stephanie@scrippshealth.org.
Visiting resident and fellow rotation application (PDF, 170 KB)
If the rotation is approved, the deadline to submit paperwork is one month prior to the first day of the rotation. Visiting resident and fellow rotations at Scripps Clinic and Scripps Green Hospital in San Diego are not approved until all documentation has been received by the GME office and you have received a confirmation email.
If you have any questions or would like to learn more about the residency and fellowship programs at Scripps Health, please feel free to call and/or send an email.