Scripps Mercy Family Medicine Residency
Community-based, family medicine training in San Diego's diverse South Bay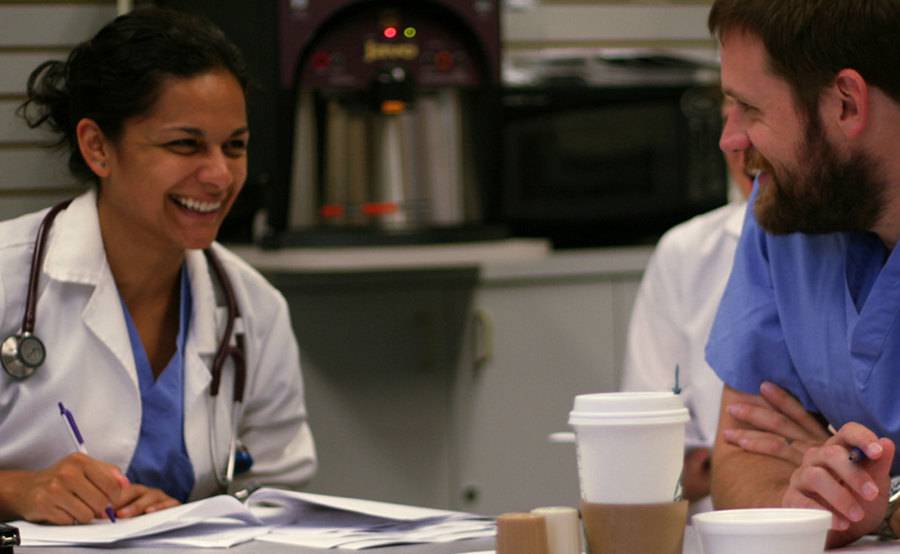 Community-based, family medicine training in San Diego's diverse South Bay
The Family Medicine Residency Program at Scripps Mercy Hospital Chula Vista trains family medicine physicians to provide comprehensive medical care, with a curriculum that emphasizes community medicine. Scripps partnerships with local community health programs allow residents to focus on medically underserved communities, particularly those along the California and Baja border regions.
Our GME program is small but close-knit, with ample opportunities to make a difference in the community while gaining valuable hands-on experience. Residents complete rotations in numerous inpatient and outpatient specialties, including women's health, pediatrics, geriatrics, sports medicine and behavioral health. We also provide full-spectrum family medicine at Chula Vista Medical Plaza, a continuity clinic that follows the Patient Centered Medical Home (PCMH) model of care.
Family medicine residents at Scripps Mercy Hospital Chula Vista learn to provide family-centered medical care that is comprehensive and culturally sensitive. And our graduates consistently have high American Board of Family Medicine pass rates.
We train residents to become full-spectrum and culturally competent family medicine physicians and leaders who will increase access to quality health care for medically underserved communities, particularly along the California-Baja border.
Full-spectrum family and community medicine
With a focus on caring for the underserved, our three-year, unopposed Family Medicine Residency Program offers excellent opportunities for graduate medical trainees to learn the skills needed to become comprehensive family physicians. 
Residents gain diverse experience in women's health, pediatrics, sports medicine, adult medicine, geriatrics, adolescent medicine and more. The program has a unique dedication to community medicine based out of the continuity clinic at Chula Vista Medical Plaza (part of San Ysidro Health, a federally qualified health center). 
Residents are involved with high school health clinics, student mentorship programs, community-oriented projects and underserved medical clinics in Tijuana and San Diego's South Bay communities.
Border health and global health
Scripps Mercy Hospital Chula Vista is located just seven miles from the US-Mexico border. This means family medicine residents receive significant global-local training at continuity clinics and hospitals in our bi-national community. And across the border in Tijuana, Mexico, our residents may provide primary care in a local shelter that serves the most resource-deprived individuals in the city. 
Additionally, a collaboration called Viajé Interinstitucional de Integración, Docente, Asistencial y de Investigacion (Inter-institutional Retreat for Integration, Teaching, Assistance and Investigation) brings together: 
Family medicine residents from Scripps
Medical students from the University of California, San Diego (UCSD)
Public health and nursing students from San Diego State University (SDSU) 
Medical students from the Autonomous University of Baja California in Tijuana 
The group meets in San Quintin in Baja California, Mexico, to provide medical care, health education and other public health projects. This sustainable global health collaboration has served the community for more than 20 years and, as a resident, you can be a part of its continued growth and transformation.
As a CenteringPregnancy certified program, our residents learn how to lead group prenatal visits.
CenteringPregnancy is a group prenatal care and support program developed by the Centering Healthcare Institute. It brings pregnant women, who are due around the same time, out of exam rooms and into a comfortable group setting. The Centering model has benefits for patients, babies and providers, and has been shown to improve health outcomes, self-confidence and much more. 
As a tangent from the Centering model, residents also learn to lead group diabetes visits. These group visits are guided by a patient-centered curriculum that was developed by former family medicine residents.
Areas of concentration (AOC)
AOCs provide residents with additional training opportunities above and beyond the core graduate medical education training in family medicine. Scripps Mercy Hospital Chula Vista's AOCs allow residents increased elective and continuity time in this area. The fulfillment of the training plan is certified in the final training letter written by the program director upon graduation.
Maternal-child health AOC
Increased continuity experience in OB-GYN outpatient clinics at Operation Samahan and San Ysidro Health throughout the second and third years. More pediatric clinics if desired.
More pregnancy options counseling, prenatal care, birth control management (including placement of IUDs and contraceptive implants), OB ultrasound training and spontaneous abortion management.
Dedication of eight to 10 weeks of elective time to the AOC. Electives can include: OB teaching elective, OB ultrasound, perinatology, Planned Parenthood, any pediatric rotations, extra lactation training, and teaching an Advanced Life Support in Obstetrics course or Centering parenting groups.
Adolescent health AOC        
Increased continuity at high school clinics
More opportunities for advanced birth control training
Leadership and support for mentoring high school students
Advocacy for policy changes to support high school district wellness policies
Participation in longitudinal district wellness committees
Additional AOC opportunities
Sports medicine
International/border health
Integrative medicine 
All AOC areas require:
Participation in a Community-Oriented Primary Care (COPC) scholarly project (research/scholarship/service) in area of concentration
Giving a third-year scholarly talk at grand rounds on a topic in AOC
Giving a lunchtime talk or a perinatal case presentation in AOC during each academic year
Attending a CME course in area of concentration — suggestions include the AAFP's family medicine OB course or the University of California, San Francisco's antepartum/intrapartum course 
Message from program director
Message from program director
Our director explains how the Family Medicine Residency Program at Scripps Mercy Hospital Chula Vista offers a rich and rewarding experience.
From the program director, Marianne McKennett, MD
Thank you for your interest in the Scripps Family Medicine Residency Program. Recognizing significant disparities in access to health care, our mission is to train family physicians who are prepared to provide comprehensive family-centered medical care with a focus on underserved communities.
We are a community-based training program that offers the benefits of being the only residency at Scripps Mercy Hospital Chula Vista and the advantages of close affiliations with the excellent medical education department at Scripps Mercy Hospital San Diego and the UC San Diego School of Medicine.
Our program was established with the support of the San Diego Border Area Health Education Center with a goal to increase access to quality health care for the medically underserved communities along the California and Baja California border region. A close affiliation with San Ysidro Health — a large, federally qualified community health center (FQHC) on the US border with Mexico — provides the opportunity to care for a Latino population and to address border health issues.
Our program is dedicated to training excellent family physicians with a commitment to providing care for people and communities in need. Medical students are recruited for their commitment to community medicine, cultural competency and scholarship. In our recruitment of residents, we target students who have shown a commitment to working with underserved populations.
We use a community-driven approach that emphasizes community medicine throughout the curriculum. This begins with a community medicine rotation for all interns that includes workshops, community site visits and a hands-on introduction to the Community-Oriented Primary Care (COPC) model.
Through our partnership with San Ysidro Health, Operation Samahan, Imperial Beach Family Health Center and local school districts, community experiences are included in rotations throughout the residency curriculum. Additionally, rotations in pediatrics/adolescent medicine, women's health, behavioral medicine, HIV care, sports medicine and geriatrics all include clinical activities in community sites and with community service agencies.
In response to the Healthy Border 2010 objectives, our program developed a curriculum to improve cultural and linguistic competence for residents. This longitudinal program incorporates the teaching of medical Spanish, cultural issues and health disparities in a clinically relevant context.
Residents and faculty work together and support each other to address the health issues facing our patients and border community. Our family medicine residents graduate as physician leaders who are able to provide comprehensive medical care and who are ready to make a difference in their communities.
I look forward to meeting you and introducing you to the Scripps Family Medicine Residency Program!
Program Director
Family Medicine Residency
Scripps Mercy Hospital Chula Vista
Curriculum and teaching sites
Family medicine residents at Scripps Mercy Hospital Chula Vista gain exposure to a variety of adult and pediatric specialties during their three years of training. View our complete list of inpatient and outpatient rotations (PDF, 200 KB) for first-, second- and third-year residents.
Our proximity to the US-Mexico border also provides residents a unique opportunity to take health care beyond the walls of the traditional hospital or clinic setting. Diverse community experiences are included in rotations throughout the residency curriculum.
Family medicine 
Residents learn to manage an array of medical pathology with a supportive balance of autonomy and supervision. Highlights include patient-focused care with bedside rounding, training in point-of-care ultrasound, open ICU, continuity of care with our outpatient clinics, an emphasis on work-life balance with an inpatient cap and opportunities to teach rotating medical students. 
Internal medicine
We work with the internal medicine categorical and transitional year residents at our sister hospital, Scripps Mercy Hospital San Diego, on one of four teams. There is a rotating admission schedule and interns consult directly with specialists. This rotation provides a different and diverse patient population with lots of autonomy. There are daily and weekly educational lectures. 
Obstetrics
The OB rotation offers in-depth experience with labor and delivery along with exceptional clinical opportunities. We manage antenatal and perinatal care for low- to high-risk patients alongside family medicine physicians and obstetricians, and maintain responsibility for gynecologic patients admitted to the hospital. Family medicine residents also work at various community clinics managing prenatal care, postpartum care and gynecologic care, including family planning.
Intensive care
As one of our core rotations, residents work one-on-one with ICU attendings for one month. You'll learn firsthand about the basics of ICU and management of the most acute and challenging cases in our hospital. And you'll be part of an interdisciplinary team that includes pharmacy, respiratory therapy, rehabilitation, case management and palliative care. This rotation also gives you the opportunity to perform a variety of procedures, such as placing central lines, A lines, paracentesis and intubations. 
Pediatric care
Pediatric inpatient medicine is performed at Rady Children's Hospital, one of the largest children's hospitals in California based on admissions. We work alongside UCSD pediatrics residents in learning bread-and-butter pediatrics, while also gaining experience in pediatric subspecialties, such as gastroenterology, neurology and endocrinology.
Special care nursery
Residents can work in the Level II NICUs (special care nurseries) located at both Scripps Mercy Hospital campuses and run by Rady Children's Hospital physicians and staff. Residents will work closely with neonatologists, nurse practitioners and registered nurses to provide care for babies born as early as 28 weeks. 
Palliative care
This is a two-week rotation with the Scripps palliative medicine service, a multidisciplinary team of palliative care physicians, social workers and spiritual care providers. As a team, you take consults within all departments of the hospital regarding a broad range of topics, including pain management, goals of treatment and end-of-life and comfort care. You have unique opportunities to establish rapport with patients and families during their most difficult moments, and to lead important goals-of-care discussions during family meetings.
Night float
Composed of two residents, the night float team covers both the inpatient medicine service and labor and delivery. Together, both residents admit patients, care for medicine patients on the floor, triage OB patients and get involved in deliveries and C-sections. The week of night float ends with Morning Report — a collaboration between one of the night residents and attending to present an interesting patient case.
Pediatric urgent care
In this popular and high-yield rotation, residents work with pediatric urgent care physicians at Rady Children's urgent care clinics in underserved areas of San Diego County. Residents see common presentations, including newborn fever, pharyngitis, rashes, fractures, lacerations, bronchiolitis, croup and asthma exacerbations, as well as patients with complex medical histories.
Behavioral medicine
This rotation offers experience in psychiatric care. Residents are exposed to patients in a variety of clinical settings, including inpatient care, high school clinics and our own continuity clinics. Residents become more familiar with management of common psychiatric diagnoses and community psychiatric resources.
Medicine and surgical subspecialties
During the medicine and surgical subspecialties rotations, residents obtain diverse outpatient experience in such areas as dermatology, ophthalmology, head and neck surgery, cardiology, urology and HIV care. This rotation provides an important opportunity to become more comfortable with physical exam skills and common diagnoses, while also learning when it's more appropriate to refer patients to specialists.
Musculoskeletal and sports medicine
Residents work alongside orthopedic surgeons and primary care sports medicine physicians at various sites, including our own continuity clinic, UCSD and Rady Children's Hospital. Residents gain experience in musculoskeletal exams, joint injections, acute fracture/splint management and concussion evaluation and management. Residents also have opportunities to provide football sideline coverage at Castle Park High School and to work in the Sweetwater injury clinics.
Community medicine
The community medicine rotation is the first rotation in our residency program. It allows residents to get to know Chula Vista and their colleagues. This rotation includes an orientation to our community resources, clinic sites and electronic medical records. You will meet continuity clinic patients whom you'll continue to care for throughout your residency. It's also a tradition for all residents to go to San Quintin, Baja, California, to lead a community health project and volunteer together at a clinic. 
Emergency medicine at Scripps
Residents help evaluate patients in the emergency department at Scripps Mercy Hospital Chula Vista. With the help of emergency medicine attending physicians, you'll perform various procedures, including laceration repairs, incision with drainage and intubations. 
Emergency medicine at Rady Children's
Family medicine residents work alongside pediatric residents, pediatric emergency medicine residents and pediatric emergency medicine physicians at Rady Children's Hospital. You'll receive extensive and diverse experience managing common childhood illnesses and higher-acuity situations. Residents also have an opportunity to perform procedures during dedicated procedure shifts.
General surgery
This rotation is based mostly in our outpatient surgical clinics and family medicine procedure clinics. It also allows residents to follow surgeons in the operating rooms at Scripps Mercy Chula Vista. Residents gain significant experience performing common family medicine office procedures, such as joint injections, skin biopsies, suturing and circumcisions.
Geriatrics
This is a two-week rotation that takes place at multiple sites, including Scripps Mercy Hospital Chula Vista, San Diego PACE senior center and Chula Vista Medical Plaza. Residents experience different perspectives of geriatric care, including inpatient, outpatient and home settings. You will work with family medicine attendings and geriatricians. You also give health talks at St. Charles Senior Center, coordinate home visits with your own continuity patients and participate in ride-alongs with caregivers from Scripps Home Health Care.
Ultrasound
Our ultrasound rotation combines independent study and hands-on ultrasound experience. Residents have access to a portable ultrasound curriculum with hours of ultrasound material (both didactic lectures and simulations). You'll have several opportunities to practice your ultrasound skills on patients within the ED or on our inpatient service, as well as at Chula Vista Medical Plaza during your continuity, OB and sports medicine clinics.
Patient Centered Medical Home
Our 12-week PCMH rotation offers residents an opportunity to assume a leadership position in the clinic while also working on improving clinic efficiency. Residents review and respond to abnormal labs, respond to patient questions and complete tasks or forms on behalf of residents who are away. PCMH residents work closely with one of our clinical faculty on quality improvement projects. They also facilitate weekly interdepartmental meetings and develop techniques to maximize charting efficiency and reduce physician burnout.
Gynecology
During this rotation, residents work at several community clinics handling common gynecologic procedures as well as with specialty clinics, such as OB and urology. Residents gain significant experience in gynecologic procedures, including LARC placements, colposcopies and endometrial biopsies.
Local and global electives
For elective time residents can choose to pursue additional training in their areas of interest, spend additional time with subspecialists, perform procedures or elect to extend their global health training further by arranging for rotations abroad. Our residents are supported by the program to pursue their personal interests. This may include:
Participating in additional continuity clinics
Training in subspecialty clinics and learning procedures
Practicing hospital medicine in a foreign city 
Learning tropical medicine in the jungle 
Advancing language skills via immersion
Here are a few examples of electives our residents have pursued abroad: 
Argentina – Language immersion
Bolivia – Outpatient primary care
Colombia – Outpatient primary care
Ecuador – Outpatient primary care, ultrasound
Fairbanks, Alaska – Inpatient and emergency medicine
Lago Atitlan, Guatemala – Primary care, women's health, public health and education
New Zealand – Outpatient primary care
Puerto Escondido, Mexico – Language immersion, outpatient primary care
Scripps Mercy Hospital Chula Vista
Established in 1964, Scripps Mercy Hospital Chula Vista joined Scripps Health in 1986 and is growing today in parallel with the community it serves. The hospital has 173 acute-care licensed beds and more than 700 employees. Within the United States, it's one of the closest hospitals to the Mexican border.
The hospital has an open ICU, allowing the family medicine team to care for floor and ICU patients simultaneously. As one of only two hospitals in the South Bay region with a labor and delivery ward, it handles a high volume of deliveries. Residents work closely with specialists and have the opportunity to participate in many different inpatient procedures and surgeries.
For the 11th consecutive year, Fortune magazine named Scripps Health among the top employers in the nation on their annual list of the 100 Best Companies to Work For.
Chula Vista Medical Plaza
The Chula Vista Medical Plaza guarantees a unique, patient-centered experience focusing on healing and preventive care. It serves as our patients' permanent medical home as well as our residents' continuity clinic. The facility has been designed around the concepts of the Patient Centered Medical Home (PCMH) model of care — meaning the patient, not the support staff or providers, is the focus of all care and services.
Within the building's spacious, three-story layout are specialized service pods with 60 well-planned and designed medical exam rooms, 10 fully equipped state-of-the-art dental operatories, a behavioral suite, a full-service diagnostic laboratory and a new radiology department featuring the latest advances in digital X-ray technology, health education/promotion services and social and support services.
Scripps Mercy Hospital San Diego
Established in 1890 by the Sisters of Mercy, Scripps Mercy Hospital San Diego is located in the Hillcrest neighborhood of San Diego. Rotations include internal medicine and special care nursery (Level II NICU). Family medicine residents work alongside Scripps Mercy Hospital internal medicine residents during their inpatient ward months.
Rady Children's Hospital
A pediatric tertiary care center, Rady Children's Hospital serves San Diego and Imperial Valley. Residents provide care here during inpatient pediatrics and pediatric emergency room rotations, working alongside residents from UCSD and other training programs.
High school clinics
Scripps Family Medicine Residency Program staffs three local high school clinics: Southwest High School, Hoover High School and Palomar High School. Residents work in a collaborative team with school nurses, social work students and nurse practitioners to provide medical care and behavioral health services. Our family medicine residents are excellent role models and can serve as mentors for future health care professionals from undeserved communities.
We also work closely with the San Diego Border Area Health Education Center to provide mentoring experiences at four high schools in the central and southern regions of San Diego County, including City Heights (CAE BHC) and Chula Vista (Promise Neighborhood).
San Ysidro Health and clinics
San Ysidro Health began operating out of a small house in 1969 as an outreach effort of the UCSD School of Medicine. It now encompasses multiple health services and satellite clinics that are subsidiaries of San Ysidro Health, including the Chula Vista Medical Plaza, Maternal Child Health Center, San Ysidro Mental Health, National City Family Clinic, Otay Family Health Center, Comprehensive Health Center and Paradise Hills Family Clinic.
SYHC is a federally designated community health center and is governed by a community-based board of directors representing the ethnically diverse population it serves. Many of its clinics and services are very close to the Mexican border — some with views of the hills of Tijuana — allowing residents to experience and become experts in border medicine.
Operation Samahan 
Operation Samahan is a community health site in National City that provides culturally competent care to an underserved population of San Diego. Residents work with our faculty during their OB and gynecology rotations.
Health Frontiers in Tijuana
HFIT is a free clinic in the red light district of Tijuana. It serves some of the city's most marginalized communities including homeless persons, migrants, deportees and sex workers. It includes an HIV clinic, women's group, transgender clinic and mental health services alongside basic medical services. Faculty and residents staff the clinic on Saturdays with medical students from UCSD and Autonomous University of Baja California in Tijuana.
The residency program holds daily and weekly didactic sessions in the outpatient and inpatient setting. Each morning, resident and attending didactic sessions are held at the Chula Vista Medical Plaza. And every afternoon, resident and specialist-led didactic sessions are held with the inpatient service, including case reports, pediatric and obstetric topics, specialty topics and ECG rounds.
On Wednesday afternoons, all faculty and residents meet for an educational series of lectures and workshops that address the breadth of family medicine. Highlights of the family medicine curriculum include a monthly behavioral medicine case conference and monthly Balint group.
Other recurrent topics in the series include:
Medical Spanish
Evidence-based medicine
Health maintenance
Procedure workshops
Palliative medicine
HIV care
Clinical faculty in other medical and surgical specialties present topics that focus on their expertise. The didactic curriculum addresses the broad spectrum of family medicine.
Grand rounds are also held at our continuity clinic, where resident PCMH teams work with their medical assistants to improve care through practice improvement projects, with a focus on the PDSA cycle model.
Scripps family medicine residents enjoy the guidance of experienced physicians and researchers and learn alongside other talented trainees.
The Scripps Family Medicine Residency Program has an experienced group of core faculty that supports comprehensive family medicine education.
Interacting with residents on a daily basis, faculty members not only teach the fundamentals of family medicine, but also offer expertise in maternal and child health, geriatrics, behavioral health, ambulatory surgery and community medicine.
Physician faculty members provide patient care and teaching in a hospital setting. In addition, several of them provide intra-partum maternity care. The program also has support and teaching from experts in OB-GYN, critical care, cardiology, emergency medicine and other medical specialties.
Marianne McKennett, MD - Program Director
Shaila Serpas, MD - Assistant Program Director 
Mary Moya, MD - Assistant Program Director
Eugene "Michael" Rosenblatt, DO, MPH - Assistant Program Director
John "Randy" Swartz, MD - Assistant Program Director
Melissa Campos, MD - Assistant Program Director
Raul Trejo, MD - Clinical Faculty
Ryan Yoon, MD - Clinical Faculty
Kendra Brandstein, PhD, MSW, MPH – Director of San Diego Border Area Health Education Center
The Family Medicine Residency Program at Scripps Mercy Hospital Chula Vista offers eight first-year resident (PGY-1) positions each year. The program's small size gives residents an opportunity to build close relationships with each other during their three years of training. 
Scripps family medicine residents are a diverse and committed group of physicians. They share a strong desire to improve health care access, education and delivery to communities in need.
Graduates of the program have attained subspecialty fellowships in sports medicine, palliative medicine, maternity care, faculty development and geriatrics. Thirteen graduates are providing inpatient maternity care in the labor and delivery setting and 20 graduates are providing inpatient hospital care.
In the clinical setting, our graduates practice broad spectrum family medicine in community health centers, multi-specialty groups and hospitalist settings. They serve as medical directors for health care organizations, faculty in academic institutions and health care leaders in multiple settings. More than 75% of program graduates practice medicine in underserved areas and 65% have stayed in the South Bay and greater San Diego area.
Graduate highlights 
Dr. Maria Carriedo-Ceniceros (2003) grew up in National City. She went east to complete her undergraduate education at Harvard College before returning to UC San Diego for medical school. Dr. Carriedo is now the vice president and chief medical officer for San Ysidro Health.
Dr. Raul Trejo (2003) grew up in San Ysidro and completed medical school at Harvard University. He is now core faculty with the Scripps Family Medicine Residency Program and leads our Patient-Centered Medical Home curriculum with a focus on quality improvement and health disparities.
Dr. Rakesh Patel (2003) began working at Neighborhood Healthcare after graduation and is now their CEO. He is a community health leader for northern San Diego County.
Dr. Eric Leute (2004) is medical director of the Imperial Beach Community Clinic. He has hired six Scripps Family Medicine Residency Program graduates who also teach our residents in the inpatient and OB settings.
We have three palliative and hospice care fellowship graduates, including Dr. Sonya Koo Christianson (2009), now the director of inpatient palliative care at Scripps, and Dr. Johanna Estrada (2015), a palliative care attending at Scripps Mercy Hospital Chula Vista.
With a global health passion and NHSC scholarship, Dr. Brian Sullivan (2010) practiced two years in Saipan. Today he and his family divide their time between Costa Rica and South Dakota.
Three graduates are practicing in Hawaii, including Dr. Mikela Yarawamai (2015) who is originally from the Big Island and now works closely with the native Hawaiian people.
Three additional graduates practice in Texas, including Dr. Ruth Morgan (2013). She is medical director at Haven for Hope in San Antonio, a multi-disciplinary program that cares for the vulnerable homeless population.
Our four sports medicine graduates are working with athletes across California, from UCLA to Stanford.
Three graduates have received certification in integrative medicine.
Many of our graduates are teaching the next generation of family physicians in our own program and other family medicine residency programs in California and across the West.
The Scripps Family Medicine Residency offers an ideal blend of academics and support. Residents benefit from formal career-building opportunities as well as fun team-building activities.
Our program offers a variety of research opportunities to trainees. These include COPC projects, case presentations and publications.
Community-oriented primary care (COPC)
Each resident participates in a COPC project. This systematic approach to health care is based on principles derived from epidemiology, primary care, preventive medicine and health promotion. All residents complete a scholarly project using a community-based participatory model.
Resident-led projects are varied and may span multiple years, including:
Group prenatal visits and maternity care outcomes
Childhood obesity prevention
Home-based fall assessments in the elderly
Sports medicine projects
Nutrition/cooking classes for high school students
High school student mentoring
Elementary school wellness
Case presentations and publications
Many of our residents have turned their scholarly activities into publications, including case presentations and reports. Scholarly activities have been presented at various conferences, including:
CAFP Clinical Forum
AAFP Family Medicine National Conference
AAFP FMX
Society of Teachers of Family Medicine
AMSSM
Our program maintains a casual atmosphere that fosters support and togetherness. During our annual retreats, all residents and staff spend time together for relaxation and program review.
About once a quarter, we host an event called Residency and Faculty Together (RAFT). It gives residents and faculty an opportunity to connect with each other outside clinical settings. Social activities include pumpkin carving, beach barbecues, bowling, visiting a local organic farm and ultimate Frisbee.
We also host welcome dinners, a community medicine gathering and field trips. Residents hold holiday parties, including an annual white elephant gift exchange where everyone is a winner. In November, our residents support men's health with an annual "Movember" mustache contest.
Residents participate in an annual fantasy football league — and the competition is fierce. They also have a kickball team that competes in a local league. In 2010, the group won the kickball league championship.
The terms and conditions of resident training and employment are specified in the employment agreement (resident contract), including training obligations, stipend and benefits. Copies of the employment agreement, yearly rotation schedule, call schedules and other information are provided at the interview.
PGY-1 resident salary: $55,070
PGY-2 resident salary: $57,223
PGY-3 resident salary: $59,589
PGY-4 chief resident salary: $85,000
Insurance, leave and other benefits
Health insurance
All residents (and their families at minimal cost) are offered individual health insurance including medical, dental, vision and prescription coverage, under the Scripps medical insurance plan. Residents may also participate in the Scripps Wellness Program.
Vacation
Four weeks per year (20 working days) for all residents. Up to 10 additional days for PTO (medical leave and family emergencies).
Sick leave
All residents have a 10-day bank that is used for sick leave as well as holidays recognized by Scripps when residents may not be scheduled to work, depending on their call schedules.
Licensure
All residents in graduate medical education programs in the state of California must possess a California license prior to the end of their PGY-2 year. First year residents (PGY-1) are not eligible for licensure in the state of California.
Professional liability coverage
Professional liability coverage is provided to all Scripps Mercy Hospital Chula Vista residents for claims that arise out of the performance of their duties as Scripps employees.
Counseling service
The Employee Assistance Program (EAP) provides confidential, free, short-term professional counseling for employees and family members.
Parking
Free physician parking is available.
Meals
Residents receive a meal card for $25.00 per week, upon completion of medical records, with additional meals during Friday and weekend coverage.
Educational stipend
An annual stipend is available that can be used toward the purchase of books, educational software, USMLE application, conferences, medical licensure and DEA.
Educational resources
All residents have 24/7 access to the medical library at Scripps Mercy Hospital Chula Vista. The medical library is staffed with personnel who can assist with research and journal article retrieval. In addition, there are online journals and links to UpToDate, DynaMed, PsycINFO, Embase, AccessMedicine, Cochrane Library and PubMed. These online resources are also accessible from home.
Requirements
All residents in graduate medical education programs in the State of California must possess a California medical license before beginning the PGY-3 year. First year residents (PGY-1) are not eligible for licensure in the State of California. The residency program reimburses the cost of MD or DO licensure.
Application procedure
The following materials must be submitted through ERAS to be considered as a candidate:
Universal application
Personal statement
Medical school Dean's letter
Medical school transcript
Three letters of recommendation from medical school faculty
A copy of the student's USMLE scores
A wallet-size photo
Important dates
Applications are due by Nov. 30 of the application year. Interviews are held November through January and are scheduled by the residency office.
Medical student rotation application
The Scripps Family Medicine Residency Program offers outpatient and inpatient training opportunities for medical students who want to gain experience in a family medicine environment that caters to the underserved Latino population of the San Diego border area. We have a close affiliation with the UCSD family medicine program.
In the inpatient setting, medical students care for patients and round with inpatient teams in training, working closely with interns and senior residents.
The goal of our medical student rotations is to provide participants with a whole picture of the inpatient service, including rounding, admissions, discharge planning, family meetings, daily didactics, working with specialists and night float. Students also have an opportunity to work with the obstetrics service.
Additionally, students have opportunities to work in various outpatient clinics and participate in prenatal care at Operation Samahan.
Requirements
Students must: 
Be enrolled in a Liaison Committee on Medical Education (LCME) approved medical school in the United States or Canada
Have completed core clerkship training
Be in good academic standing with their school to qualify for the rotation
How to apply
If you're interested in applying for a medical student rotation, please print and submit the Family Medicine Rotation Application (PDF, 180 KB) for medical students. If you have questions in the meantime, please send an email to familypractice.scripps@scrippshealth.org.