UCSD/Scripps Health Hospice and Palliative Medicine Fellowship Program
Preparing physicians to provide hospice and palliative care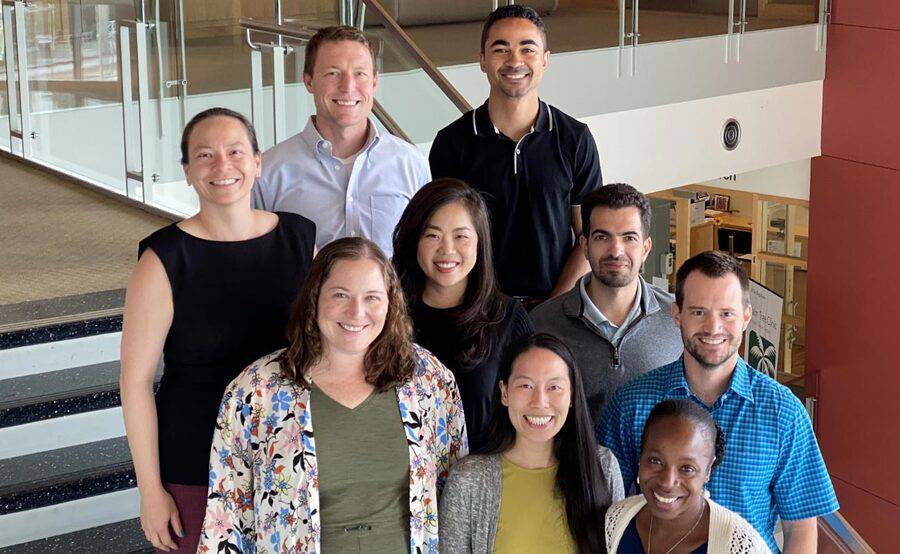 Preparing physicians to provide hospice and palliative care
The UCSD/Scripps Health Hospice and Palliative Medicine Fellowship Program prepares physicians to care for people who have serious or life-threatening illnesses. Graduates are well versed in caring for patients in both the hospice and palliative medicine settings, as well as all levels and locations of care.
Our one-year ACGME-accredited program is designed for physicians who wish to become sub-specialists and have a long-term career in hospice and palliative medicine (HPM). The program prepares trainees to work in a variety of roles, including leadership within the field. 
During fellowship, trainees receive exposure to diverse patient populations across care settings. Upon completion of the one-year training program, fellows will be well prepared for American Board of Medical Specialties (ABMS) certification in HPM, as well as Hospice Medical Director Certification (HMDC).
We offer diverse training sites — university and community hospital cultures, inpatient and outpatient palliative care, and a robust home hospice experience with UCSD, Scripps Health and The Elizabeth Hospice.
Graduates have successfully become hospice medical directors and palliative medicine consultants in community and inpatient settings across the United States.
Our expert interdisciplinary faculty care for patients and provide leadership locally, regionally and nationally.
The strong camaraderie between fellows and faculty creates numerous mentorship opportunities and a network of support after graduation.
From the program directors
Thank you for your interest in the UCSD/Scripps Health Hospice and Palliative Medicine Fellowship Program.
We are proud to continue a long tradition of training excellence, starting at San Diego Hospice in 2000, followed by ACGME-accreditation of our program in 2008 when Scripps Mercy Hospital partnered with San Diego Hospice as the sponsoring institution. In 2013, Scripps Mercy Hospital became the primary teaching site for the fellowship, and in 2015 the program transitioned to the UCSD Graduate Medical Education Department. Through our shared history, we have graduated over 135 fellows to date.
In a unique partnership, UCSD and Scripps Health share responsibility for the fellows, with trainees spending equal time in both institutions with all the benefits of both institutions. We are also pleased to be partnering with The Elizabeth Hospice to provide excellent training during our hospice rotations. Our combined faculty is thrilled to welcome your application to our program.
Our goal is to provide you the very best in HPM education, with close attention to your clinical, communication and teaching skills, as well as your personal and professional growth. Our interdisciplinary faculty is deeply committed to the future of our field and your development. You will have the opportunity to train in multiple settings, including UCSD hospitals in La Jolla and Hillcrest, Scripps Health hospitals, Rady Children's Hospital, UCSD and Scripps outpatient palliative care clinics, long-term care facilities and in the community.
San Diego is a fantastic place to live and train, with access to the ocean, desert and mountains all within a few hours away. It is a diverse, welcoming city, and we think you will find entertainment, outdoor activities and neighborhoods to suit your preference.
Quality of life is important to our patients and to us, and San Diego provides ample opportunity for exploration and relaxation in your free time.
Please take a look at our program, and please contact us with any questions you may have.
Sincerely,
Toluwalasé "Lasé" Ajayi, MD, and Holly Yang, MD
Program Directors
UCSD/Scripps Health Hospice and Palliative Medicine Fellowship
Training sites, rotations and curriculum
Fellows will have the opportunity to train in multiple settings, including UCSD hospitals in La Jolla and Hillcrest, Scripps Health hospitals, Rady Children's Hospital, UCSD and Scripps outpatient palliative care clinics, and in long-term care facilities and in the community through Elizabeth Hospice.
To acquire the education and training needed to effectively care for people with serious or life-threatening illnesses, clinical rotations provide trainees with opportunities to: 
Participate as an integral member of interdisciplinary care teams
Develop and manage patient care plans
Facilitate continuity of care
View the 2023-2024 fellow rotation schedule (PDF, 38 KB).
Fellows participate in four-hour weekly educational conferences to build their foundation of HPM knowledge, as well as grow their teaching and presentation skills with mentorship and feedback. Didactic topics include: 
Comprehensive, complex symptom management
Communication skills education in small group role play
Teamwork and leadership
Psychosocial and spiritual care
Professional development and teaching skills
Fellows will have the opportunity to learn and teach in special sessions focused on: 
Quality improvement
Journal club
Formal in-depth presentations on HPM topics of their interest
Fellows also have protected time for a weekly fellow process group to help build community, resilience and peer support skills.
During your fellowship, you'll work under the mentorship of leading hospice and palliative medicine experts and alongside talented trainees. With compassionate care at the core of the program, our team is dedicated to delivering superior medical education and guidance to meet each fellow's interests and career goals.
The UCSD/Scripps hospice and palliative medicine faculty is dedicated to preparing physicians to competently work in a variety of palliative care and hospice settings, while taking an interdisciplinary approach to provide compassionate care.
The faculty is comprised of physicians, nurses, social workers, spiritual care providers and other health care providers.
Our physician faculty includes: 
Fellows in the hospice and palliative care program have previously studied across the country and right here in San Diego. Their diverse backgrounds and interests are building the future of palliative medicine and hospice care.
Eric Leslie, MD
Emergency Medicine, Navy Medical Center San Diego
Guiyu "Lutetia" Li, MD
Family Medicine Residency, Long Beach Memorial Medical Center 
Matthew Mason, MD
Emergency Medicine Residency, University of California, San Diego
Sean Posada, MD
Family Medicine Residency, Scripps Mercy Hospital Chula Vista
Theodore Roper, MD
Family Medicine Residency, University of California, San Diego
Iris Vuong, MD MPH
Internal Medicine Residency, University of California, Davis
Patricia "Annie" Weisner, MD
Pediatric Neurology Residency, University of Washington/Seattle Children's Hospital
The terms and conditions of the UCSD/Scripps Health Hospice and Palliative Medicine Fellowship Program training and employment are specified in the UCSD employment agreement (resident contract), including training obligations, stipend and benefits.
Annual salary for the academic year is consistent with UCSD PGY-4 salary. For the 2023-2024 academic year, UCSD PGY-4 salary is $88,471.
An additional stipend is available for your medical license fees and an education stipend of $1,000.
An optional retirement account is also available.
Insurance, leave and other benefits
Insurance
Malpractice insurance is provided. Health, dental, vision, life, and long-term disability insurance plans for fellows and their families are reviewed at orientation.
Counseling service
The Faculty and Staff Assistance Program (FSAP) provides confidential, free, short-term professional counseling for employees and qualified family members.
Vacation leave
Fellows receive 20 working days of paid vacation.
Sick leave
Leave for illness, family medical emergencies, maternity/paternity is allotted per UC San Diego policy.
Medical library
All fellows have access to the medical libraries at UCSD and at Scripps Mercy Hospital via their identification badge. In addition, there are online journals and links to UpToDate, DynaMed, PsycINFO, Embase, AccessMedicine, Cochrane Library, and PubMed.
For additional information on benefits, please visit the UCSD house officer policies and procedures.
Each year, we welcome applications for the UCSD/Scripps Hospice and Palliative Medicine Program, which will lead to board-eligibility in hospice and palliative medicine.
Apply to the hospice and palliative medicine fellowship
This fellowship will participate in the National Resident Match Program (NRMP) Specialties Matching Service for the 2024-2025 academic year. Applications will be accepted only through the Electronic Residency Application Service (ERAS). 
Please look for us and apply using "University of California (San Diego) Medical Center" as the program name.
We will be accepting applications through Wednesday, Sept. 27, 2023, or until our interview slots are full. It is best to apply as early as possible to allow sufficient time to review your application for consideration of an interview and scheduling of an interview.
Match participation timeline*
ERAS opens for applicants: July 5, 2023
ERAS opens for programs: July 19, 2023
NRMP registration opens: August 23, 2023
Rank list opens: September 27, 2023
Rank list deadline: November 15, 2023
Match day: November 29, 2023
*Timeline from the AAHPM
Current residents as well as mid-career physicians who are candidates to be board certified in Hospice and Palliative Medicine after completion of their training are eligible for the program and encouraged to apply. 
International medical graduates should ensure that they meet all criteria for medical licensure as listed on the Medical Board of California website prior to applying, as we are unable to accept applicants who cannot be licensed in California. We are also unable to accept applicants on a J-1 Visa who do not have a current California medical license.
Specialties that are eligible for board certification in HPM include:
Anesthesia
Emergency medicine
Family medicine
Internal medicine
Neurology
Obstetrics and gynecology
Pediatrics
Physical medicine and rehabilitation
Psychiatry
Radiology
Surgery
We will be conducting virtual interviews this year per AAHPM guidance. As we are unable to welcome you to "America's Finest City" in person, we hope you will enjoy the videos from the Graduate Medical Education departments of both UC San Diego and Scripps Mercy Hospital to get a sense of our medical community.
To learn more about the UCSD/Scripps Health Hospice and Palliative Medicine Fellowship Program, contact Ellen Mackall at emackall@health.ucsd.edu.