Minimally Invasive Gynecologic Surgery Fellowship
Advanced training for MIGS at Scripps Clinic in San Diego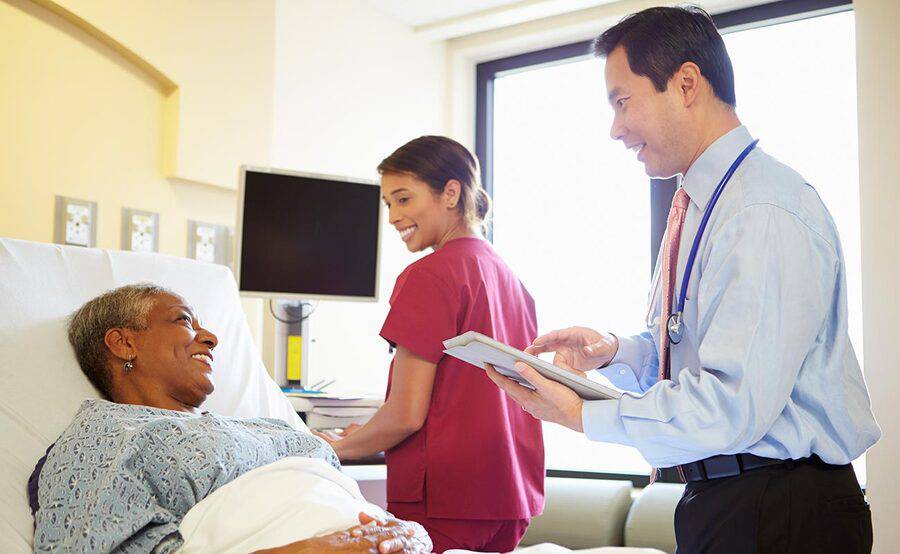 Advanced training for MIGS at Scripps Clinic in San Diego
The Scripps Clinic Fellowship in Minimally Invasive Gynecologic Surgery (MIGS) is designed for graduates of obstetrics and gynecology (OB-GYN) residency programs who wish to pursue advanced training to master minimally invasive gynecological surgery techniques and advance the field of gynecological surgery. Working with core and adjunct faculty, fellows gain extensive experience in laparoscopic, robotic, vaginal and hysteroscopic surgery and learn to manage complex gynecologic conditions effectively. 
Approved by the AAGL, the two-year program integrates the latest developments in clinical practice, scientific research and technical innovation.
Clinical work is conducted at several sites in San Diego county. The bulk of major surgical procedures is performed at Scripps Memorial Hospital La Jolla. Other surgical sites include Scripps Green Hospital, Scripps Mercy Hospital and at one of several Ambulatory Surgery Centers (ASC) located at Scripps Clinic Carmel Valley ASC, Scripps Clinic Rancho Bernardo ASC and Scripps Ximed ASC.
The Scripps Minimally Invasive Gynecological Surgery (MIGS) Fellowship is a two-year program accredited by the American Association of Gynecologic Laparoscopists (AAGL).
The fellowship is designed to provide state-of-the-art training in all forms of minimally invasive gynecologic (MIGS) surgery, minimally invasive therapies and noninvasive diagnostic testing, as well as training and development in clinical research design and execution.
Fellows operate at several of the hospital locations and outpatient surgery centers operated by Scripps Health in San Diego County. Scripps is affiliated with the obstetrics and gynecology residency program based at the Naval Medical Center San Diego and residents rotate full time at Scripps.
Fellows take call six nights each month. Most on-call work is for gynecologic problems only. Obstetric call duty is required two 24-hour Saturday shifts per month. The Scripps MIGS fellowship adheres to ACGME work-hour requirements.
Beginning in 2009, Scripps Clinic began offering a one-year, independent MIGS fellowship, and was granted accreditation by the American Association of Gynecologic Laparoscopists (AAGL) in 2011. In July 2013, the program received accreditation from AAGL to expand to a two-year program. 
Why choose us
Fellows are trained in advanced laparoscopic procedures, robotic surgery, operative hysteroscopy, pelvic floor reconstruction, urogynecologic evaluation and surgery.
Procedures are performed at hospitals and ambulatory surgery centers.
Program integrates clinical care, resident teaching and research opportunities.
Fellowship highlights
Operate three to four days a week
Care for patients in a continuity clinic
Work on clinical research
Collaborate with gynecologic, urologic, and colorectal surgeons
Attend and present at national AAGL meetings
Training sites, on-call duties and rotations
The fellowship program at Scripps Clinic is designed to focus on advanced training in the hospital setting and outpatient surgery centers to help fellows prepare for future practice.
Scripps Clinic physicians provide gynecologic surgery for patients at several different Scripps Health facilities. Most major inpatient and outpatient surgeries in which fellows have an opportunity to participate are completed at Scripps Memorial Hospital La Jolla and Scripps Green Hospital, while outpatient cases are performed at one of several Scripps Health ambulatory surgery centers: Scripps Clinic Carmel Valley, Scripps Clinic Rancho Bernardo and Scripps Clinic La Jolla – Ximed building. There is a group of Scripps Clinic physicians also working at Scripps Mercy Hospital. Residents and possibly fellows provide some care here as well. Opportunities to expand fellowship work to Scripps Mercy Hospital are possible.
Fellows work side-by-side with Scripps Clinic MIGS specialists, gynecologic oncologists, urogynecologists, as well as general obstetrician-gynecologists in a setting whose collective focus includes a full spectrum of laparoscopic, hysteroscopic, and minimally invasive procedures including infertility, urogynecology, gynecologic oncology, and general gynecology. Scripps La Jolla is a Level 2 trauma center with a group of surgical and multi-disciplinary physician teams available 24/7 to provide care. Fellows have ample opportunity to work with expert surgeons in related fields. 
Obstetrics
Scripps Clinic physicians perform most obstetrics-related hospital work at Scripps Memorial Hospital La Jolla, which performs between 300 and 350 deliveries each month. Around 75% of these deliveries are overseen by Scripps Clinic physicians and the rest are delivered by physicians in private practice. Two Scripps Clinic attending physicians and a midwife are on-duty at Scripps La Jolla Hospital 24/7. Fellows are required to work two 24-hour Saturday shifts per month on Labor & Delivery. Thus, when fellows take obstetric call, they are always working as part of a team that includes another attending physician as well as a midwife. 
Naval Medical Center San Diego
Scripps Clinic is affiliated with the obstetrics & gynecology residency program at the Naval Medical Center San Diego (NMCSD) and has had a gynecologic surgery rotation for residents since 2000. Two PGY-3 residents from NMCSD rotate full-time at Scripps Health in general gynecology and the MIGS Fellow will occasionally give lectures and workshops at NMCSD.
Continuity clinic
Fellows see patients in their continuity clinic each week, during two half-day sessions. While they work independently, an attending physician is generally available to review cases. Surgery cases from the continuity clinic are scheduled with an attending of the fellow's choice.
Fellows are required to work two Saturday 24-hour shifts per month on labor and delivery (L&D).
Fellows are on-call for gynecology six to eight days each month. On-call duties include any gynecologic issues at Scripps Green Hospital, Scripps Clinic Torrey Pines Urgent Care Center and coverage for a small gynecology practice. Gynecologic on-call duties are beeper call, not in-house.
Below is a typical weekly rotation schedule.
Benign Gynecology/Urogynecology Rotation (~16/24 months)
Monday
AM - ASC (Kahn/ALL GYN)
PM - SMLJ (Tsai)
Tuesday
OR ALL DAY (Tsai/Washkowiak/Raizada)
Wednesday
AM - Simulation Lab/Research/XiMed ASC
PM - Continuity Clinic, Rancho Bernardo
Thursday
OR ALL DAY (Kahn/Salzetti/Raizada)
Friday
AM - OR (Kahn/Lombardi/Salzetti)
PM - Continuity Clinic, Carmel Valley
Saturday/Sunday
Two 24-hour shifts per month working in house as an attending on Labor and Delivery. (Two attending physicians and a CNM cover Labor and Delivery 24/7.)
The fellow's schedule will vary week to week and depends on surgical cases scheduled. Cases scheduled for the following week are reviewed by the fellow and assignments for the fellow and resident(s) on the service are then made for the following week. The fellow attempts to balance the needs and desire of all trainees in making the assignments. 
On Wednesday and Friday mornings during the Fall semester of the first year of fellowship, fellows attend the course on Clinical Investigation and grant writing with KL2 scholars and PhD candidates through Scripps Translational Science Institute. Fellows in the past have also audited the TSRI course on statistics, but this has been exchanged for an online statistics course. The benefit of an in-person course did not seem to outweigh missing additional surgical case experience. 
Gynecologic Oncology Rotation (~8/24 months)
Monday
OR with Dr. Janco, Silverman or Longoria
Tuesday 
OR with Dr. Janco or Longoria
Wednesday
OR with Dr. Silverman or Longoria
Thursday
OR with Dr. Janco or Dr. Silverman
Friday 
AM - Gyn-oncology clinic 
PM - Continuity Clinic, Carmel Valley
Saturday/Sunday
Two 24-hour shifts per month working in house as an attending on Labor and Delivery. (Two attending physicians and a CNM cover Labor and Delivery 24/7.)
Fellows receive training and mentoring from physicians in the Scripps Clinic department of obstetrics and gynecology (OB-GYN), which includes over 30 obstetrician-gynecologists as well as nurse practitioners, nurse midwives and physician assistants.
Fellows receive advanced training in:
Robotic gynecologic surgery
Advanced laparoscopic surgery
Hysteroscopy
Endometriosis and pelvic pain
Oncology
Vaginal surgery, including pelvic floor reconstruction
Urinary incontinence evaluation and procedures
Urogynecologic evaluation and surgery
Colorectal surgery, general surgery and urology
Graduating fellows will have the knowledge and skills to:
Care for patients with complex gynecologic diseases using minimally invasive techniques
Conduct further MIGS research
Serve as scholarly and surgical resources for their medical community
Minimally invasive gynecologic surgery clinical faculty members bring a breadth of knowledge to the fellowship program and enjoy sharing their years of experience with each of our MIGS fellows.
Current fellows and alumni
Scripps Clinic has a rich tradition of clinical and basic science research. In 1924, following the discovery of insulin, philanthropist Ellen Browning Scripps founded the Scripps Metabolic Clinic to diagnose, treat and investigate diabetes and other metabolic disorders.
Today, Scripps Clinic partners with Scripps Research, one of the world's largest, private, nonprofit basic science research organizations.
In addition, the Scripps Translational Science Institute links Scripps Research with Scripps Clinic, educating the next generation of clinical and translational scientists.
First-year fellows work with clinical and translational science scholars through the Scripps Translational Science Institute (STSI) course on clinical design and implementation. Using this as a foundation, fellows given the opportunity to design, implement and publish studies during their training.
The terms and conditions of the Scripps Clinic Minimally Invasive Gynecologic Surgery Fellowship Program training and employment are specified in the employment agreement (resident contract), including training obligations, stipend and benefits.
Clinical Fellow (PGY V 2020-21): $71,085.01
Clinical Fellow (PGY VI 2020-21): $74,519.95 
Education allowance: $4,000
Insurance, leave and other benefits
Insurance
Health and dental insurance plans are available for fellows and their dependents for a minimal cost. Confidential counseling and psychological support services are available on request.
Life insurance coverage
Up to one million dollars in life insurance is available for fellows and their dependents.
Long-term disability insurance
Long-term disability insurance at Scripps rates, is available for purchase. State disability insurance is paid by the fellow. The State of California requires this contribution.
Malpractice insurance
Fellows are covered by malpractice insurance while performing services within the scope of their training at Scripps Clinic. The liability limit is $5,000,000 per claim/$5,000,000 annually. Tail coverage is provided.
Educational expenses
Scripps provides a $4,000 educational expense allowance annually to each fellow for professional meetings and conferences, books and journals, professional dues and other educational expenses.
Vacations and leave
Fellows receive 20 vacation/professional meeting days annually. Six paid sick days (48 hours) are allotted annually. Parental and other leaves of absence follow Scripps policy and California State Law. Substantial absences may necessitate additional rotations to complete training.
Other benefits
Lab coats and scrubs are provided and laundered by Scripps. Paid parking in is provided at no cost. A full-service cafeteria is located in the hospital.Call rooms are provided as needed.
Scripps clinic participates in the AAGL Fellowship application and NRMP matching programs.
For further information, you may contact Justine Shao, Administrative Coordinator, Scripps Clinic Department of Obstetrics & Gynecology at Shao.Justine@scrippshealth.org.