Endocrinology, Diabetes and Metabolism Fellowship Program
Endocrinology training in inpatient and outpatient care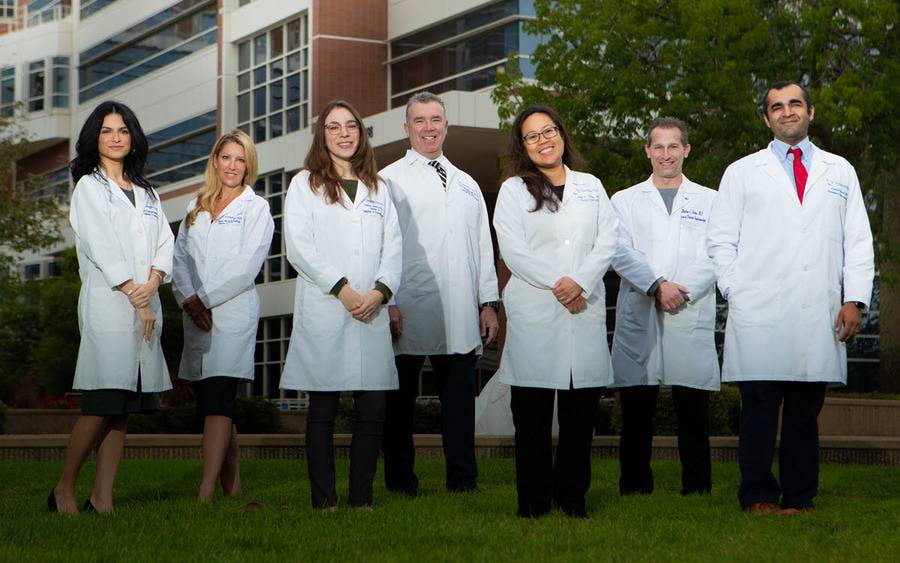 Endocrinology training in inpatient and outpatient care
Scripps Clinic and Scripps Green Hospital's Endocrinology, Diabetes and Metabolism Fellowship Program began in 1956. It boasts a rich history including of participation in major clinical trials and of faculty who are founding board members of the American Association of Clinical Endocrinologists. Our group, as a whole, has published more than 400 articles in peer reviewed medical journals.
Scripps Clinic Division of Diabetes and Endocrinology is known for its multidisciplinary approach to patient care and its wide-reaching inpatient and outpatient services. We treat more than 27,000 patients with diabetes every year. Scripps Health is nationally recognized as a leader in endocrinology and diabetes care. 
Graduates of our fellowship program have pursued careers in clinical care, clinical research and academic medicine.
Please note: Some of the footage and images in this video were taken prior to the COVID-19 pandemic. Scripps is currently following all CDC guidelines, and has implemented special protocols, to keep our facilities safe for our patients and staff. Read more about our precautions.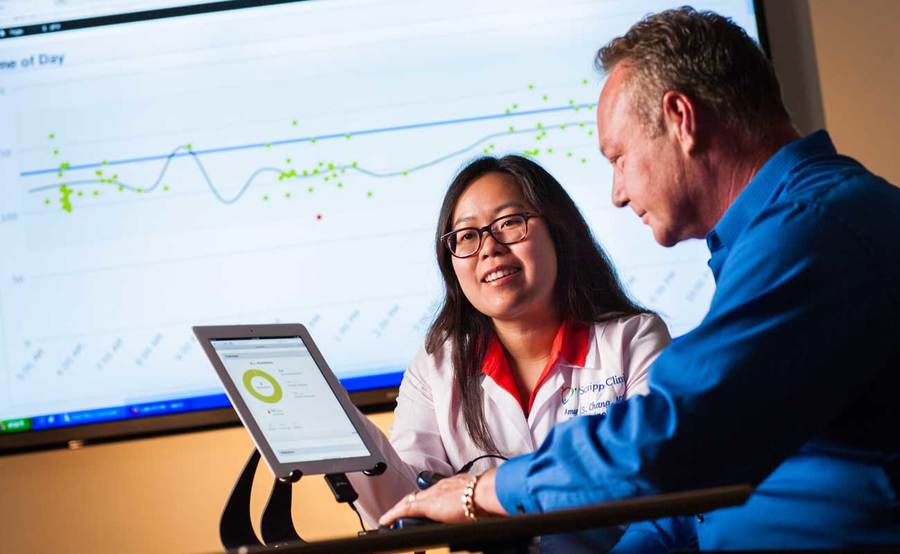 Our fellowship at Scripps Clinic and Scripps Green Hospital is a two-year ACGME-accredited program offering broad training. Parameters of the program and opportunities for training include the following:
Clinical training heavily emphasized throughout both years
Fellows develop and maintain their own panel of patients managed with the supervision of faculty preceptors, ensuring continuity of care and excellent longitudinal clinical experience
Seven half-day continuity clinics (view a sample fellows schedule

(PDF, 120 KB)

)
Extensive procedural experience that includes thyroid ultrasonography and fine-needle aspiration, radioiodine administration, bone densitometry, and use of/download of insulin pumps and continuous glucose monitors
Elective clinic rotations that include lipidology, reproductive endocrinology, pediatric endocrinology, neuroendocrinology, weight management/obesity medicine and transgender medicine
Required presentations delivered once a month at one of our weekly didactic conferences, twice a year at the division's monthly journal club and once a year at the UCSD weekly Endocrine Grand Rounds
Journal club presentations include article reviews pertaining to social determinants of health and how they impact our patients and others with endocrine disease 
Monthly interdisciplinary conferences (e.g., cytopathology, radiology) expand fellows' knowledge base and collaboration with our colleagues in other specialties
Weekly board review with faculty preceptors
Fellows and faculty all volunteer their time one morning per month within the Endocrinology clinic at the Barrio Logan location of Family Health Centers of San Diego; this is a required component of the training experience and allows fellows to further their experience in caring for marginalized populations and to develop an ability to work within different layers of the health system
J1 visa applicants are supported by our program  
Weight management and obesity medicine
Weight management and obesity medicine
Patient care in our weight management division makes up an elective rotation for first year fellows but is a required component of training for second year fellows. During this experience, fellows can expect to learn about and practice endocrine-related obesity medicine in both pediatric and adult populations.  
This comprises management strategies that include diet, exercise, anti-obesity medication use and metabolic surgical approaches. They will learn about the pathophysiologic role of adipocytes in the endocrine system as well as the role satiety hormones play in obesity. Metabolic surgical care will require fellows to understand and treat the myriad nutritional and hormonal problems that can arise after such surgery.  
Fellows will have the opportunity to interact with a multidisciplinary team that includes adult and pediatric endocrinologists, registered dieticians who assist with calculation of calorie targets, diet composition, and meal replacement strategies and behavior coaches. Interaction and collaborative care also takes place with our bariatric surgeons who assist in teaching about preoperative counseling and management as well as post-operative care including vitamin management.
Numerous research projects for fellows have emerged from this critical part of fellowship training.
An original research requirement in clinical, translational or basic science under the guidance of an experienced investigator offers fellows the opportunity to design and carry out their own clinical research. Orientation sessions are provided to instruct on the support given by the Scripps Health Academic Research Hub.  
Clinical research in endocrinology, collaborative studies with other fields of medicine and basic/transitional research can all be pursued depending on the interest of the fellow. Read about our $2.9 Million NIH research grant.
Scripps Clinic is co-located with the Scripps Research Institute and the Scripps Translational Science Institute, providing fellows with readily available research opportunities.
Fellows have protected time during both their first and second year for research efforts. Fellows are required to present their research findings at the end of their second year. They are further encouraged to present at organizational meetings, including Endocrine Society, American Diabetes Association (ADA), American Thyroid Association and American Association of Clinical Endocrinologists (AACE).
Scripps Whittier Diabetes Institute: our partner in care
One of the strengths of the fellowship program is the Scripps Whittier Diabetes Institute (SWDI). Recognized by the ADA for its empowering educational programs, SWDI is the coordinating hub for all Scripps diabetes-related research activities, including:
NIH and sponsor-supported clinical research
Diabetes and pregnancy management
Type 1 and Type 2 diabetes education programs
Technology training and ongoing support
Diabetes psychology counseling (through our Behavioral Health Integration Program)
Professional education offered to more than 1,000 Scripps Health care providers on new diabetes treatment methods
Fellows take an active role in the teaching of rotating and non-rotating Internal Medicine residents at Scripps Clinic. Fellow participation is also expected in our institution's Diabetes Steering Committee and is encouraged on other committees as desired, including our Graduate Medical Education Committee's Quality Improvement/Patient Safety, Research, Wellness, and DEIB (Diversity, Equity, Inclusion and Belonging) subcommittees. This allows fellows to lend their voices to and be intimately involved in the daily operation of their sponsoring institution.  
Dr. Sadaf Farasat (2023) - Palomar Healthcare, Poway, CA
Dr. Sylvie Pham (2023) - Sharp Healthcare, Chula Vista, CA
Dr. Navya Reddy (2022) - Advanced Metabolic Care and Research, Escondido, CA
Dr. Uzo Mba (2022) - Scripps Clinic, La Jolla, CA
Dr. Maritza Carrillo (2021) - Scripps Clinic, Chula Vista, CA
Dr. Pranjali Sharma (2020) - Parkview Medical Center, Pueblo, CO
Dr. Julie Islam (2019) - Eisenhower Medical Center, Palm Springs, CA
Dr. Renil Rodriguez-Martinez (2018) - Clinical Practice, San Juan, Puerto Rico 
Dr. Lauren Clarine (2017) - Kaiser Permanente, San Diego, CA
Fellowship interviews during the 2023 recruitment cycle (for the 2024-25 academic year) will be 100% virtual. We are not, at this time, hosting on-campus visits either prior to or after the virtual interview. Applicants are welcome to come to the campus on their own to speak with and tour with our program coordinator.  
Fellows at Scripps Health receive a standardized compensation package that includes a base salary, health insurance benefits, an educational allowance, paid vacation days, paid sick days and other benefits.
Scripps Clinic/Green Hospital fellowship pay and benefits:
1st year - $82,185 (including a housing stipend)
2nd year - $85,994 (including a housing stipend)
Insurance, leave and other benefits
Insurance
Health and dental insurance plans are available for fellows and their dependents for a minimal cost. Fellows may participate in the Scripps Wellness program to reduce their health care premiums. Confidential counseling and psychological support services are available on request.
Life insurance coverage, up to $1,000,000, is available for fellows and their dependents.
Long-term disability insurance, at Scripps rates, is available for purchase. State Disability Insurance is paid by the fellow. The State of California requires this contribution.
Fellows are covered by malpractice insurance while performing services within the scope of their training at Scripps Clinic. The liability limit is $5,000,000 per claim/$5,000,000 annually. Tail coverage is provided.
Vacations and leave
Fellows receive 20 vacation days annually. Six paid sick days and two wellness days are allotted annually. Parental and other leaves of absence follow Scripps policy and California State Law. Substantial absences may necessitate additional rotations to complete training.
Other benefits
Lab coats and scrubs are provided and laundered by Scripps.
Paid parking in the adjacent gated and covered structure is provided at no cost.
A full-service cafeteria is located in the hospital.
Call rooms are provided.
Educational expenses
Scripps provides an educational expense allowance annually to each fellow for professional meetings and conferences, books and journals, professional dues and other educational expenses.
Apply for a Scripps Green Hospital/Scripps Clinic fellowship program
Apply to the endocrinology, diabetes and metabolism fellowship 
Applicants interested in applying to fellowship, should apply using the Electronic Residency Application Service (ERAS).
Due to the SARS-CoV-2 pandemic, all interviews will be virtual this year (this is a nationwide recommendation for all Endocrinology fellowship programs). Applicants will be notified through ERAS of their interview status. 
Applicants interested in applying to Micrographic Surgery and Dermatologic Oncology, do not apply in ERAS and should refer to the program link for information on applying.
Please provide the following:
Completed application
Curriculum vitae
Personal statement
Three endorsement letters (one from a residency program director and two from subspecialty faculty members)
Medical school transcript
ECFMG certificate (if applicable)
USMLE transcript or Comlex scores
Matching program
Programs that use the Medical Specialties Matching Program (MSMP) of the National Residency Matching Program (NRMP):
Advanced Heart Failure and Transplant Cardiology
Allergy and Immunology 
Cardiovascular Diseases
Endocrinology, Diabetes & Metabolism
Gastroenterology and Hepatology
Hematology/Oncology
Rheumatology
Visit NRMP to register for a match.
Visit SF Match to register for Micrographic Surgery and Dermatologic Oncology.
Other requirements
Applicants must have completed, or expect to complete, an ACGME-accredited residency program.
All licenses, ECFMG certification, and professional certifications are the applicant's responsibility.
Each fellow must have a Post Graduate Training license or unrestricted California Medical license which will allow you to train in the State of California within 90 days of completing 36 months completion of Board approved training.