Endocrinology, Diabetes and Metabolism Fellowship Program
Endocrinology training in inpatient and outpatient care
Endocrinology training in inpatient and outpatient care
Scripps Clinic and Scripps Green Hospital Endocrinology, Diabetes and Metabolism Fellowship Program, which began in 1956, has a rich history, including participation in major clinical trials and faculty who are founding board members of the American College of Endocrinology. Our group, as a whole, has published more than 400 articles in peer reviewed medical journals.
Scripps Clinic Division of Diabetes and Endocrinology is known for its multidisciplinary approach to patient care and its wide-reaching inpatient and outpatient services. We treat more than 27,000 patients with diabetes every year. U.S. News and World Report ranked the diabetes and endocrinology care at Scripps Green and Scripps Memorial Hospital La Jolla among the best in the nation. 
Graduates of our fellowship program have pursued careers in clinical care, clinical research and academic medicine.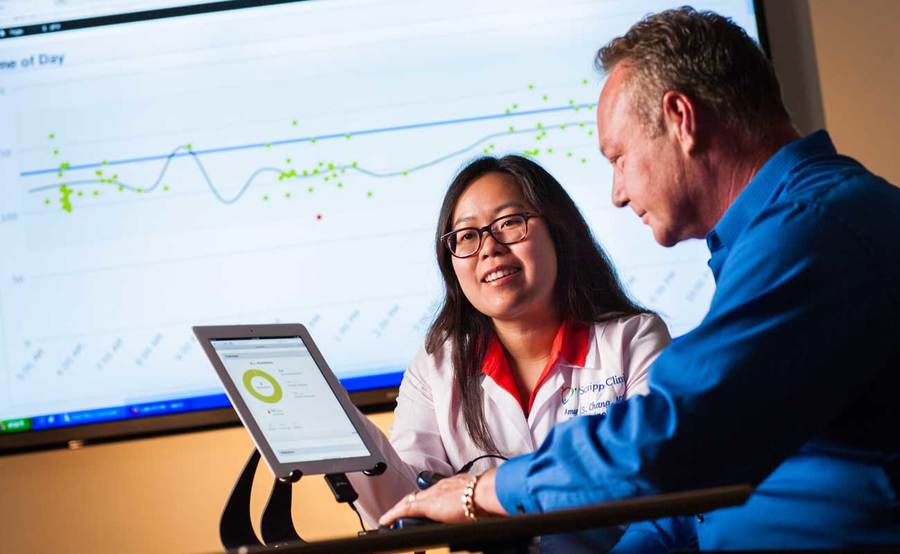 Our fellowship at Scripps Clinic and Scripps Green Hospital is a two-year ACGME-accredited program offering broad training. Clinical and research opportunities for fellows include the following:
Clinical training heavily emphasized throughout both years
Their own panel of patients managed with the supervision of faculty preceptors, ensuring continuity of care and excellent longitudinal clinical experience
Seven half-day continuity clinics
Procedural experience that includes thyroid ultrasonography and fine-needle aspiration, radioiodine administration, bone densitometry, insulin pumps and continuous glucose sensors
Clinic rotations that include lipidology, reproductive endocrinology, pediatric endocrinology, transgender medicine and weight management
Required presentations once a month at one of our weekly didactic conferences, twice a year at the division's monthly journal club and once a year at the UCSD weekly Endocrine Grand Rounds
Monthly interdisciplinary conferences (e.g., cytopathology, radiology) expand fellows' knowledge base
Weekly board review with faculty preceptors
An original research requirement in clinical, translational or basic science under the guidance of an experienced investigator offers fellows the opportunity to design and carry out their own clinical research.
Clinical research in endocrinology, collaborative studies with other fields of medicine and basic/transitional research can all be pursued depending on the interest of the fellow. Read about our $2.9 Million NIH research grant.
Scripps Clinic is co-located with the Scripps Research Institute and the Scripps Translational Science Institute, providing fellows with readily available research opportunities.
Fellows have protected time during both their first and second year for research efforts. Fellows are required to present their research findings at the end of their second year. They are further encouraged to present at organizational meetings, including Endocrine Society, American Diabetes Association (ADA), American Thyroid Association and American Association of Clinical Endocrinologists (AACE).
Scripps Whittier Diabetes Institute: our partner in care
One of the strengths of the fellowship program is the Scripps Whittier Diabetes Institute (SWDI). Recognized by the ADA for its empowering educational programs, SWDI is the coordinating hub for all Scripps diabetes-related research activities, including:
NIH and sponsor-supported clinical research
Diabetes and pregnancy management
Type 1 and Type 2 diabetes education programs
Professional education offered to more than 1,000 Scripps Health care providers on new diabetes treatment methods
Dr. Lauren Clarine (2017) - Kaiser Permanente, San Diego, CA
Dr. Heather Huribal (2016) - Mount Sinai Medical Center, New York City
Dr. Aakif Ahmad (2015) - Faculty, Scripps Clinic Medical Group
Dr. Ashley Thorsell (2014) - Private practice, San Luis Obispo, CA
Dr. Gavin Jackson (2013) - Scripps Mercy Medical Group, San Diego, CA