Endocrinology, Diabetes and Metabolism Fellowship Program
Endocrinology training in inpatient and outpatient care
Endocrinology training in inpatient and outpatient care
Scripps Clinic and Scripps Green Hospital's Endocrinology, Diabetes and Metabolism Fellowship Program began in 1956. It boasts a rich history including of participation in major clinical trials and of faculty who are founding board members of the American Association of Clinical Endocrinologists. Our group, as a whole, has published more than 400 articles in peer reviewed medical journals.
Scripps Clinic Division of Diabetes and Endocrinology is known for its multidisciplinary approach to patient care and its wide-reaching inpatient and outpatient services. We treat more than 27,000 patients with diabetes every year. U.S. News and World Report ranked the diabetes and endocrinology care at Scripps Green and Scripps Memorial Hospital La Jolla among the best in the nation. 
Graduates of our fellowship program have pursued careers in clinical care, clinical research and academic medicine.
Please note: Some of the footage and images in this video were taken prior to the COVID-19 pandemic. Scripps is currently following all CDC guidelines, and has implemented special protocols, to keep our facilities safe for our patients and staff. Read more about our precautions or watch the video.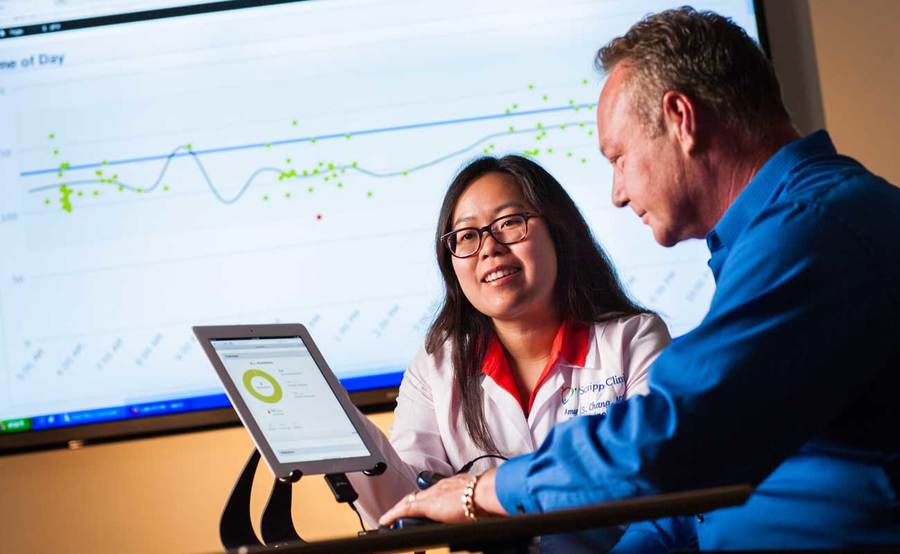 Our fellowship at Scripps Clinic and Scripps Green Hospital is a two-year ACGME-accredited program offering broad training. Parameters of the program and opportunities for training include the following:
Clinical training heavily emphasized throughout both years
Fellows develop and maintain their own panel of patients managed with the supervision of faculty preceptors, ensuring continuity of care and excellent longitudinal clinical experience
Seven half-day continuity clinics (view a sample fellows schedule

(PDF, 120 KB)

)
Extensive procedural experience that includes thyroid ultrasonography and fine-needle aspiration, radioiodine administration, bone densitometry, and use of/download of insulin pumps and continuous glucose monitors
Elective clinic rotations that include lipidology, reproductive endocrinology, pediatric endocrinology, transgender medicine and weight management/obesity medicine
Required presentations delivered once a month at one of our weekly didactic conferences, twice a year at the division's monthly journal club, and once a year at the UCSD weekly Endocrine Grand Rounds
Monthly interdisciplinary conferences (e.g., cytopathology, radiology) expand fellows' knowledge base and collaboration with our colleagues in other specialties
Weekly board review with faculty preceptors
Weight management and obesity medicine
Weight management and obesity medicine
Patient care in our weight management division makes up an elective rotation for first year fellows but is a required component of training for second year fellows. During this experience, fellows can expect to learn about and practice endocrine-related obesity medicine in both pediatric and adult populations.  
This comprises management strategies that include diet, exercise, anti-obesity medication use and metabolic surgical approaches. They will learn about the pathophysiologic role of adipocytes in the endocrine system as well as the role satiety hormones play in obesity. Metabolic surgical care will require fellows to understand and treat the myriad nutritional and hormonal problems that can arise after such surgery.  
Fellows will have the opportunity to interact with a multidisciplinary team that includes adult and pediatric endocrinologists, registered dieticians who assist with calculation of calorie targets, diet composition, and meal replacement strategies and behavior coaches. Interaction and collaborative care also ensues with our bariatric surgeons who assist in teaching about preoperative counseling and management as well as post-operative care including vitamin management.
Numerous research projects for fellows have emerged from this critical part of fellowship training.
An original research requirement in clinical, translational or basic science under the guidance of an experienced investigator offers fellows the opportunity to design and carry out their own clinical research. Orientation sessions are provided to instruct on the support given by the Scripps Health Academic Research Hub.  
Clinical research in endocrinology, collaborative studies with other fields of medicine and basic/transitional research can all be pursued depending on the interest of the fellow. Read about our $2.9 Million NIH research grant.
Scripps Clinic is co-located with the Scripps Research Institute and the Scripps Translational Science Institute, providing fellows with readily available research opportunities.
Fellows have protected time during both their first and second year for research efforts. Fellows are required to present their research findings at the end of their second year. They are further encouraged to present at organizational meetings, including Endocrine Society, American Diabetes Association (ADA), American Thyroid Association and American Association of Clinical Endocrinologists (AACE).
Scripps Whittier Diabetes Institute: our partner in care
One of the strengths of the fellowship program is the Scripps Whittier Diabetes Institute (SWDI). Recognized by the ADA for its empowering educational programs, SWDI is the coordinating hub for all Scripps diabetes-related research activities, including:
NIH and sponsor-supported clinical research
Diabetes and pregnancy management
Type 1 and Type 2 diabetes education programs
Technology training and ongoing support
Diabetes psychology counseling (through our Behavioral Health Integration Program)
Professional education offered to more than 1,000 Scripps Health care providers on new diabetes treatment methods
Dr. Pranjali Sharma (2020) - Parkview Medical Center, Pueblo, CO
Dr. Julie Islam (2019) - Eisenhower Medical Center, Palm Springs, CA
Dr. Renil Rodriguez-Martinez (2018) - Faculty, Scripps Clinic/Scripps Green Hospital, La Jolla, CA
Dr. Lauren Clarine (2017) - Kaiser Permanente, San Diego, CA
Dr. Heather Huribal (2016) - Mount Sinai Medical Center, New York, NY 
Dr. Aakif Ahmad (2015) - Faculty, Scripps Clinic/Scripps Green Hospital, La Jolla, CA