Scripps Mercy Transitional Year Residency Program
Offering new physicians comprehensive training prior to specialization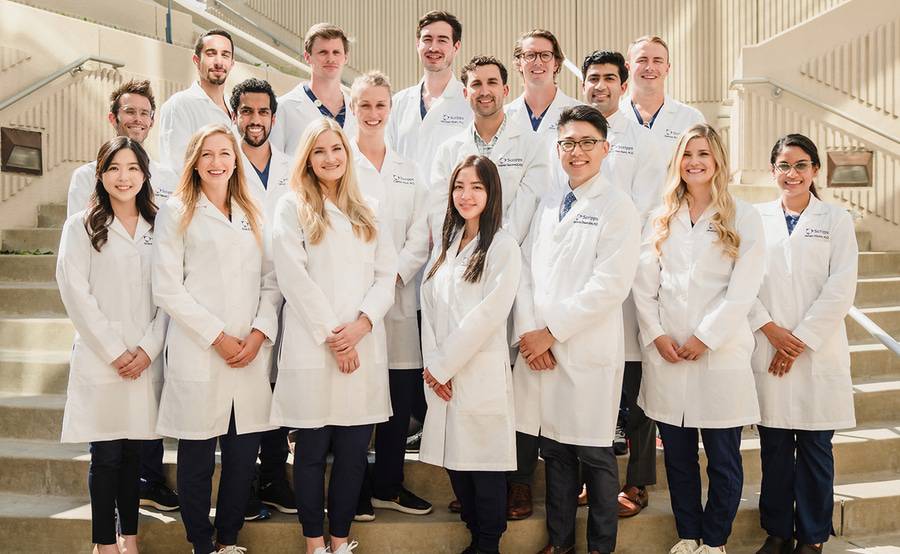 Offering new physicians comprehensive training prior to specialization
Scripps Health offers two competitive training programs for physicians entering their first post-graduate year after medical school: A broad-based Transitional Year Residency Program at Scripps Mercy Hospital San Diego, and a Transitional Year Anesthesiology Residency jointly managed by Scripps and the University of California, San Diego (UCSD). 
Our transitional year programs allow physicians to build superior clinical skills that serve as a cornerstone for subspecialty training and careers. Together with attending physicians, our residents manage care for some of San Diego's most ethnically and socioeconomically diverse patient populations. Many of our graduates secured competitive fellowships in their chosen specialties and have risen to academic positions at prestigious medical centers around the country.
Please note: Some of the footage and images in this video were taken prior to the COVID-19 pandemic. Scripps is currently following all CDC guidelines, and has implemented special protocols, to keep our facilities safe for our patients and staff. Read more about our precautions or watch the video. 
The transitional year residency programs at Scripps Mercy Hospital San Diego offer a wide breadth of training within a supportive and nationally recognized health care system.
Scripps Mercy Hospital has served central and downtown San Diego's diverse and vibrant communities since 1890. Our hospital (and the broader Scripps Health network) are known for high-quality care, as well as high satisfaction scores from patients and employees.
Scripps Mercy Hospital is home to the busiest emergency department in San Diego. 
Scripps Mercy is a Level I Trauma Center, one of only six designated Trauma Centers in San Diego County. 
We're a certified STEMI receiving center for heart attacks as well as a certified Primary Stroke Center.
Scripps Mercy was recognized for high performance in several specialty areas on U.S. News and World Report's annual Best Hospitals list.
For the 11th consecutive year, Fortune magazine named Scripps Health among the top employers in the nation on their annual list of the 100 Best Companies to Work For.
Collaborative work environment
Our program's small size provides ample opportunities for residents to interact with faculty, conduct clinical research and develop a close-knit community with fellow physicians in training through team building and social events.
We're frequently joined by residents from UCSD, Scripps Mercy Hospital Chula Vista, Family Health Centers of San Diego, Hillcrest and Kaiser Permanente, as well as visiting third-year medical students from UCSD and fourth-year medical students from across the country. This integration provides the opportunity to work alongside a diverse group of trainees.
All residents in our programs are treated the same and offered the same opportunities, which is an ACGME requirement we take very seriously.
Ward attending physicians make up a group of hospital-based physicians whose main responsibility is resident education. Most of the physicians in this group are long-standing faculty of Scripps Mercy Hospital, and residents enjoy working under their supervision.
We strive to maintain a high level of professionalism among our faculty and seek this out in our residents, too. We have found that our residents are invested in their education and strive to provide the highest quality patient care. These qualities make our program an educationally stimulating, professionally satisfying and superior place to train.
Hands-on clinical experience
Transitional year training is broad-based and encompasses learning experiences in internal medicine, emergency medicine, intensive care unit, pediatrics, surgery, surgical and medical subspecialties and many other elective rotations. 
Our trainees provide hands-on patient care to a very diverse patient population under the supervision of senior residents and attending physicians. You will have opportunities to perform and become skilled in many inpatient and outpatient procedures, including:
Central venous line placement
Arterial line placement
Lumbar puncture
Paracentesis
Incision and drainage
Arthrocentesis
Joint injections
Primary and tertiary care are provided in the hospital and through our resident clinic at the nearby Hillcrest Family Health Center.
Training sites and rotations
The transitional year is designed to provide a broad experience in general medicine, in both the inpatient and outpatient settings. The program also prepares residents for further training in a variety of subspecialty rotations and provides several elective opportunities.
Scripps Mercy Hospital San Diego
Scripps Mercy is San Diego's premier metropolitan medical center and teaching facility. Because Scripps Mercy provides care to people from diverse socioeconomic backgrounds and offers a variety of medical services, it's an excellent training ground for residents.
The transitional year residency program provides a wide breadth of training in internal medicine and pediatric medicine to serve as a foundation for subspecialties, such as ophthalmology, radiology, dermatology, radiation oncology, neurology, emergency medicine and more.
Scripps Resident Clinic at Family Health Centers of San Diego, Hillcrest
Scripps Mercy Hospital residents provide primary care and subspecialty services for underserved populations at Family Health Centers of San Diego, Hillcrest, located in the urban center of San Diego close to Scripps Mercy Hospital San Diego. 
Case-based learning is provided at the Family Health Centers of San Diego, Hillcrest in multiple areas of outpatient internal medicine, including preventive care, outpatient procedures and in-depth preoperative assessments. Additional subspecialty care includes cardiology (including congestive heart failure), dermatology, endocrinology and metabolism, gastroenterology, neurology, pulmonology and rheumatology. 
Faculty and staff from Scripps Mercy Hospital partner with the Family Health Centers of San Diego, Hillcrest to oversee the clinic. Internal medicine residents are able to develop autonomy in providing care with their assistance and maintain their own panel of patients over the course of the three-year residency. 
Additional opportunities
Transitional year residents may also participate in pediatric training rotations at the following sites:
Our clinical rotation schedule consists of 13 blocks of 28 days each.
Sample schedule
Fundamental clinical skills (7-8 blocks) - ward medicine, float, night float and MICU
Elective (3-4 blocks)
Emergency medicine (1 block)
Ambulatory rotation (adult or pediatric outpatient clinic)
Elective opportunities help our transitional year residents define their fields of interest in medicine. They include:
Cardiology
Dermatopathology
Endocrinology
ENT
Gastroenterology
Hematology and oncology
Infectious diseases
Nephrology
Neurology
Obstetrics
Ophthalmology
Orthopedics
Pathology
Pediatric inpatient — Naval Medical Center San Diego
Pediatric subspecialty — Rady Children's Hospital
Subspecialty — Dermatology or others as available
Primary/urgent care clinic
Pulmonary medicine
Radiation oncology
Radiology
Research
Surgery (Cardiovascular-CT Surg)
Surgery (General)
Trauma
Urology
Scripps transitional year residents learn and work alongside experienced physicians, researchers and other talented trainees.
Our clinical and administrative faculty bring a breadth of knowledge and many years of clinical experience to the transitional year residency programs at Scripps Mercy Hospital San Diego.
Directors:
Michelle Higginson, MD – Director of Medical Education and Designated Intuitional Official (DIO)
Kendell Anderson, DO – Program Director, Transitional Year Residency Programs and Associate Program Director, Internal Medicine Residency
Scripps Mercy Hospital San Diego offers 12 Transitional Year positions each year, plus six Transitional Year Anesthesiology positions in conjunction with UCSD's anesthesiology program.
All transitional year residents work collaboratively. They provide hands-on patient care to Scripps Mercy Hospital San Diego's diverse patient population under the supervision of senior residents and attending physicians.
View our current transitional year and transitional year/anesthesiology residents (PDF, 290 KB).
In addition to training competent and well-rounded residents, our program prioritizes camaraderie and teamwork. Together, Scripps Mercy's transitional year residents and internal medicine residents offer social activities that enrich relationships with peers and faculty, and develop mutual respect between residents and the hospital administration and staff.
House staff events
We kick off each year with the annual welcome barbecue where current residents meet and greet the incoming interns. It's usually held at the Mission Bay Aquatic Center where we enjoy fun in the sun, great food and each other's company.
Throughout the year, we arrange various mixers for the house staff to let down their hair and socialize. Previous events have included happy hours, birthday parties and food tastings. These are great opportunities to unwind outside of the hospital while getting to know fellow interns and residents.
We end each year with an annual barbecue celebration at noon followed by an evening graduation dinner and recognition of accomplishments by residents and faculty. It's a great way to conclude the year.
Annual parties
Each year, our chief residents arrange several parties for the house staff. In October, everyone is encouraged to dress up in their scariest, funniest or most creative costume for the annual Halloween party. This has been held in various locations, including house staff apartments as well as at local restaurants.
In December, we hold our annual holiday party. Location varies each year and has included country clubs and restaurants. We celebrate through the night with contests, dancing and karaoke.
Our transitional year residents have successfully gone on to complete their definitive residency training in a variety of specialties at medical institutions in San Diego and beyond. Here is a look at where some of our 2021-2022 class of transitional year interns will begin their definitive residencies following their year at Scripps.
Anesthesiology
University of California, San Diego (UCSD)
Radiation Oncology
Dermatology
Tulane
NYU
LSU New Orleans
University of Connecticut
UCSD
University of Iowa
Radiology and Interventional Radiology
Transitional year residents at Scripps Mercy Hospital San Diego often participate in ongoing research opportunities within the institution. Members of the hospital's clinical faculty and medical staff are involved in dozens of Institutional Review Board-approved research projects.
Some of our residents also pursue opportunities at nearby research institutions including The Scripps Research Institute and UCSD.
Publications, abstracts, and poster presentations
Our scholarly endeavors frequently result in significant publications and national presentations (PDF, 250 KB). Some of our internal medicine residents took first place in the Southern California ACP Clinical Vignette and Research Competition in 2012, while another resident won first in the 2015 Southern California ACP Associates Innovative Research Competition.
Recent studies include:
Cardiovascular limited ultrasound examination (CLUE) using pocket-sized digital devices
Clinical trials of new cancer agents
Recognizing emerging complications of new cancer agents
Team training to enhance communication with families of patients in the ICU
Methamphetamine-induced cardiomyopathy 
Multiple infectious disease topics
Geller research competition
In May of each year, the annual Jack and Sue Geller Research Award Conference allows residents an opportunity to submit entries to the following categories:
Grand Rounds presentations of case reports or original research
Poster presentations of case reports
Original research
Medical arts (e.g., music, paintings and poetry)
Culinary arts
The competition is named in honor of Jack Geller, MD, former director of the Internal Medicine Residency Program at Scripps Mercy Hospital San Diego, and his wife, Sue, who is a professional artist. The award represents Dr. Geller's warmth, enthusiasm, generosity and humility, and years of dedication to research and teaching combined with his wife's interest in all art forms.
The terms and conditions of resident training and employment are specified in the employment agreement (resident contract), including training obligations, stipend and benefits. Copies of the employment agreement, yearly rotation schedule, call schedules and other information are provided at the interview.
PGY-1 resident salary (2021-2022): $61,229
Insurance, leave and other benefits
Health, dental, vision and life insurance plans
Insurance plans for residents and families are reviewed at orientation. Costs to residents and families are minimal. Residents may participate in the Scripps Wellness Program.
Educational stipend
An annual stipend is available that can be used toward the purchase of books, educational software, USMLE application, conferences, medical licensure and DEA.
Employee Assistance Program (EAP)
The EAP provides confidential, free, short-term professional counseling for employees and family members.
Vacation leave
Transitional Year interns receive 15 days of paid vacation. Family medical leave (known as FMLA) and maternity leave is allotted per the Scripps Mercy house staff manual and Scripps Health policies.
Meals
Lunch is provided Monday through Friday at the Resident Noon Conference. Light meals, coffee and snacks are available 24/7 in the physician lounge in addition to a monthly allowance at the cafeteria.
Parking
Parking is free for all Scripps employees. Residents park in the physician parking area adjacent to the hospital.
Laundry service
White coat laundry service is provided with weekly pick-up and delivery.
Educational resources
All residents have 24/7 access to the medical library at Scripps Mercy Hospital San Diego. The medical library is staffed with personnel who can assist with research and journal article retrieval. In addition, there are online journals and links to UpToDate, DynaMed, PsycINFO, Embase, AccessMedicine, Cochrane Library and PubMed. These online resources are also accessible from home.
The Scripps Mercy Hospital Residency Selection Committee reviews all applications for the Transitional Year Residency Program based on the following criteria:
Academic performance
Clinical performance
Letters of recommendation
Communication skills
Motivation and integrity
Professionalism
Apply to the Transitional Year Residency Program at Scripps Mercy Hospital
Application process for the 2021-2022 interview season
In accordance with the Undergraduate Medical Education to Graduate Medical Education Review Committee (UGRC) and the Alliance for Academic Internal Medicine (AAIM), the Scripps Mercy Transitional Year and Transitional Year-Anesthesia Programs will be hosting another 100% virtual interview experience for this application cycle. Invitations are by invitation only and will be distributed with specific instructions on how to navigate your online interview experience.
The deadline to apply is December 15, 2021
Interviews will take place November 2021 - January 2022
Applications must be submitted through ERAS. Scripps Mercy Hospital participates in the National Resident Matching Program (NRMP). We do not offer pre-match positions.
NRMP Match Numbers
Transitional Year Residency:
Number of positions: 12
NRMP match number: 1048999P0
Transitional Year-UCSD Anesthesiology Residency:
Number of positions: 6
NRMP match number: 1048999P2
If you're applying to our Transitional Year-UCSD Anesthesia program and would also like to be considered for our Transitional Year Program, please contact our program coordinator for additional instructions.
Application requirements
All application documents must be submitted through ERAS, including:
Curriculum vitae
Medical Student Performance Evaluation (MSPE)
Official medical school transcript
Three Letters of Recommendation, including one from the department of Medicine (preferably from the Department Chair) 
USMLE Step 1 and Step 2 CK. All applicants must have passed USMLE on the first attempt. Step 2 CK, while not required for application review, must be uploaded to ERAS by February 28, 2022
Brief personal statement, which should address the student's educational plans and reason for desiring a Transitional Year Internship
Photograph
Candidates must have graduated within the last five years from from a school accredited by the Liaison Council on Medical Education and the American Osteopathic Association (AOA).
Candidates who graduate from medical schools outside of the United States must have a valid certificate from the Educational Commission for Foreign Medical Graduates (ECFMG). In addition, candidates must have a postgraduate training authorization letter from the Medical Board of California and meet strict academic criteria. 
We do not offer observerships or Visa support. In addition to the below requirements for all applicants, international medical graduates (IMG) must document any US clinical experience (preferred but not required) and include a letter of recommendation from a supervising physician.