Scripps Mercy Transitional Year Residency Program
Offering new physicians comprehensive training prior to specialization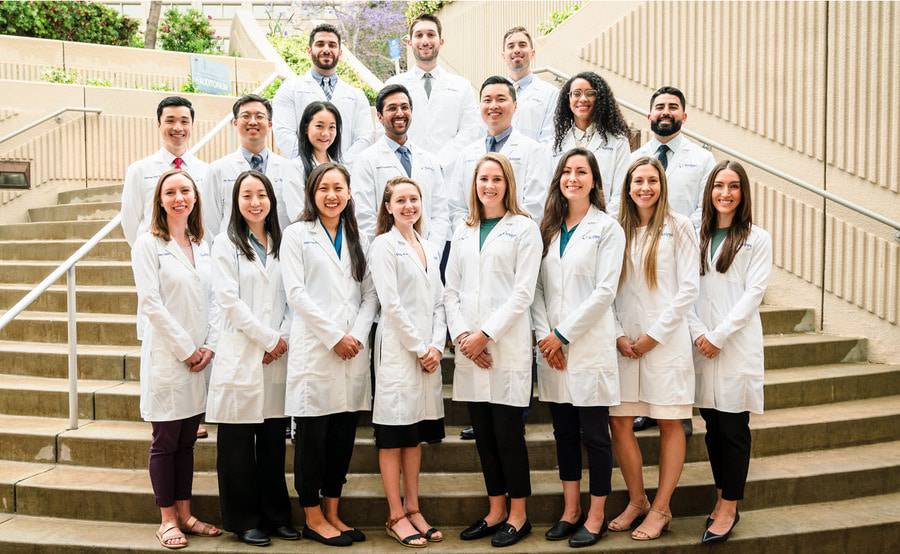 Offering new physicians comprehensive training prior to specialization
Scripps Mercy San Diego offers two competitive training programs for physicians entering their first post-graduate year after medical school: A broad-based Transitional Year Residency Program and a Transitional Year - Anesthesiology Residency Program, which is jointly managed by Scripps and the University of California, San Diego (UCSD). All residents in our Transitional Year Programs work alongside the Scripps Mercy San Diego Categorical Internal Medicine Program, Family Medicine Program, Pharmacy Residency Program and Podiatric Program, complete with visiting residents and medical students. Our unique setting and structure offers a rich academic experience with an individualized, community feel.
Our transitional year programs allow physicians to build superior clinical skills that serve as a cornerstone for subspecialty training and careers. Together with attending physicians, our residents manage some of San Diego's most ethnically and socioeconomically diverse patient populations. 
Please note: Some of the footage and images in this video were taken prior to the COVID-19 pandemic. Scripps is currently following all CDC guidelines, and has implemented special protocols, to keep our facilities safe for our patients and staff. Read more about our precautions or watch the video. 
The transitional year residency programs at Scripps Mercy Hospital San Diego offer a wide breadth of training within a nationally recognized health care system.
Scripps Mercy Hospital has served central and downtown San Diego's diverse and vibrant communities since 1890. Our hospital (and the broader Scripps Health network) are known for high-quality care, as well as high satisfaction scores from patients and employees.
Scripps Mercy Hospital is home to one of the busiest emergency department in San Diego and is a Level 1 Trauma Center. 
We have a tertiary ICU — one of the busiest and highest acuity in the county. 
We're a certified STEMI receiving center and certified Primary Stroke center with a Neurointerventional team.
The Scripps MD Anderson Prebys Cancer Center, located on the Scripps Mercy San Diego campus, offers patients multidisciplinary and comprehensive cancer care.
As a non-profit organization, Scripps is dedicated to serving the local community and the underserved.
Scripps Health, is ranked among the top in San Diego on the U.S. News & World Report Best Hospitals list, and as high performing in multiple specialties.
Collaborative work environment
Scripps Mercy San Diego offers a rich academic experience within a supportive community setting. Our Transitional Year interns work alongside our Categorical Internal Medicine residents on the wards, in the ICU, and on many specialty rotations. We regularly host visiting residents from UCSD, Naval Medical Center, Scripps Mercy Hospital Chula Vista, Family Health Centers of San Diego, San Ysidro Health Center and Kaiser Permanente, as well as visiting third-year medical students from UCSD and fourth-year medical students from across the country. This integration provides the opportunity to work alongside a diverse group of trainees.
All residents across our programs are treated equally and offered the same opportunities — an ACGME requirement we take very seriously.
We strive to maintain a high level of professionalism among our faculty and seek this out in our residents, too. We have found that our residents are invested in their education and strive to provide the highest quality patient care. These qualities make our program an educationally stimulating, professionally satisfying and superior place to train.
Hands-on clinical experience
Transitional year training is broad-based and encompasses learning experiences in internal medicine, emergency medicine, intensive care, pediatrics, surgery, surgical and medical subspecialties and many other elective rotations. 
Our trainees provide hands-on patient care to a very diverse patient population under the supervision of senior residents and attending physicians. You will have opportunities to become skilled in many inpatient and outpatient procedures, including:
Central venous line placement
Arterial line placement
Lumbar puncture
Paracentesis
Arthrocentesis
Joint injections
Bedside Cardiac Ultrasound (POCUS/CLUE)
Primary and tertiary care are provided in the hospital and through our resident clinic at Family Health Centers of San Diego – Hillcrest, located right across the street from our hospital.
From the program director, Karen Herbst Jamison, MD, FACP
Dear Residency Candidate, 
Welcome to the Scripps Mercy Hospital San Diego Transitional Year and Transitional Year/Anesthesia Residency Program site. I am thrilled to have this opportunity to share some amazing insights into our program. Transitional Year residency training is an exciting and very important juncture in your medical career, and finding a program that is a great fit for you will hopefully translate to an educational experience that reinvigorates your excitement for your chosen field. 
Scripps Mercy Hospital has been serving the community for more than 130 years — longer than any other hospital in San Diego — and is known as the "hospital with heart." We have won numerous national awards for both quality of care (e.g., America's 100 Best Hospitals by Health Grades) and employee satisfaction (e.g., Top 50 Employers in the National Great Place to Work Survey).
Licensed for 750 beds, Scripps Mercy Hospital provides both primary and tertiary care to a highly diverse patient population. Our central location within San Diego and proximity to the United States-Mexico border allows us to serve a community with a broad range of backgrounds, lifestyles and health care needs. Our hospital serves as a Level 1 Trauma Center, a Primary Stroke Center with neuro-intervention capacity, a STEMI center, world-renowned cancer center (Scripps MD Anderson Cancer Center), and has one of the busiest emergency rooms in San Diego and a highly rated ICU with 24-hour intensivist support.
Scripps Mercy Hospital has sponsored multiple residency training programs since 1947, making us the oldest non-military program in San Diego County. Our Transitional Year Programs are accredited by the ACGME, and we have repeatedly earned its maximum cycle review length. The Transitional Year Program is sponsored by the Internal Medicine Program and they are highly integrated and supportive of each other. We strive to cultivate a culture of excellence, including evidence-based practice and high-value care with humanism and professionalism. We have a Point of Care Ultrasound (POCUS) Program that is one of the first in the nation and one of the best in the country. We have exceptional didactics on all aspects of medicine, and have dedicated time to resident wellness and well-being.  
Scripps Mercy is affiliated with the University of California-San Diego Medical School, providing access for medical students to train under the supervision of our house staff and attendings. In addition to our 12 Transitional Year positions, we provide the Transitional Year/Anesthesia training for six physicians who have matched into UCSD's Anesthesia Program for PGY-2.
Transitional Year residents, upon completion of our program, depart with a strong foundation of medical principles, allowing them to hone their skills in their chosen specialty. Even more importantly, they have learned how to provide excellent, compassionate care — known as the "Mercy Style of Care."  
In addition to our Transitional Year Residency Programs, Scripps Mercy Hospital also offers:
ACGME-accredited residencies in Internal Medicine and Family Medicine
CPME-accredited residency in Podiatry
ASHP-accredited residency in Pharmacy 
Rotations for residents from UCSD, Kaiser Permanente, Naval Medical Center, Family Health Centers and San Ysidro Health Center
Sub-internship rotations on our Internal Medicine wards for visiting fourth-year medical students from across the country 
Please take a moment to learn more about why Scripps Mercy Hospital San Diego is an excellent place to begin your transitional year training.  
Sincerely, 
Karen Herbst Jamison, MD, FACP
Program Director, Transitional Year Internship 
Associate Program Director, Internal Medicine Residency
Scripps Mercy Hospital San Diego
Training sites and rotations
The transitional year is designed to provide a broad clinical experience across medical and surgical services and subspecialties. We're proud to offer a multitude of clinical rotations across a variety of settings.
Scripps Mercy Hospital San Diego
Scripps Mercy San Diego is our primary training site and central teaching facility. As a tertiary care center, Scripps Mercy provides care to patients from diverse medical and socioeconomic backgrounds, making it an excellent place to train. We offer a variety of medical services and advanced in-house procedures, including cardiothoracic surgery, neurosurgery and interventional neurology, interventional radiology, interventional cardiology (including TAVR and intra-aortic balloon pumps), electrophysiology cardiology, endobronchial ultrasound, interventional gastroenterology, including endoscopic ultrasound (EUS) and endoscopic retrograde cholangiopancreatography (ERCP), oral and maxillofacial surgery (OMFS), otolaryngology, an inpatient oncology unit, palliative care, and an on-site comprehensive and multidisciplinary cancer center, which offers medical, surgical and radiation oncology services.
Scripps MD Anderson Prebys Cancer Center
Located on the Scripps Mercy campus, The Prebys Cancer Center provides comprehensive and multidisciplinary cancer care including medical, surgical, and radiation oncology services. Additional support services are also available to patients, including social work, insurance counseling, pharmacy, wig and prosthetic fittings, and support groups. The cancer center is home to the outpatient component of our hematology/oncology, radiation oncology and palliative care rotations. 
Scripps Resident Clinic at Family Health Centers of San Diego, Hillcrest
Scripps Mercy residents provide primary care and subspecialty services for underserved populations at Family Health Centers of San Diego, Hillcrest, located just steps away from the hospital.
Here, residents focus on case-based learning in multiple areas of outpatient internal medicine, including preventive care, outpatient procedures and in-depth preoperative assessments. Additional subspecialty care includes cardiology (including congestive heart failure), dermatology, endocrinology, gastroenterology, neurology, pulmonology and rheumatology. 
Faculty from Scripps Mercy Hospital partner with the Family Health Centers of San Diego, Hillcrest to oversee the clinic.
Additional opportunities
Transitional year residents may also participate in pediatric training rotations at the following sites:
Our clinical rotation schedule consists of 13 blocks of 28 days each.
Sample schedule
Fundamental clinical skills (7-8 blocks) - medicine wards, day float, night float and MICU
Electives (3-4 blocks)
Emergency medicine (1 block)
Ambulatory rotation (adult or pediatric outpatient clinic)
Elective opportunities help our transitional year residents define their fields of interest in medicine. They include:
Cardiology (with CLUE certification)
Cardiovascular (CT) Surgery
Dermatopathology
Endocrinology
ENT
Gastroenterology
General surgery
Hematology and oncology
HIV and viral hepatitis 
Infectious disease
Nephrology
Neurology
Neuro-ophthalmology
Obstetrics
Ophthalmology
Orthopedic surgery
Palliative care
Pathology
Primary/urgent care clinic
Pulmonary medicine
Radiation oncology
Research
Rheumatology
Special care nursery
Trauma
Underserved medicine
Urology
We are committed to resident success and excellence in medical education. Our transitional year residents learn and work in a multidisciplinary setting alongside other physicians in training, experienced teaching attendings, subspecialists and researchers. Our teaching faculty come from institutions all over the country, including Harvard, Johns Hopkins, University of Pennsylvania, UCSD and our very own Scripps Mercy.
Scripps Mercy Hospital San Diego offers 12 Transitional Year positions each year, plus six Transitional Year Anesthesiology positions in conjunction with UCSD's anesthesiology program.
All transitional year residents work collaboratively. They provide hands-on patient care to Scripps Mercy Hospital San Diego's diverse patient population under the supervision of senior residents and attending physicians.
View our 2023-2024 transitional year and transitional year/anesthesia residents (PDF, 950 KB).
In addition to training competent and well-rounded residents, our program prioritizes camaraderie and teamwork. Together, Scripps Mercy's transitional year residents and internal medicine residents partake in social activities that enrich relationships with peers and faculty.
House staff events
Each academic year is opened with our annual Welcome Barbecue, capitalizing on beautiful San Diego in fun outdoor venues. Here, current residents meet and greet the incoming interns and enjoy paddle boarding and sailing.
Throughout the year, the Department of Graduate Medical Education, in conjunction with the Housestaff Association and Chief Medical Residents host various events including happy hours, yoga, hiking and holiday parties. These are great opportunities to unwind outside of the hospital while connecting with fellow interns and residents.
Our transitional year residents have successfully gone on to complete their definitive residency training in a variety of specialties at academic institutions in San Diego and beyond. Here is a look at where some of our 2023-2024 class of transitional year interns will begin their definitive residencies following their year at Scripps.
Anesthesiology
Dermatology
UC Los Angeles
University of Washington
University of Pennsylvania 
Diagnostic Radiology
Riverside Community Hospital
University of Washington
UC San Francisco
UC San Diego
Massachusetts General Hospital
Stanford Health Care
Interventional Radiology 
UNC Chapel Hill
UC San Diego
Radiation Oncology
Our residents have access to a wide variety of research opportunities within the Scripps Network and beyond. As part of our individualized approach to training, we offer a dedicated one-month research elective which can be tailored to your interests. This elective allows residents the opportunity to continue research endeavors they may have started during medical school, to start new projects here with Scripps faculty, or in partnership with their categorical training program.
The Scripps Hub Academic Research Core (SHARC) team, funded by the Clinical Translational Science Award and Scripps Graduate Medical Education programs, supports residents with project navigation, biostatistical analyses and community engagement to promote Scripps trainee and investigator-initiated research.  
Through the support of our program, our faculty, the Melisa Reasner McGuire Health Sciences Library, and the SHARC team, our residents' scholarly activity often results in significant publications and presentations at the national level. Visit our Database of Scholarly Publications for Mercy Authors.
Recent resident-led projects include:
Cardiovascular limited ultrasound examination (CLUE) using pocket-sized digital devices
Clinical trials of new cancer agents
Recognizing emerging complications of new cancer agents
Team training to enhance communication with families of patients in the ICU
Methamphetamine-induced cardiomyopathy 
Multiple infectious disease topics
Geller research competition
In May of each year, the annual Jack and Sue Geller Resident Research Symposium allows residents an opportunity to submit entries to the following categories:
Case reports
Original research
Medical arts (e.g., music, paintings and poetry)
Culinary arts
The competition is named in honor of Jack Geller, MD, former director of the Internal Medicine Residency Program at Scripps Mercy Hospital San Diego, and his wife, Sue, who is a professional artist. The award represents Dr. Geller's warmth, enthusiasm, generosity and humility, and years of dedication to research and teaching combined with his wife's interest in all art forms.
The terms and conditions of resident training and employment are specified in the employment agreement (resident contract), including training obligations, stipend and benefits.
PGY-1 resident salary (2023-2024): $69,122
Insurance, leave and other benefits
Health, dental, vision and life insurance plans
Comprehensive insurance plans for residents and families are reviewed at orientation. Residents may also participate in the Scripps Wellness Program, a Scripps-wide initiative to promote health and wellbeing while reducing the employee's cost of health benefits.
Educational stipend
An annual stipend is available that can be used toward the purchase of books, educational materials and conferences.
The program covers the cost of USMLE Step 3 and postgraduate training license. 
Housing stipend
A one-time stipend of $5,000 provided to each 2023-2024 resident to help offset housing costs
Employee Assistance Program (EAP)
The EAP provides confidential, free, short-term professional counseling for employees and family members.
Vacation leave
Transitional Year interns receive 15 days of paid vacation. There are other leave types available in accordance with Scripps Policies and ACGME requirements.  
Meals
Light meals, coffee and snacks are available 24/7 in the physician lounge in addition to a monthly allowance at the cafeteria.
Parking
Parking is free for all Scripps employees. Residents park in the physician parking area adjacent to the hospital.
Laundry service
White coat laundry service is provided with weekly pick-up and delivery.
Educational resources
All residents have 24/7 access to the medical library at Scripps Mercy Hospital San Diego. The medical library is staffed with medical librarians who can assist with research and journal article retrieval. In addition, there are online journals and links to UpToDate, DynaMed, PsycINFO, Embase, AccessMedicine, Cochrane Library and PubMed. These online resources are also accessible from home.
The Scripps Mercy Hospital Residency Selection Committee reviews all applications for the Transitional Year Residency Program based on the following criteria:
Academic performance
Clinical performance
Letters of recommendation
Communication skills
Motivation and integrity
Professionalism
Apply to the Transitional Year Residency Program at Scripps Mercy Hospital
Application process for the 2023 interview season
In accordance with the Undergraduate Medical Education to Graduate Medical Education Review Committee (UGRC) and the Alliance for Academic Internal Medicine (AAIM), the Scripps Mercy Transitional Year and Transitional Year-Anesthesia Programs will be hosting another 100% virtual interview experience for this application cycle. Invitations are by invitation only and will be distributed with specific instructions on how to navigate your online interview experience.
The deadline to apply is December 15, 2023
Interviews will take place November 2023 - January 2024
Applications must be submitted through ERAS. Scripps Mercy Hospital participates in the National Resident Matching Program (NRMP). We do not offer pre-match positions.
NRMP Match Numbers
Transitional Year Residency:
Number of positions: 12
NRMP match number: 1048999P0
Transitional Year-UCSD Anesthesiology Residency:
Number of positions: 6
NRMP match number: 1048999P2
If you're applying to our Transitional Year-UCSD Anesthesia program and would also like to be considered for our Transitional Year Program, please notify our program coordinator at the time of your interview via email
Application requirements
All application documents must be submitted through ERAS, including:
Curriculum vitae
Medical Student Performance Evaluation (MSPE)
Official medical school transcript
Three Letters of Recommendation, including one from the department of Medicine (preferably from the Department Chair) 
USMLE Step 1 and Step 2 CK. All applicants must have passed both USMLE Step 1 and Step 2 CK on the first attempt. Step 2 CK, while not required for application review, must be uploaded to ERAS by February 28, 2024. (Applicants cannot be accepted to the program if they do not have passing USMLE scores.)
Brief personal statement, which should address the student's educational plans and reason for desiring a Transitional Year Internship
Photograph
Candidates must have graduated within the last five years from a school accredited by the Liaison Council on Medical Education and the American Osteopathic Association (AOA).
Candidates who graduate from medical schools outside of the United States must have a valid certificate from the Educational Commission for Foreign Medical Graduates (ECFMG). We do not offer observerships or Visa support. In addition to the above requirements for all applicants, international medical graduates (IMG) must document any US clinical experience (preferred but not required) and include a letter of recommendation from a supervising physician.
To learn more about the Transitional Year Residency Programs at Scripps Mercy Hospital San Diego, please email le.ngoc@scrippshealth.org.