Scripps Mercy Internal Medicine Residency
Broad-based internal medicine training in San Diego
Broad-based internal medicine training in San Diego
The Internal Medicine Residency Program at Scripps Mercy Hospital San Diego provides outstanding clinical training for future internists, hospitalists and subspecialists.
Scripps Mercy Hospital San Diego is the primary clinical education site for more than 50 residents annually from several GME programs. These include the internal medicine, transitional year, pharmacy and podiatric medicine residency programs. We're also a secondary training site for residents from the University of California, San Diego (UCSD); Kaiser Permanente San Diego; Scripps Mercy Hospital Chula Vista; Family Health Centers of San Diego; and the Naval Medical Center.
Located minutes from downtown San Diego, Scripps Mercy provides care to people from diverse socioeconomic backgrounds. Our curriculum provides a solid educational foundation with exceptional didactics and a culture that promotes professional growth and autonomy. In the inpatient setting, residents train in a busy, high-acuity environment with ample exposure to complex cases and pathology. Our outpatient experience combines core subspecialty clinics, private offices and a true continuity clinic, where residents manage their own panel of primary care patients over the course of three years.
Scripps Mercy's department of medical education, faculty and hospital administration are committed to resident education and success. Our graduates are superbly trained and well-equipped for future careers in internal medicine. Residents have successfully matched into competitive fellowships in a variety of internal medicine subspecialties and landed competitive jobs in Southern California and across the country.
Please note: Some of the footage and images in this video were taken prior to the COVID-19 pandemic. Scripps is currently following all CDC guidelines, and has implemented special protocols, to keep our facilities safe for our patients and staff. Read more about our precautions or watch the video. 
Scripps Mercy Hospital has served central and downtown San Diego since 1890. Learn what else distinguishes Scripps Mercy (and the broader Scripps Health network) from other health care systems in Southern California:
Scripps Mercy Hospital is home to the busiest emergency department in San Diego. 
Scripps Mercy is a Level I Trauma Center, one of only six designated trauma centers in San Diego County. 
We have a tertiary ICU — one of the busiest and highest acuity in the county.
We're a certified STEMI receiving center. 
We offer an advanced structural heart program with capacity for advanced procedures such as TAVR and PFO closure.
We have a busy electrophysiology program with capacity for various advanced electrophysiology interventions.
We are a certified Primary Stroke Center with neuro-intervention capacity.
Scripps Mercy Hospital includes a multidisciplinary cancer center in partnership with Scripps MD Anderson Cancer Center. 
Scripps Health is ranked among the top in San Diego on the U.S. News & World Report Best Hospitals list and as high performing in multiple specialties. 
Fortune magazine has consistently named Scripps Health among the top employers in the nation on their annual list of the 100 Best Companies to Work For.
As a non-profit organization, Scripps is dedicated to serving the local community and the underserved.
We invite you to explore our website to see what makes Mercy a great place to train. A few of our highlights include:
100% 3-year rolling board pass rate on the American Board of Internal Medicine (ABIM) Exam and currently on a 5-year streak of 100% board pass rate. Since 2016, 99% board pass rate and holds the national record for a streak of 16 consecutive years of 100% ABIM Board Pass Rate
Full accreditation with Commendation from the ACGME
An advanced and fully integrated POCUS (Point of Care Ultrasound) Program with nationally recognized faculty
A successful history of excellent Fellowship matches across all medicine sub-specialties, both locally and nationally
Research opportunities in multiple specialties with a dedicated research committee to support internal resident research as well as opportunities to participate in research with other local institutions (UCSD, The Scripps Research Institute, etc.)  
Support of Away/Audition, Elective, and Research rotations
A partnership with UCSD Medical School and the ongoing education of 3rd- and 4th-year medical students
Message from the program director
Message from the program director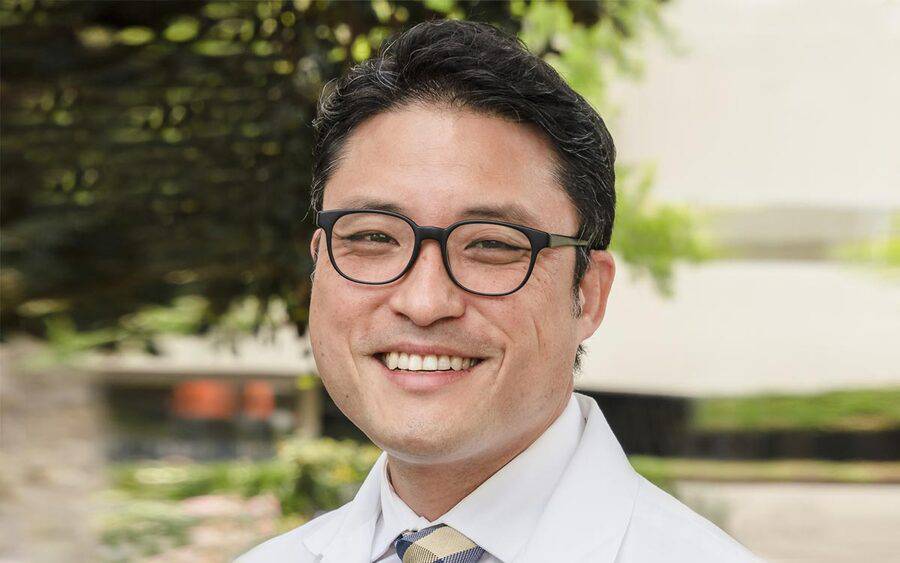 From the program director, Paul Han, MD, FACP
Dear Residency Candidate,
Thank you for considering Scripps Mercy for your Internal Medicine residency training. Our passion is to provide personalized training and guidance to help residents achieve their professional goals, whatever that may be. Our graduates leave us fully prepared to pursue further subspecialty training or begin their practice in primary care and/or hospital medicine. 
Furthermore, our residents are satisfied with our program. On the 2020-21 ACGME resident survey, 95% of our residents rated our program positively and 93% of our residents indicated that they would choose our program again. We are confident that you too will find Scripps Mercy a place for professional growth and intellectual stimulation as you develop lifelong relationships with your colleagues, attendings and sometimes even your patients as so many before you have done.  
Preparation for your careers
100% rolling three-year ABIM Board pass rate. Previous national record of 16 consecutive years of no resident failing the boards. Currently on a five-year streak of 100% pass rate
Excellent fellowship placement rate with opportunities for audition rotations at outside institutions
Excellent job placement with graduates working as practicing hospitalists and primary care physicians, many of whom are in leadership positions with most of the major medical groups in Southern California
Excellent clinical training
Excellent clinical experience at a tertiary care hospital that serves a diverse socio-economic and ethnic population, including the underserved. Highlights include the busiest ER in San Diego, Level 1 Trauma Center, a Primary Stroke Center with neuro-intervention capacity, a STEMI Center, world-renowned cancer center (Scripps MD Anderson Cancer Center) and a highly rated ICU with 24-hour intensivist support but without fellows, maximizing resident experience
Outpatient continuity clinic at a federally qualified health center (Family Health Center of San Diego) with numerous resources for the underserved
Our Point of Care Ultrasound (POCUS) Program for internists is the oldest (20 years) and one of the best in the country, with opportunity to carry a device for everyday use and to obtain a Certificate of Added Qualifications in POCUS
Excellent training and ample opportunity to learn and perform procedures such as central line placement, arterial line placement, paracentesis, thoracentesis and lumbar puncture
Commitment to didactics
Daily morning report and noon conference (with lunch provided)
Weekly grand rounds given by local and national experts on a wide variety of topics
Free ACP associate membership and a generous stipend for personal educational material (in addition to various licensure fees)
Multiple opportunities and strong support for research  
29-resident manuscript or abstract publications in the 2021-22 academic year
In-house annual research symposium and competition for residents; 44-resident entries in the 2020-2021 edition
Close relationship with the Scripps Hub Academic Research Core (SHARC), a research support service provided by the Scripps Research Translational Institute, with support for research design, grants, IRB approval and statistics
An internal research committee composed of faculty members to help guide resident research projects from conception to publication
Prioritizing resident wellness
Access to confidential mental health support
Numerous employee benefits including opportunities for discounted health insurance coverage based on meeting wellness participation incentives
Active resident wellness committee
Free parking, free lunches and 24-hour free snacks
Commitment to the underserved
A safety-net hospital that provides care for the underserved communities in San Diego
Partnership with the Family Health Centers of San Diego, a federally qualified health center, as the primary site for outpatient medicine for both primary care continuity clinic and various sub-specialty clinic
I hope the information provided proves useful and encourages you to seek more information about our program. I invite you to review more of our website to learn why Scripps Mercy Hospital San Diego is an excellent place to begin your internal medicine career. Thank you for your interest and I look forward to meeting you in the future.
Program Director
Internal Medicine Residency Program
Scripps Mercy Hospital San Diego
Residents complete their inpatient internal medicine training at Scripps Mercy Hospital San Diego. Our continuity and core subspecialty clinics are housed across the street at Hillcrest Family Health Centers. We also offer rotations at the San Ysidro Maternal and Child Health Center, and support Audition/Away rotations.
Scripps Mercy Hospital San Diego
We also host a variety of in-house subspecialty services and advanced procedures, including:
Cardiothoracic surgery with advanced robotics program
Neurosurgery
Interventional neuro-radiology
Interventional radiology
Interventional cardiology including structural heart disease
Electrophysiology cardiology
Pulmonology including Endobronchial ultrasound
Endocrinology with continuous glucose monitoring capability
Medical and Surgical ICU
Interventional gastroenterology, including endoscopic ultrasound (EUS) and endoscopic retrograde cholangiopancreatography (ERCP)
Oral and maxillofacial surgery (OMFS)
Ear, nose and throat (ENT)
Inpatient oncology ward
Palliative care
Vascular Surgery
Trauma Surgery
General Surgery
Urology 
Orthopedic Surgery
Scripps Resident Clinic at Family Health Centers of San Diego, Hillcrest
Our continuity and core subspecialty clinics are housed across the street from Scripps Mercy Hospital at the Hillcrest location of Family Health Centers of San Diego, a federally qualified health center. Residents staff clinic every 7th week for one continuous week as part of our X + Y scheduling template. They serve as primary care physicians for their own panel of patients, with services including preventive care, and the care of acute and chronic illness. Residents also rotate through the multiple subspecialty clinics housed here, including:
Cardiology/congestive heart failure
Dermatology
Endocrinology
Gastroenterology
Nephrology
Neurology
Pulmonology
Rheumatology
Hepatitis C/HIV
The clinic curriculum includes daily didactic presentations — and a self-education half-day during each clinic week — allowing time to accomplish core outpatient modules from the Physician Education and Assessment Center (formerly called Johns Hopkins modules) and MKSAP (or UWorld) questions.
In 2016, Scripps Health and MD Anderson announced a partnership to create the Scripps MD Anderson Cancer Center, which provides adult cancer patients greater access to the most advanced oncology care available. This comprehensive cancer center also allows medical oncologists to interact closely with radiation oncologists, surgical oncologists and palliative care physicians.
Through this partnership, Scripps MD Anderson is part of MD Anderson Cancer Network, a global collaborative network of hospitals and health care systems dedicated to MD Anderson's mission to end cancer. The collaboration allows Scripps to combine its expertise with MD Anderson's knowledge and capabilities to provide the best possible care for patients throughout Southern California.
During the hematology oncology rotation, residents spend approximately half their time at Prebys Cancer Center, located steps away from the hospital. Here, residents gain exposure to medical oncology, benign and malignant hematology, and perform bone marrow biopsies. Residents see firsthand how Scripps MD Anderson Cancer Center uses treatment protocols, standards of care, clinical trials and translational research. In addition, an elective rotation in radiation oncology and palliative care are also offered.
San Ysidro Maternal and Child Health Center
We believe women's health is an integral part of training in internal medicine and therefore require a rotation in gynecology. The San Ysidro Health Center in San Diego's South Bay is the primary site for the gynecology rotation. Here, residents work directly with an attending gynecologist to become certified in routine gynecologic examinations, such as Pap smears and breast exams.
Curriculum, rotations and didactics
Learn more about the comprehensive clinical and didactic experiences we offer our internal medicine residents.
Cardiovascular limited ultrasound exam (CLUE)
The Cardiovascular Limited Ultrasound Exam (CLUE), our point of care ultrasound (POCUS) protocol, was derived and validated here at Scripps Mercy Hospital San Diego. The program is fully integrated into our curriculum with online modules, monthly didactics and daily bedside rounds. 
Our evidence-based POCUS program and protocols have been referenced by the American College of Cardiology (ACC) as "likely the most rigorous curriculum" and "the most sustainable and integrated curriculum published in the literature so far."
By the end of their first year, residents can detect left ventricular dysfunction (LVD), left atrial enlargement, pleural effusion, pneumothorax, tamponade, elevated central venous pressure (CVP) and deep vein thrombosis (DVT). In the second and third years, residents learn advanced imaging techniques and are assigned their own pocket-sized ultrasound device for use throughout their training. 
The CLUE curriculum makes the Scripps Mercy resident's bedside exam one of the most clinically powerful diagnostic skills a physician can learn to perform. It also generates a significant amount of clinical research and national attention. View a list of Scripps CLUE-related publications here (PDF, 71 KB).
Each academic year is divided into 13 blocks (four weeks each). For categorical internal medicine residents, the blocks are further integrated into a X+Y (6+1) system. For example, four weeks of wards may be followed by a two-week elective rotation then subsequently a week of clinic. Vacations are provided in one-week intervals and are scheduled during elective blocks. Our Transitional Year PGY-1 interns are fully integrated into our rotations, including medicine wards, ICU, float and electives. 
Medicine wards
A wards team generally consists of an attending, one senior resident, two interns and a pharmacist. It may also include a podiatry intern, sub-intern and/or a third-year medical student from UCSD. Sub-I students are from UCSD and various other schools from all over the country. All third-year students are from UCSD. We also host PGY-1 interns from Scripps Mercy Hospital Chula Vista's Family Medicine Residency Program and UCSD's Psychiatry Program. Our call cycle consists of a recurring five-day cycle with three days of "day-call" admitting, one day of "long-call" admitting and one "post-call" day with no admitting. There is no 24-hour call.
Medicine night float
Senior residents work independently to admit new patients overnight, while interns cross-cover teaching patients.
Day float
On wards, an intern and resident cover their respective colleagues on their days off. This creates an opportunity to rotate through all five teaching teams throughout the month. Residents learn to quickly assume care of patients, address their needs and then efficiently transition care back to the native resident the following day.
Medical ICU
Interns and residents work together in a team-based setting and work directly with the intensivist. There are no critical care fellows, which means plenty of opportunities for hands-on learning and procedures. Admitting is done on a short call, long call and night shift admitting schedule.
There is no 24-hour call. 
Continuity clinic
We offer a true continuity clinic experience where residents care for their own panel of patients throughout their three years of training. Residents are in clinic every 7th week according to our 6+1 schedule and learn to provide effective, efficient primary care, including preventive medicine, outpatient procedures and in-depth pre-operative assessments. 
Away/audition rotations
The Department of Graduate Medical Education is supportive of away rotations, both at local institutions (such as Scripps Green Hospital and UCSD) and institutions across the country.
Research rotations
Research blocks are available throughout all three years of training.
Independent study
Independent study rotations can be used to prepare for the internal medicine board exam.
Elective rotations
Scripps Mercy offers a broad variety of excellent elective rotations. The medical subspecialties usually include an inpatient consult service combined with an outpatient experience — either at our main clinic (Hillcrest Family Health Center) and/or a private office. Elective rotations are Monday - Friday without weekend call or cross-covering responsibilities. 
Medicine subspecialties include:
Hematology/oncology
Pulmonology
Cardiology
Rheumatology
Endocrinology
Gastroenterology
Infectious disease
Nephrology
Palliative medicine
Geriatrics
Private office primary care
Allergy/immunology
Other specialties include:
Dermatology
Ophthalmology
ENT
Sports medicine
Cardiothoracic surgery
General surgery
Orthopedic surgery
Radiology
Neurology 
Radiation oncology
Urology
Trauma surgery
Pathology and dermatology/pathology
Inpatient pediatrics
NICU
Adolescent medicine
Gynecology
Scripps Mercy offers a structured, academic didactic curriculum that complements our residents' clinical experience. Presenters include visiting guest speakers, local experts and subspecialists, faculty and our own interns and residents. 
Morning report
Morning report is held four days a week. With the support of the chief resident, an intern or resident presents an interesting or challenging case to the house staff, program director and associate program director. We focus on highlighting key points in the history and physical, diagnosis and management of the disease process. Many of our morning report cases have been selected for poster presentation and case reports. 
Noon conference
Noon conference is held five days a week with lunch provided. Topics are based on a three-year rotating curriculum, and lecturers include local experts, our own subspecialists and faculty. We aim to cover the broad field of internal medicine and medical subspecialties in order to prepare residents for the Internal Medicine Board Exam. 
Some of the longitudinal lecture series held at noon conference include:
Electrocardiogram (EKG) workshops hosted by our electrophysiology (EP) cardiologists
Congestive heart failure 
Non-invasive and invasive ventilator management
Point of care ultrasound: Cardiovascular limited ultrasound examination (CLUE)
Journal club
Multidisciplinary pulmonary and gastroenterology (GI) path (with a featured radiologist, pulmonologist or gastroenterologist, and pathologist) 
Morbidity and mortality cases
Intern and resident presentations on topics of their choice
Procedure curriculum including lumbar puncture (LP), central venous catheter (CVC), arterial line (a-line), thoracentesis and paracentesis.
Pre-operative risk assessment 
Grand Rounds
Grand Rounds occur every Tuesday morning, featuring visiting experts speaking on a variety of topics. These lectures are also recorded and available for future reference. Some recent topics presented at Grand Rounds include:
Cardio-Oncology
HIV update for the non-HIV medical provider
Updates in pulmonary hypertension
Hepatitis B management
Asthma-exacerbated respiratory diseases
Internal medicine residents at Scripps Mercy Hospital San Diego have access to numerous research opportunities within the institution and beyond. Our scholarly endeavors frequently result in significant publications and national presentations (PDF, 390 KB).
The Scripps Mercy Graduate Medical Education Research Committee, in partnership with The Scripps Hub Academic Research Core (SHARC) team, works very closely with residents to provide guidance in all aspects of clinical research. This streamlined process allows refining of study proposal, timely acquisition of IRB approval and necessary clinical data, and access to expert statisticians. Furthermore, residents receive financial support to present their research at both national and international meetings.  
Residents can pursue up to three blocks of research, which can be split up into different academic years or combined into a longer stretch to allow for completion of more time-consuming projects.
In addition to projects at Scripps Mercy, many residents take advantage of research opportunities at other local institutions, including the Scripps Research Institute and UCSD. Our program is also open to allowing residents to work on research projects at other institutions across the country.
Geller research competition
In May of each year, the annual Jack and Sue Geller Research Competition allows residents an opportunity to submit entries to the following categories:
Grand Rounds presentations of case reports or original research
Poster presentations of case reports
Original research
Medical arts (e.g., music, painting and poetry)
Culinary arts
The competition is named in honor of Jack Geller, MD, former director of the Internal Medicine Residency Program at Scripps Mercy Hospital San Diego, and his wife, Sue, who is a professional artist.
Scripps internal medicine residents learn and work alongside experienced physicians, researchers and other talented trainees.
The faculty at Scripps Mercy San Diego is committed to resident success and excellence in medical education. Our teaching faculty come from programs all over the country, including Harvard, Johns Hopkins, University of Pennsylvania, UCSD and our very own Scripps Mercy Hospital San Diego.
The Internal Medicine Residency Program at Scripps Mercy Hospital San Diego offers 14 first-year resident (PGY-1) positions each year. Our diverse group of residents come from all over the country and bring with them a broad range of experience.
View our resident highlights (PDF, 150 KB) to see why some of our residents chose Scripps Mercy Hospital San Diego.
Welcome barbecue
We kick off each year with the annual welcome barbecue, where current residents meet and greet the incoming interns. It's usually held at the Mission Bay Aquatic Center where we enjoy water activities and fun in the sun. 
Halloween party
Residents dress up for this annual event, held at various local venues throughout the San Diego area.
Holiday party
The location varies each year, but recent venues have included Stone Brewery, the Shout House and 98 Bottles.
Graduation dinner
We end each academic year with a formal graduation dinner at Paradise Point Resort and Spa, where residents are recognized for their accomplishments. 
Resident wellness
Our resident wellness committee plans several exciting activities throughout the year, including hiking, bubble soccer and yoga on the hospital rooftop. Our residents also meet up frequently for brunch, beach volleyball, surfing and Padres games.
Fellowship and career plans
Scripps Mercy has a local and national reputation of producing excellent internists, hospitalists and subspecialists. On average, 40% of our residents pursue fellowship opportunities while 60% choose careers as hospitalists or in primary care. Many of our graduates remain in the Scripps system, while others land competitive jobs in markets across the country.
View a list of our graduates' post-residency jobs (PDF, 95 KB).
View a list of our graduates' post-residency fellowship positions (PDF, 27 KB).
Annual salary (2022-2023 academic year)
PGY-1 resident salary: $65,985 
PGY-2 resident salary: $68,289 
PGY-3 resident salary: $71,291 
Chief resident salary: $96,866 
Insurance, leave and other benefits
Educational resources
All internal medicine residents are provided with an online or print version of Medical Knowledge Self-Assessment Program (MKSAP). MKSAP is accessible on all Scripps computers and residents can create their own logins for use on a mobile device or at home. All residents also have 24/7 access to the McGuire Health Sciences medical library at Scripps Mercy Hospital San Diego. Full-time staff librarians can assist with research and journal article retrieval. In addition, there are online journals and links to DynaMed, AccessMedicine, Cochrane Library and PubMed. 
Educational stipend
A separate educational stipend is available each academic year for use towards books, educational software, United States Medical Licensing Examination (USMLE) and Comprehensive Osteopathic Medical Licensing Examination (COMLEX) step 3, conferences, medical licensure and DEA. 
Scripps Passport Card
Residents receive a complimentary Scripps Passport Discount Program card, which offers savings on shopping, dining, travel, movie tickets, theme parks and more.
Health, dental, vision and life insurance plans
Insurance plans are provided through Scripps Health. Options include an Exclusive Provider Organization (EPO), Health maintenance organization (HMO) and an optional health care spending account. Residents may participate in the Scripps Wellness Program, which can result in further discounts in insurance.
Employee Assistance Program (EAP)
The EAP provides free, confidential, short-term professional counseling for employees and family members.
Vacation 
First-year residents receive 15 days of paid vacation. Second- and third-year residents receive 20 days of paid vacation. Family medical leave and maternity leave is allotted per the Scripps Mercy house staff manual and Scripps Health policies. Of note, residents are eligible for a minimum of six weeks' leave immediately, beginning day one of residency, without having to accrue paid time off. Furthermore, health and disability insurance for residents and their dependents continue during the leave.
Meals
Lunch is provided Monday through Friday at noon conference. Snacks, tea and coffee are available in the physician lounges 24 hours a day. Meal vouchers for use at the hospital cafeteria are provided for overnight call.
Parking
Parking is free in the physician parking structure adjacent to the hospital.
Laundry service
Two white coats and five sets of scrubs are provided at orientation. White coat laundry service is provided with weekly pick-up and delivery.
Our categorical, three-year internal medicine residency program offers 14 positions. The Scripps Mercy Hospital Residency Selection Committee reviews all applications, weighing academic performance, clinical performance, letters of recommendation, communication skills, motivation and professionalism.
In accordance with the Undergraduate Medical Education to Graduate Medical Education Review Committee (UGRC) and the Alliance for Academic Internal Medicine (AAIM), the Scripps Mercy Internal Medicine Residency Program will be hosting another 100% virtual interview experience for this application cycle. 
Scripps Mercy Hospital participates in the National Resident Matching Program (NRMP). All PGY-1 positions are offered through the NRMP and applications must be processed through the Electronic Residency Application Service (ERAS). 
Use NRMP Match Number 1048140C0
We do not offer pre-match positions
The application deadline for Categorical Internal Medicine is December 30, 2022.
We will hold interviews from November 2022 – January 2023. Interviews are by invitation only and will be distributed with specific instructions on how to navigate your online interview experience.  
Candidates must graduate from schools accredited by the Liaison Council on Medical Education and the American Osteopathic Association. All appointments are facilitated through the National Resident Matching Program's Electronic Residency Application Service (ERAS). Applications must include:
Curriculum vitae
Medical Student Performance Evaluation (MSPE)
Official medical school transcript
Letters of recommendation: You are required to submit at least two LORs. One should be a letter from the department of internal medicine, and typically written by the chair of the department. The second letter should be from a clinical faculty with whom you have worked closely. Additional letters are encouraged but not required. 
USMLE Step 1 (required).
USMLE Step 2 CK: while not required for application review, submission of the score is strongly encouraged. Successful completion is also required to begin residency.
Brief personal statement, which should address the student's educational plans (e.g., fellowship or practice plans)
Proof of graduation from medical school within the past five years
Additional requirements for international medical graduates (IMG)
Candidates who graduate from medical schools outside of the United States must have a valid certificate from the Educational Commission for Foreign Medical Graduates. In addition, candidates must have a postgraduate training authorization letter from the Medical Board of California and meet strict academic criteria. 
In addition to the above requirements for all applicants, any US clinical experience (preferred but not required) must be documented with a letter of recommendation from a supervising physician.
The Scripps Mercy Hospital Internal Medicine Residency Program does not offer any form of Visa support.
Fourth-year medical student rotations