Interventional and Structural Cardiology Fellowship Program
Interventional and structural cardiology training in San Diego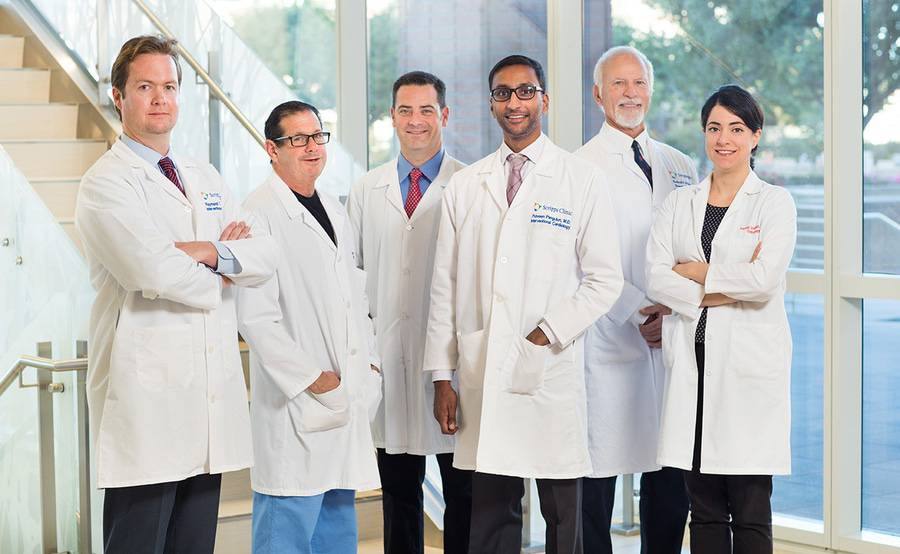 Interventional and structural cardiology training in San Diego
The Scripps Clinic Interventional and Structural Cardiology Fellowship Program is accredited by the Accreditation Council for Graduate Medical Education (ACGME) and organized under the directorship of Curtiss T. Stinis, MD. The one-year program accepts three fellows per year.
After the completion of the ACGME-approved year, fellows will be offered a second year of training dedicated to structural heart and peripheral vascular disease interventions. During this time they will also function as junior faculty members and independent operators during coronary interventional procedures.
The interventional and structural cardiology fellowship is a rigorous training program that provides fellows with the largest procedural volume on the West Coast and one of the highest procedure-to-fellow ratios in the country.
Fellows graduating from the program will be poised to assume positions of leadership in the field of interventional cardiology.
2,500 coronary interventions per year
380 transcatheter aortic valve replacement (TAVR) procedures per year (second largest TAVR center in California)
175 peripheral vascular procedures per year
75 MitraClip procedures per year (third largest in California)
44 percutaneous atrial septal defect (ASD)/patent foramen ovale (PFO)/ ventricular septal defect (VSD) procedures per year 
Very active left ventricular assist device (LVAD) and mechanical circulatory support (MCS) programs using Impella devices and extracorporeal membrane oxygenation (ECMO)
During the first year, fellows will acquire the following procedural expertise:
Percutaneous transluminal coronary angioplasty and stent placement
Rotational atherectomy
Laser atherectomy
Mechanical thrombectomy
Intravascular ultrasound
Optical coherence tomography 
Distal protection devices
In addition to learning coronary interventional techniques, fellows will have the opportunity to undergo dedicated non-coronary training during a second year of training to include:
Percutaneous balloon valvuloplasty
Transcatheter aortic and mitral valve replacement procedures
Transcatheter closure of intra-cardiac communications (ASD, PFO, patent ductus arteriosus [PDA], VSD)
Alcohol septal ablation for hypertrophic obstructive cardiomyopathy
MitraClip procedures
Watchman/left atrial appendage closure procedures
Peripheral vascular interventions, which include the following distributions:
Subclavian
Renal
Mesenteric
Lower extremity (including complex interventions for critical limb ischemia)