Scripps offers six tips to help your family safely enjoy the summer season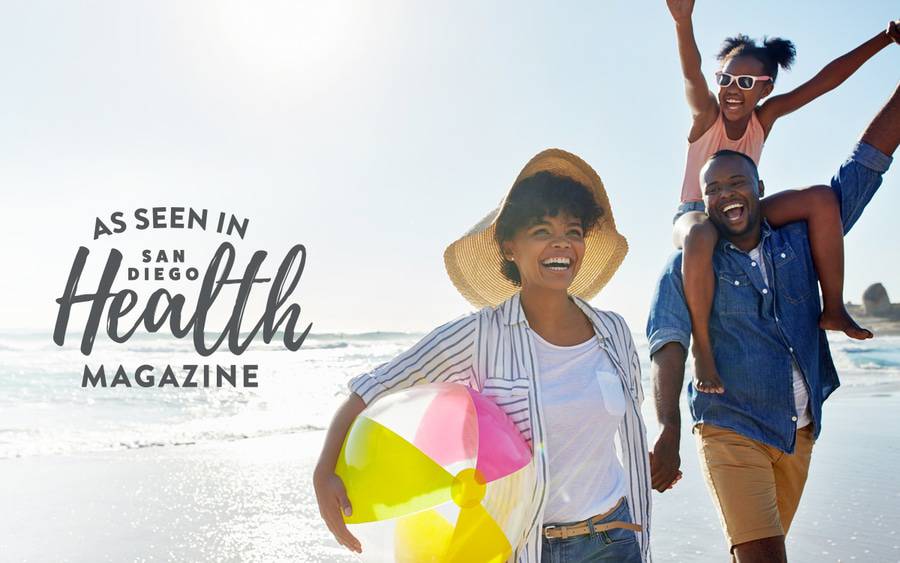 Scripps offers six tips to help your family safely enjoy the summer season
From the beach to the barbecue, the ballpark to the bay, summer is San Diego's time to shine. But even though summertime feels carefree, spending time outdoors carries risks ranging from sunburns to snake bites.
"No matter how you plan to play this summer, play it safe," says John Dawkins, MD, family medicine and sports medicine physician at Scripps Clinic Del Mar. "It only takes a moment for something to happen."
Before you strap on your hiking shoes or scuba gear, read our six tips for avoiding summertime accidents and injuries.
1. Apply plenty of sunscreen
San Diego has one of the nation's best climates — and one of its highest rates of skin cancer. But a few simple precautions can go a long way toward lowering your risk. Wear a broad-spectrum sunscreen with an SPF of 15 or higher, applying generously 30 minutes before you go outside. Reapply at least every two hours, or as soon as you're done swimming or exercising. And pair your sunscreen with a wide-brimmed hat and sunglasses, especially if you're outdoors between 10 am and 4 pm, when the sun's rays are strongest. 
2. Be smart about barbecues and bonfires
Nothing says summer like a backyard barbecue — and nothing will spoil summer faster than a grilling accident. To avoid the risk of burns, don't add fuel after the fire is lit. Make sure you're grilling in a well-ventilated area and keep kids away from gas, charcoal or flames. 
Planning a beach bonfire? Every summer, dozens of San Diegans suffer severe burns caused by smoldering coals or wood chips buried in the sand. Use only designated fire rings or cookout areas, and be sure to fully extinguish the fire and properly dispose of coals or wood. Contrary to what you may have heard, covering hot coals or wood with sand doesn't cool them off. In fact, sand insulates the heat, keeping them hot for a day or more. Douse used coals or wood with water instead and place them in approved disposal bins.
Something else to keep in mind? Barbecuing and beer don't mix, especially if you're the grill master. "Treat your grill like your car in terms of alcohol," says Dr. Dawkins. 
Swimming pools are a summer staple, but they can be dangerous, especially for young children. Drowning accidents are the leading cause of injury or death among children under five, and more than 80 percent happen in backyard swimming pools or spas.
If you have a pool, proper fencing is a must. Choose a fence at least four feet high, with gates that self-close and latch. Never let children in or near the pool unsupervised, and make sure there is at least one adult around who knows CPR. 
"Most of us will go through life without ever needing to use CPR, but it's important to learn because once you need it, you need it," says Dr. Dawkins. "CPR can save a life."
4. Be aware of ocean hazards
For many San Diegans, ocean activities are a way of life. But even if you've grown up surfing or sailing, never underestimate the ocean's currents. Stick to beaches that are patrolled by lifeguards and heed their warnings about dangerous riptides or areas to avoid. Always let someone know when you're going into the water and never let children play alone in the waves.
If you're in the water and need help, wave your arms above your head to attract the lifeguard's attention. If you get swept up in a rip current, don't swim against it. Instead, swim parallel to shore until help arrives or you swim out of the current.
5. Watch out for insect bites and stings
Summer hiking and biking lets you enjoy nature — and exposes you to insects and other venomous creatures.
For most of us, insect stings are mostly a nuisance. However, about 10 percent of the population is extremely sensitive to venom, and a sting can be a life-threatening emergency. Minor redness and itching around the site are normal, but swelling around the eyes, lips, tongue or throat, as well as coughing, difficulty breathing, hives and nausea can be signs of a severe allergic action. Allergy symptoms usually appear within minutes of a sting; if they do, call for help immediately.
Stings can happen in the water, too. Avoid stepping on stingrays by shuffling your feet as you head into the water, and stay away from jellyfish. If you do get stung, bathe the area in seawater and remove any fragments of the stinger. Soaking the affected area in hot water can also relieve pain.
6. Take care with summer footwear
Flip-flops are San Diego's go-to summer shoe, but you might want to rethink using them as 24/7 footwear. 
"It's not necessarily bad to walk around in flip-flops all day — if your feet are used to it," says Dr. Dawkins. "If you transition exclusively to flip-flops without giving your feet a chance to get used to them, you risk foot pain and problems like plantar fasciitis."

This content appeared in San Diego Health, a publication in partnership between Scripps and San Diego Magazine that celebrates the healthy spirit of San Diego.