Practical safety tips can help keep you and loved ones safe this summer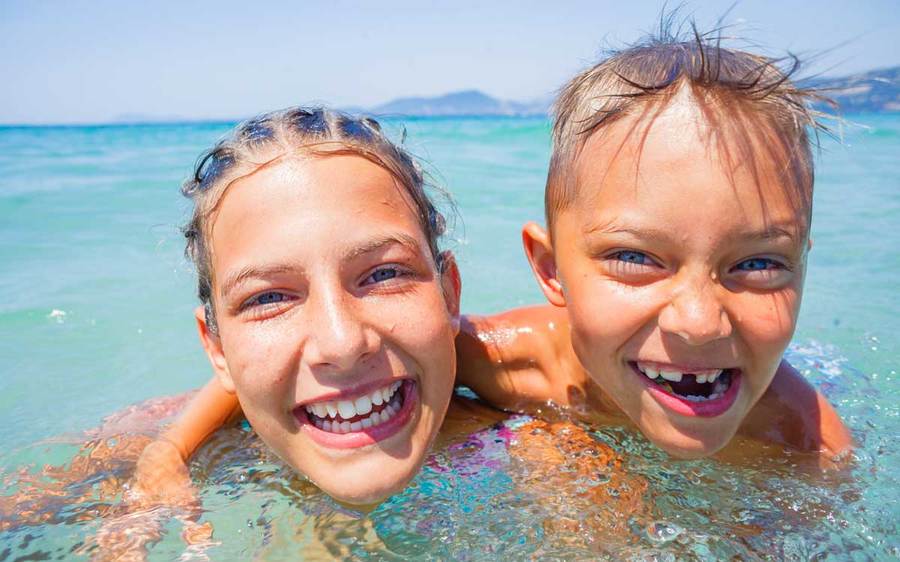 by Lisa Morikado, Emergency Physician
Think summer and what comes to mind? Beach picnics, boogie boards and bonfires? Lazy days by the pool? Or perhaps gardening in the yard until sunset?
No matter how you plan to play this summer, play it safe. Summertime may be carefree, but it's not always risk-free. Don't let sunburns, bee stings or more serious accidents or injuries spoil your fun. Keep these summer-smart tips in mind.
Don't forget to pack sunscreen
San Diego has one of the nation's best climates — and one of its highest rates of skin cancer. Without protection from the sun's harmful ultraviolet rays, you're putting yourself at increased risk.
A few simple precautions can go a long way toward lowering your risk. Stay out of the sun when rays are strongest (generally from 10 a.m. to 2 p.m.). When you are outdoors, wear a wide-brimmed hat and plenty of sunscreen.
Choose one with an SPF of 15 or higher and apply it generously 30 minutes before you go out. Reapply every two hours, or after swimming or exercise. Don't forget the kids, too. Research has shown that regular use of sunscreen during the first 18 years of a child's life can reduce his or her risk for skin cancer by as much as 78 percent.
Whether you're surfing, swimming or just cooling off on a hot afternoon, never underestimate the hazards of the ocean. Stick to beaches that are patrolled by lifeguards, and heed their warnings about dangerous riptides, currents and areas to avoid. Always let someone know when you are going into the water and never let children go in alone.
If you're in the water and need help, wave your arms above your head to attract the lifeguard's attention. Should you get caught in a rip current, don't try to fight it to get back to the beach. Instead, swim parallel to shore until help arrives or you swim out of the current.
Watch out for beach burns
Planning a beach bonfire or barbecue? Every summer, dozens of San Diegans suffer severe burns caused by smoldering coals or wood chips buried in the sand. Use only designated fire rings or cookout areas, and be sure to fully extinguish the fire and properly dispose of coals or wood.
Contrary to what you may believe, covering hot coals or wood with sand doesn't cool them off. In fact, it actually insulates the heat, keeping them hot for a day or more. Douse used coals or wood with water and place them in approved disposal bins.
Safety in the swimming pool
Not so fast. Swimming pools are a summer classic, but they can be dangerous, especially where young children are concerned. Drowning accidents are the leading cause of injury or death among children under five, and more than 80 percent happen in backyard swimming pools or spas.
Never let children in or near the pool unsupervised, and make sure that there is at least one adult around who knows CPR. Keep a cordless or cell phone nearby, so you can call for help immediately if necessary.
Set and enforce pool rules such as no running, no diving and no glass. When you're not using the pool, keep it off-limits with a safety cover that meets ATSM standards.
Safety with animals and insects
Summer hikes and bike rides are all about getting out and enjoying nature. Unfortunately, nature often includes bees, wasps and other stinging insects.
If you have a run-in with one, carefully remove the stinger. Avoid squeezing, which can push irritating venom deeper into the skin. Apply ice to the site.
For most of us, insect stings are mostly a nuisance. However, about 10 percent of the population is extremely sensitive to venom, and a sting can be a life-threatening emergency. Minor redness and itching around the site are normal, but watch out for severe allergic reactions such as swelling around the eyes, lips, tongue or throat, as well as coughing, difficulty breathing, hives and nausea.
Symptoms usually appear within minutes of a sting; if they do, call for help immediately.
Stings can happen in the water, too. Although encounters with stingrays and jellyfish are uncommon in San Diego, they do occur. Bathe mild stings in sea water and remove any fragments of the stinger you can find.
Soaking the affected area in hot water is also an effective way to relieve the pain of stings. Medical attention is recommended to ensure that no foreign bodies are left behind. Avoid stepping on stingrays by shuffling your feet as you head into the water, and stay away from jellyfish in the water.
This Scripps Health and Wellness information was provided by Lisa Morikado, MD, an emergency physician at Scripps Memorial Hospital La Jolla.