The Many Roles of Mercy Clinic
Mercy Clinic provides quality care for patients who might not otherwise have appropriate access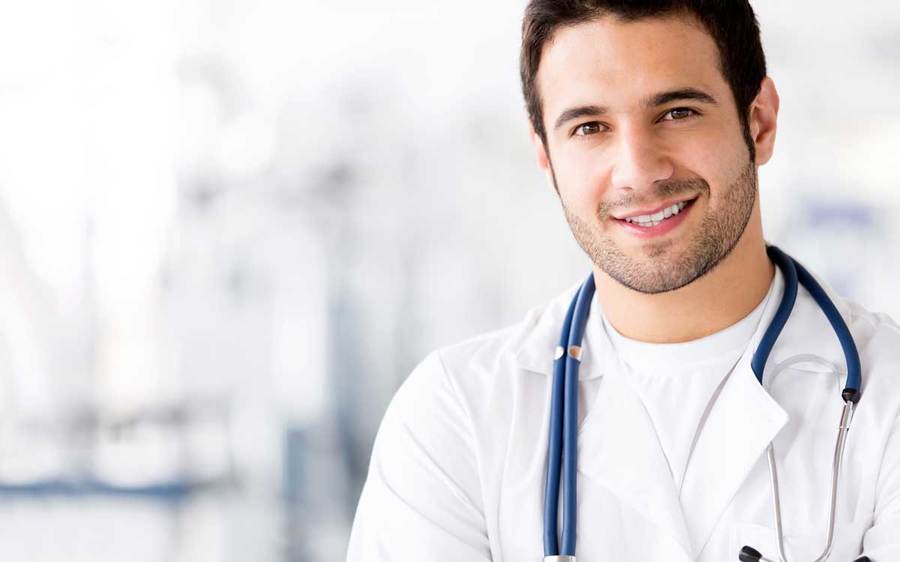 In 1946, when Mercy physicians helped create the Guadalupe Clinic in Barrio Logan, they were trying to fulfill a community need, to create a place where all people could get care — in many ways, that dream has come true at Mercy Clinic.
With more than 30,000 patient visits each year, the clinic provides access for people who otherwise might not receive quality medical care. According to Barbara Smith, R.N., patient care manager, many of the clinic's patients have no primary care physician and only seek help during an emergency.
The clinic fills the important role of providing follow-up as well as preventive care for these patients, taking some of the pressure off the emergency department.
"We become the person's medical home, which is what was lacking and probably drew them to the emergency room," says Smith. "It's an opportunity for the patient and their entire family to develop a medical home where they can come for preventive care to enhance their well being so that, ultimately, they come to see us less frequently."
A place of learning and professional development
In addition to the benefits received by the patients, Mercy Clinic also provides a unique opportunity for young physicians to learn relevant, practical aspects of their profession. Under the supervision of experienced attending physicians, these doctors serve as primary care physicians for many of the clinic's patients, acquiring valuable experience that will benefit them their entire careers.
"The clinic plays an incredibly important role in the way these physicians turn out," Smith says. "This is their opportunity to take care of patients in a real life setting."
The results are reflected in the high marks given to Scripps Mercy Hospital's medical education program from both accrediting agencies and residents.
Dr. Andrew Ping, clinic medical director, notes that Scripps Mercy has one of only a few graduate medical education programs in the country with a 100 percent pass rate, placing the program in the esteemed company of Harvard and Johns Hopkins among the top internal medicine programs in the nation.
The long-term benefits to the community are incalculable.
"I see these interns and residents get out of school, stay on, open private practices," says Smith. "They like the environment and aren't going to pack up and go to Chicago or wherever. They're going to stay right here in San Diego."
A safety net for special or underserved populations
Mercy Clinic provides a critical safety net for people throughout San Diego. One young girl, a recent immigrant from Vietnam, broke her finger. Her family had no insurance and was not yet eligible for state or federal programs.
Her family was directed to Mercy Clinic, and Smith made arrangements with orthopedic surgeon Dr. Michael Bongiovanni to set the finger.
Because Mercy Clinic is one of the few community clinics to provide specialty care like orthopedics, it is an enormous asset for people who need that extra layer of expertise. Without it, their choices would be extremely limited.
While it is the medical home for thousands of San Diegans, the clinic also reaches out into the community. For several years, they have collaborated with the Hoover Health Foundation to coordinate care for Hoover High School's 2,200 students.
More than 1,300 students have no insurance and half of those have no eligibility. The clinic helps screen for tuberculosis, provide asthma management and reduce teen pregnancies. Since the program was initiated, pregnancies have declined from 50 per year to 10.
Even non-residents benefit from Mercy Clinic's mission. Recently, two families from New Orleans were relocated to San Diego after Hurricane Katrina.
The clinic has monitored their health, given vaccinations, treated diabetes and hypertension and provided prenatal and postpartum care. In addition, the staff has organized outings for the families to help them acclimate to San Diego.
Improved efficiency for enhanced patient care
Recent refinements at Mercy Clinic are helping them improve efficiency and provide even better care. The recent installation of computerized scheduling has made a world of difference.
Another recent addition has been a nurse case manager who coordinates aftercare to help keep people on track with their medications, reduce hospital readmissions and keep people out of the emergency department.
"Our patients often have multiple issues, like drugs, complex medical histories and minimal health care literacy," says Dr. Ping. "The nurse case manager is one more way we can help people manage these issues."
The clinic's improved efficiency comes just in time. As reimbursement rates for Medi-Cal and Medicare decrease, the workload at the clinic will only increase. Fortunately, Mercy Clinic is there to provide a critical safety net for patients who have nowhere else to go.