Five Things to Consider When Choosing a Pediatrician
How to select a pediatrician for your baby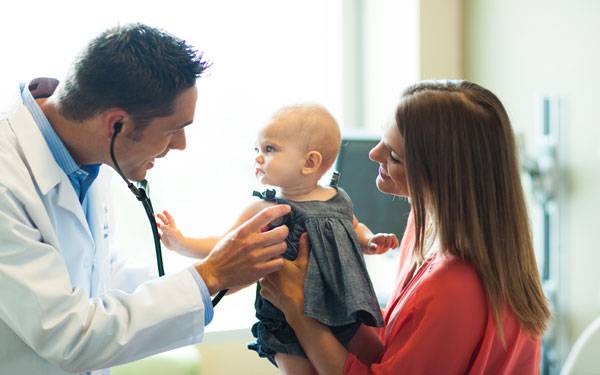 How to select a pediatrician for your baby
Choosing a pediatrician to care for your newborn is an important decision that you will want to make before you give birth. The pediatrician you choose will come to know your family well, and you need to be comfortable with your choice.
During your baby's first year alone, you will be visiting the doctor at least six times for well-baby checkups — not to mention unplanned visits for a fever or a first cold. 
"Parents need to feel they can trust their pediatrician, and that the doctor will consider how they want to care for their child," says Gurinder Dabhia, MD, a pediatrician at Scripps Clinic Rancho Bernardo.
Taking the following five tips into account will help you when it comes to picking a pediatrician.
One of the best ways to start compiling your list is by asking family and friends. When gathering your choices, consider location of the office, hours and after-hours care. Make sure the pediatrician accepts your health insurance and that the doctor is accepting new patients.
2. Check credentials and experience
A pediatrician specializes in the care of infants, children and adolescents and has completed training in pediatrics following graduation from medical school. After completing their residency, many pediatricians become board-certified by the American Board of Pediatrics.
Also take into account the range of experience and how long the pediatrician has been in practice. Has the doctor worked only in a private practice office setting, or is there some experience in a group practice, urgent care, hospitals or emergency departments? Working in different health care environments can broaden a pediatrician's knowledge.
3. Make sure the doctor is up-to-date with current practices
Medicine and health care practices change rapidly, and staying current with the most recent research ensures the best care for your family. For example, parents were once told to swab the umbilical cord stump with alcohol after every diaper change, but recent studies show this practice might actually delay the natural healing process. Current practice is to keep the area as clean and dry as possible, using plain water and drying it with a clean cloth.
Most pediatricians offer free "getting-to-know-you visits." These visits allow you to meet the doctor and ask him or her questions about their style and philosophy of care. Your pediatrician will be your partner and advisor when caring for your new baby. You want to have confidence that your own approach to caring for your child is taken into account.
For instance, there are many different methods of helping a baby learn to fall asleep and stay asleep through the night, from the "cry-it-out" approach to the "no-tears" approach. If you have reservations about letting your baby "cry it out," you need to feel that you can talk to your pediatrician honestly and find another method to try.
"There are many different approaches to parenting," says Dr. Dabhia. "Every child is different, and parents know their children better than anyone, so we, as pediatricians, need to listen to them."
5. See how your doctor interacts with your newborn
During your first few visits after your baby is born, pay attention to how the doctor interacts with your child.
"Most pediatricians go into this specialty because we love being with kids," says Dr. Dabhia. "But during your first few visits, assess how your doctor interacts with your child to ensure it's a good fit."
Your infant will develop a special bond with your pediatrician, and you want your little one to be comfortable with your choice as she or he grows and develops.