O'Toole Breast Care Center Opens at Scripps Mercy San Diego Campus
Note to Patients: The following news is posted for archival purposes only. Scripps is no longer accepting new patients for proton, CyberKnife or gamma knife therapy.
$5.3 million center in Hillcrest offers comprehensive breast health services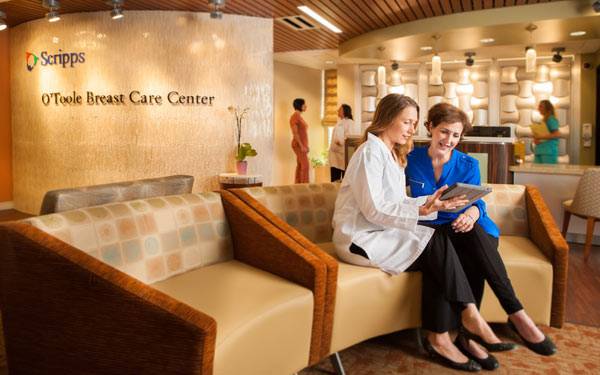 The Scripps Mercy O'Toole Breast Care Center has opened on the campus of Scripps Mercy Hospital San Diego in Hillcrest. The center is a $5.3 million facility where patients can receive comprehensive breast health services in a convenient and comforting environment.
Located on the second floor of the Scripps Medical Building at 550 Washington St., the multidisciplinary center offers sophisticated screening and diagnostic mammography services. The center opened June 3 and its hours of operation are Monday through Friday from 7 a.m. to 4:30 p.m.
The O'Toole Breast Care Center — named after lead donor, the Theresa and Edward O'Toole Foundation — features an array of specialized medical rooms, an elegant lobby with comfortable seating, three changing rooms and a patient-friendly resource center.
"We are grateful to the Theresa and Edward O'Toole Foundation and the Menard Family Foundation for supporting the expansion of breast care services in the communities that we serve," said William Stanton, MD, medical oncologist and medical director of the Scripps Cancer Center at Scripps Mercy Hospital's San Diego campus. "We thank them for giving Scripps the opportunity to build a state-of-the-art center where our experienced and compassionate medical staff can provide patient care using the most advanced technologies."
Expanded cancer care capabilities
The O'Toole Breast Care Center provides convenient access to residents of central San Diego neighborhoods, including Hillcrest, Mission Hills, downtown San Diego, Bankers Hill, City Heights, North Park, Normal Heights, Mission Valley and Point Loma.
The 3,612-square-foot facility has several specialized rooms for services such as:
Mammography, including breast tomosynthesis, which uses three-dimensional digital imaging to provide higher diagnostic accuracy.
Dexa scans (for bone density measuring).
Gynecologic and obstetric imaging.
Pre-surgery needle localization using mammography, stereotactic-guided or ultrasound-guided procedure for exact needle placement.
In addition, it offers a resource center with a computer, educational materials and breast care treatment-related items such as wigs, knitted hats and chemo caps. A nurse navigator provides individual assistance to patients and answers their questions, describes procedures, coordinates appointments and offers support to newly diagnosed patients.
The center is a short walking distance to Scripps Mercy Hospital San Diego on Fifth Avenue and is conveniently located in the same building as the Scripps Mercy Surgery Pavilion. The central location allows for more same-day scheduling of services to patients.
"Because all required studies and procedures are available at the Scripps Mercy Hospital campus there is no need for our breast care patients to travel elsewhere for imaging services and needle localizations," said Paul Goldfarb, MD, chair of the Scripps Breast Cancer Task Force. "The goal of providing comprehensive services in one place is to help women navigate all phases of care, from screening to diagnosis, treatment, recovery and survivorship in a warm, comfortable environment," Dr. Goldfarb added.
The center is staffed by two radiologists, a nurse navigator, two mammography technologists, one ultrasound technologist and clerical support.
"Our radiologists have decades of experience and can help determine whether a lump is a passing concern or a serious issue," said Maya Borso, MD, co-director of women's imaging services at the center. "Throughout the process, our entire team will be there to answer questions and explain the next steps," Dr. Borso said.
The new center replaces the temporary breast health facility that opened last year near Scripps Mercy Hospital.
Newest Scripps breast cancer care center
The O'Toole Breast Care Center is accredited by the American College of Radiology and is listed as a Hologic Pink Ribbon facility, a designation for imaging centers that provide excellent breast care and support for women in their communities.
It is one of three Scripps Health comprehensive breast care centers in San Diego County. The Scripps Polster Breast Care Center at Scripps Memorial Hospital La Jolla and the Emily Fenton Hunte Breast Care Center at Scripps Green Hospital, also in La Jolla, have earned accreditation from the American College of Surgeons' National Accreditation Program for Breast Cancer Centers.
Scripps Health cares for more breast cancer patients than any other San Diego health care provider. Scripps-affiliated physicians comprise half the region's physician membership in the American Society of Breast Surgeons.
Scripps Health is a nationally recognized leader in cancer care, providing comprehensive services at its five hospital campuses and various Scripps Clinic locations. Scripps Cancer Care physicians and staff work collaboratively toward cancer prevention, early detection, coordinated treatment and community support services. Scripps is actively involved in leading-edge clinical, translational and basic research. It is accredited as an integrated network program by the American College of Surgeons' Commission on Cancer, a distinction that demonstrates consistency in providing the highest quality of patient care.
Scripps offers advanced treatment technologies at the Scripps Proton Therapy Center, the Scripps Radiation Therapy Center, Scripps Clinic Radiation Therapy Center Vista CyberKnife and the San Diego Gamma Knife Center, and through its minimally invasive surgical program. Additional resources include specialized breast care centers and infusion clinics, nurse navigators, rehabilitation services, support groups and the Scripps Center for Integrative Medicine.
More cancer news and information from Scripps can be found at www.scripps.org/CancerNews. For a referral to a Scripps cancer specialist, please call 858-207-3282.
Learn more about Scripps Health, a nonprofit integrated health system in San Diego, Calif.