Reveal LINQ: Miniature Heart Monitor is Major Innovation for Cardiac Care
Round-the-clock device monitors heart patients, alerts physicians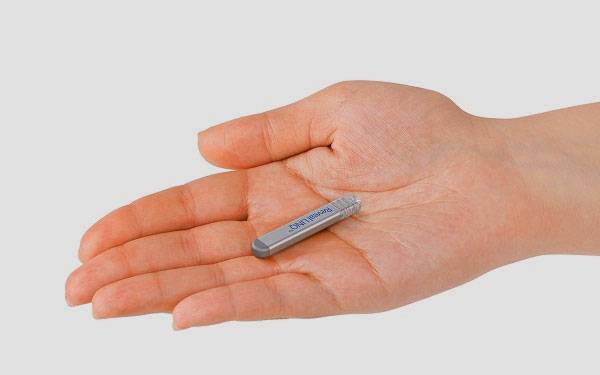 In May 2015, cardiologist John Rogers, MD, implanted the miniaturized Reveal LINQ™ Insertable Cardiac Monitor (ICM) in a patient in his Scripps Clinic office as part of a new clinical trial of the device.
Until now, the Reveal LINQ had been implanted only in hospital settings, such as an operating room, cardiac catheterization laboratory or electrophysiology laboratory. Last year, Scripps Green Hospital became the first hospital in the United States to implant the device.
Cleared by the Food and Drug Administration (FDA) in 2014, the LINQ™ ICM from Medtronic is approximately the size of an AAA battery, making it more than 80 percent smaller than other ICMs currently available.
Patients are given a local anesthetic, and the device is implanted just beneath the skin through an incision smaller than 1 centimeter using a minimally invasive insertion procedure, which simplifies the experience for both physicians and patients. The procedure takes about 10 minutes and patients may go home immediately following the implant. Once inserted, the Reveal LINQ ICM is often nearly invisible to the naked eye.
"The monitor is so discreet that it is unlikely that patients will even know it is there, and can go about life without interruption or discomfort from the device," says Dr. Rogers.
The Reveal LINQ ICM is MR-Conditional, allowing patients to undergo magnetic resonance imaging (MRI), if needed.
In addition to its continuous and wireless monitoring capabilities, the system provides remote monitoring through the Carelink® Network. Physicians can request notifications to alert them if their patients have had cardiac events. The Reveal LINQ ICM can be used for patients who experience symptoms such as dizziness, palpitation, syncope (fainting) and chest pain that may suggest a cardiac arrhythmia, and for patients at increased risk for cardiac arrhythmias.