Expanded Surgical Department Opens at Scripps Encinitas
Hospital adds two new operating rooms and advanced surgical technology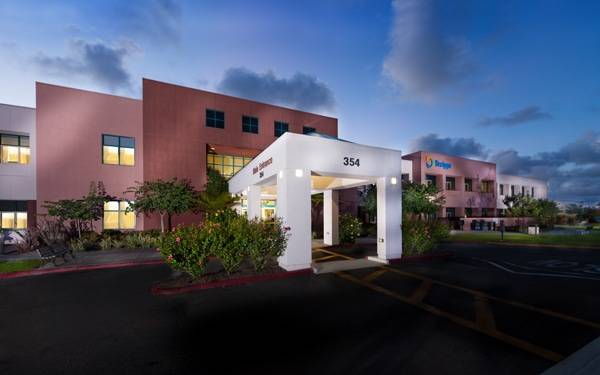 In the latest in a string of recent improvements to its hospital campus, Scripps Memorial Hospital Encinitas has opened an expansion of its surgical services department.
The enhancements include two new state-of-the-art operating rooms, bringing the hospital's total to six. The project also brings in new advanced visualization technology for surgical procedures, a renovated pathology workroom and an updated pre-op suite with 11 patient bays.
The expansion received licensing approval on Feb. 18 from the California Department of Public Health and is now open for patient care. The surgical services project was funded with a combination of philanthropy, income from operations and debt financing.
High-quality surgical care
"The dedication and expertise of our surgeons, physicians and caregivers have played a key role in the growing demand for surgical services at Scripps Encinitas," said Carl Etter, the hospital's chief executive. "Our legacy of providing high-quality health care to patients goes back more than 50 years, and we're excited to continue to grow, so we can serve North County residents for many years to come."
The number of surgeries performed at the hospital has increased by 39 percent in recent years.
Upgraded surgical visualization technology has been added at Scripps Encinitas to help improve patient safety. This includes sophisticated new surgical microscopes, which are used to give surgeons enlarged, high-resolution images of small structures to reveal details not otherwise distinguishable. Operating rooms also have access to a new high-definition endoscopy camera system, which provides advanced imaging for surgeons to see and safeguard critical structures.
Further expansion of the hospital's surgical services department is expected to begin soon. This includes a new 12-bay post-anesthesia recovery unit and remodeling of the nurse's station, scheduling office and locker and lunch break rooms. Completion of these projects is expected by the end of the year.
Other recent improvements
These projects are just the latest recent improvements at Scripps Encinitas. The first phase of hospital expansion included construction of an 884-space parking structure, which opened in spring 2011. In summer 2014, the second phase was completed, including the Leichtag Foundation Critical Care Pavilion, home to a new 26-bed emergency department and 36-bed medical-surgical inpatient unit. Phase 2 also included a new high-efficiency central energy plant.
As part of the second phase of expansion, Scripps has provided more than $6 million in public infrastructure improvements as required by the city of Encinitas. These include enhancements to Devonshire Drive and to the southbound Interstate 5 off-ramp and on-ramp at Santa Fe Drive.
In September 2015, two new neonatal intensive care unit (NICU) bays were added to the Leichtag Family Birth Pavilion at Scripps Encinitas, bringing the hospital's total to eight NICU bays. The master plan for expansion at Scripps Encinitas was approved in 2009 by the city of Encinitas.
Scripps Encinitas offers a wide variety of surgical specialties, including orthopedics, gynecology, urology, ophthalmology, vascular surgery, spinal surgery, general surgery and many others. Surgeries are performed on either an inpatient or outpatient basis.
Legacy of excellence
Founded in 1964, Scripps Encinitas offers a full range of clinical services. The hospital is home to North County's first Joint Commission-certified primary stroke center. It also offers the first brain injury rehabilitation program in San Diego, Imperial and Riverside counties accredited by the Commission on Accreditation of Rehabilitation Facilities.
The hospital is designated by the American Heart Association as a STEMI receiving center for patients having a heart attack. This demonstrates that Scripps Encinitas' emergency department has the communications, expertise and equipment that is critical to ensure heart attack patients receive the fastest, most effective care possible.
Learn more about Scripps Health, a nonprofit integrated health system in San Diego, Calif.