Scripps Chula Vista Launches Robotic Surgery Services
South County hospital is part of county-wide patient-centered, physician-led program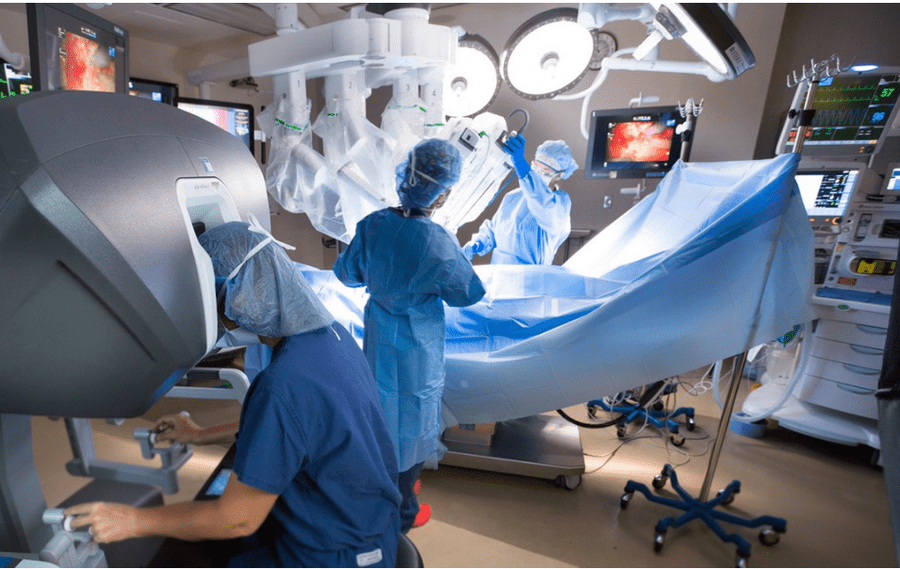 South County hospital is part of county-wide patient-centered, physician-led program
Scripps Health has expanded its Minimally Invasive Robotic Surgery Program to Scripps Mercy Hospital Chula Vista, which now offers general surgery services using the da Vinci Surgical System.
"We are proud to bring this advanced surgery technology to our patients in the South Bay community," said Hugo Barrera, MD, the program's clinical leader at Scripps Chula Vista. "In many ways, this technology represents the future of surgery, and we are fortunate to offer it as a way to expand the high-quality surgical services offered at Scripps Chula Vista."
Robotic surgery is a minimally invasive alternative to open surgery and can improve the patient experience by reducing blood loss, lowering pain, accelerating recovery times and limiting complications associated with traditional open surgery.
Scripps Chula Vista is part of a patient-centered, physician-led robotic surgery program at Scripps Health that has completed about 10,000 procedures since its launch 11 years ago. The hospital initially will offer general surgery procedures focused on the abdomen and digestive tract, such as gallbladder surgery, hernia repair, stomach surgery, spleen surgery, colon surgery and pancreas surgery.
Robotic surgery available at all Scripps hospitals
These procedures as well additional ones, such as hysterectomy, prostatectomy, and mitral valve repair, are available through the Minimally Invasive Robotic Surgery Program at Scripps Mercy Hospital San Diego, Scripps Memorial Hospital La Jolla, Scripps Memorial Hospital Encinitas and Scripps Green Hospital.
"Scripps is committed to bringing advanced minimally invasive surgery services to all of our patients throughout San Diego County," said Carol Salem, MD, medical director of the Scripps Minimally Invasive Robotic Surgery Program. "With this tremendous technology in our operating rooms, our highly skilled surgeons can offer precision robotics combined with personalized care."
To learn more about robotic surgery at Scripps call 858-842-5565 or visit www.scripps.org/roboticsurgery.
Learn more about Scripps Health, a nonprofit integrated health system in San Diego, Calif.