Lung Cancer Is a Familiar Fight for San Diego Mom
Angela Flores fights her lung cancer with immunotherapy at Scripps MD Anderson Cancer Center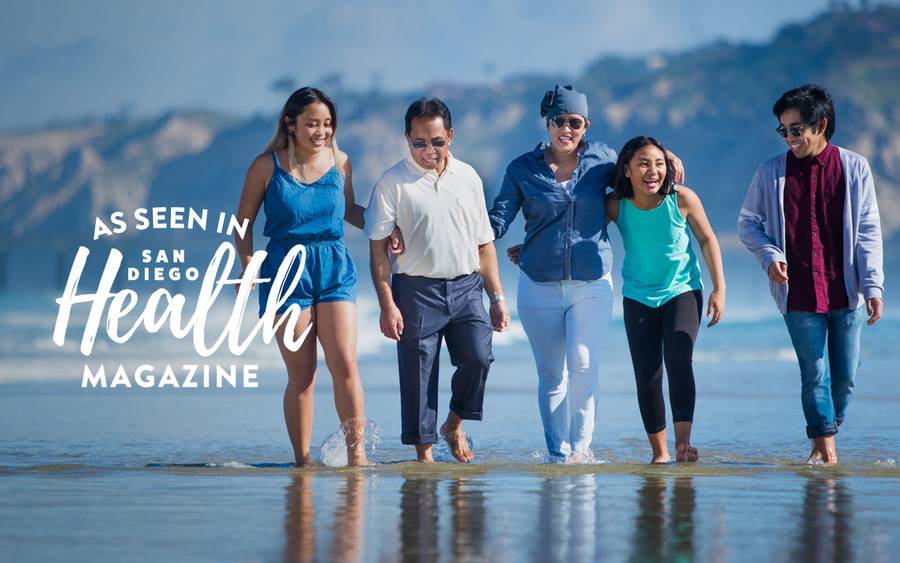 Angela Flores fights her lung cancer with immunotherapy at Scripps MD Anderson Cancer Center
Angela Flores woke one morning with a cough. By evening, she was in the emergency room.
No matter how hard she tried, Flores couldn't clear the knot she felt in the center of her chest. Tests ruled out a heart attack or stroke but confirmed something just as bad. She had lung cancer. 
"I told the emergency room doctor, 'No, you don't know what you're talking about. I don't have that," Flores says. But the physician was insistent and strongly encouraged her to see her primary care doctor, who confirmed the diagnosis.
Cancer is always a major blow, but it was doubly hard for Flores. She had lost her mother to lung cancer when she was only 11. On top of that, she was young, only 47, and had never smoked cigarettes. She was concerned about herself, but was even more worried about her husband and children.
Lung cancer is the second most common cancer for men and women. And one-fifth of the time — as in this case — it is caused by genetic mutation, not smoking.
Oncology nurse navigators offer resources and reassurance
Oncology nurse navigators offer resources and reassurance
Flores switched her care to Scripps and began working with nurse navigator Debbie Deseno, RN. Nurse navigators help patients move through this complex system, arranging appointments, answering treatment questions and helping with insurance issues. 
"It's our job to be a resource and advocate for patients who are newly diagnosed," Deseno says. "If they run into barriers and they're not quite sure who to call about a specific issue, or they need reassurance, they'll call us. Many times, patients will ask me: 'Is this a death sentence?' And I tell them, 'No, we've made so many advances.'"
At Scripps, lung cancer treatment is a team effort
Oncology nurse navigators are one of the many ways Scripps MD Anderson Cancer Center provides individualized care for each patient. The nurse navigators are part of a multidisciplinary care team, which coordinates all aspects of a patient's care together.
"It's real-time collaboration," Deseno says, "and the patient is part of that. They're seeing their physicians one after the other. It's unlikely they're going to hear contradictory messages, because the physicians consistently speak with one another to develop the best plan for treatment."
But before Flores' care could proceed, her doctors had to figure out what stage the cancer had reached. X-rays and other imaging tests had shown there was a tumor in her right lung's upper lobe. The question was whether it had spread to the left. If not, she would be a candidate for surgery. But getting at the lymph nodes to determine a stage is tricky, and a normal needle biopsy wouldn't work.
"There's an area between the aorta and the pulmonary artery on the left side where they don't like to put needles," says Scripps cardiothoracic surgeon Jeff Tyner, MD. "Those are two big structures that carry substantial blood flow. It's an area that we can get to surgically with a little incision in the chest."
The procedure showed Flores had stage 3 cancer and it had spread. Surgery was no longer an option, and Dr. Tyner passed the baton to Scripps Clinic medical oncologist Michael Kosty, MD, and Scripps Clinic radiation oncologist Chien Pong (Peter) Chen, MD.
Advanced radiation therapy for lung cancer
Though radiation is noninvasive, it does present challenges for patients. Treatments usually run six or seven weeks, five days a week, for 20 minutes. It's a lot of visits. To maximize their effectiveness, radiation oncologists must exercise extreme precision, particularly with lung cancer.
"The tumor moves with the motion of the lungs," says Dr. Chen. "As the patient inhales, the tumor moves downwards, and as the patient exhales the tumor moves up. If we don't take this movement into account, we might miss the tumor or hit a critical structure we don't want to be hitting with radiation. Once we understand the patient's breathing cycle, we know where that tumor will be anywhere in that cycle."
To manage the movement, Dr. Chen and colleagues conducted a four-dimensional CT scan — the fourth dimension being time. Then they spent several days planning Flores' therapy, producing a special cast she would wear to ensure she was always perfectly positioned. 
The therapy they used is called volumetric modulated arc therapy, during which the machine rotates to hit tumors from hundreds of angles. Each beam is modulated by both shape and intensity to ensure the radiation conforms to the tumor and misses adjacent healthy tissue.
Incorporating the latest treatment for lung cancer: immunotherapy
After radiation, Flores began chemotherapy with a twist. In addition to traditional chemo, she would receive a relatively new treatment called immunotherapy. 
"Cancer cells have proteins on their surface that serve as camouflage," says Dr. Kosty. "Immunotherapy strips off that camouflage so the immune system can recognize them as cancer cells and fight them off. This is an indirect treatment, but it can be very effective."
Immunotherapies have revolutionized care. Before they were introduced, the cure rate for stage 3 lung cancer was around 40%. Boosting the immune system has increased that to 60%. 
With the advent of immunotherapy, the timing of a patient's radiation has become even more central to care. When cancer cells die from radiation, they expose antigens — cellular molecules the immune system can recognize and attack. If a patient is on immunotherapy at the same time, or soon after, the radiation can reactivate the immune system, basically waking it up. As a result, collaboration between radiation and medical oncologists has become even more essential.
"Scripps already had a lot of collaborative elements," says Dr. Chen. "And since the MD Anderson partnership, it's become an even more close-knit team. We think alike; we understand each other's plans."
Scripps MD Anderson provides the same treatment protocols and standards of care as MD Anderson Cancer Center in Houston.
Moving past lung cancer and moving on with her life
With chemo and radiation behind her, Flores began her one year of immunotherapy in January 2019. Doctors are pleased with her progress, and so is she. 
"I still have my energy," she says. "So I just try to go through my life like nothing's wrong. I love spending time with my family and my goal is to always be here for them."
Flores also credits her excellent doctors for her recovery.
"Right away, I knew Scripps MD Anderson was where I needed to be," she says.

This content appeared in San Diego Health, a publication in partnership between Scripps and San Diego Magazine that celebrates the healthy spirit of San Diego.