Breast Cancer Patient Crosses US for Care
A pastry chef living in New York traveled to San Diego for breast cancer surgery at Scripps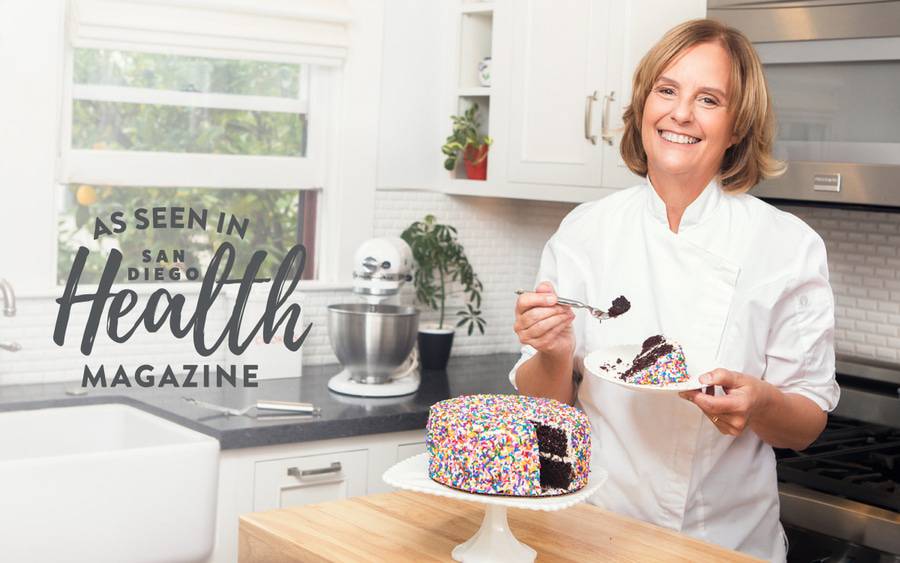 A pastry chef living in New York traveled to San Diego for breast cancer surgery at Scripps
People don't always end up where they think they're going. Just ask Melanie Petersen. She practiced education law for more than 30 years for the San Diego Unified School District and outside firms, working long hours and grabbing meals when she could.
But a few years ago, Petersen's husband, a disaster consultant, needed surgery while helping New York recover from Hurricane Sandy. Taking care of him meant doing a lot of cooking — which sparked something inside her.
"When I was practicing, it was late hours and I just didn't want to cook," Petersen says. "But I was happier in New York — because I was cooking." The stars aligned, and she enrolled in the French Culinary Institute, ultimately graduating as a pastry chef. 
"I was the world's oldest intern at the Food Network," she jokes.
But when a routine screening showed she had early stage breast cancer, everything had to be put on hold.
Finding the best breast cancer specialists
Petersen began seeing doctors in New York but wasn't satisfied with their approach. They were giving her a lot of treatment options, but no clarity on how she should make those decisions. 
"I have two sisters who've had breast cancer five times between them. But there wasn't a path for me to follow; I didn't know what to do. I just wanted someone to provide clear direction."
She and her husband began researching alternatives, which ultimately steered them to Scripps MD Anderson Cancer Center. She recognized both MD Anderson Cancer Center and Scripps as leaders in health care and wanted to learn more about the partnership. 
"I saw that the medical director [Thomas Buchholz, MD] had actually come from MD Anderson in Houston to San Diego to lead the program," she says. "I thought, 'They must be pretty serious about it if they brought someone from Houston.'" 
Petersen called 1-800-SCRIPPS to learn more and set up an appointment. She heard from a breast cancer nurse navigator the next day. 
"We call people back within 24 hours — sooner if we can — and then we help direct them to meet their goals," says navigator Bev Mangerich, RN. "Sometimes they're looking for a second opinion, clinical trials or changing their care to Scripps. That's why you want a nurse talking to these patients — to help identify what they want and what would be best for them. Melanie was newly diagnosed, and she wanted to get her care here."
Breast cancer nurse navigators offer clarity, guidance and support
Breast cancer nurse navigators offer clarity, guidance and support
Chatting with a nurse navigator was exactly what Petersen wanted. Cancer care has a lot of moving parts, and she needed someone to guide her through the process, coordinate with medical, surgical and radiation oncologists, and generally help her weigh the many options. She needed someone to unclutter her care.
"I'd already had three mammograms and four biopsies. It's exhausting, and my concern was that when I got back to San Diego, I was going to have to do it all over again. The nurse navigator, on the phone, was able to get my medical records. Even now, it almost makes me start crying. They are so organized, confident and caring and man, do they have a system. They had answers before I had questions."
Mangerich later explained to Petersen that the center's multidisciplinary appointments, one of the new approaches to care through the MD Anderson partnership, are designed to ease the burden on patients and boost communication between oncology specialists.
"You come to the center, you have one, 3.5-hour appointment, which was mind-blowing to me," Petersen says. "They assign a team — a surgeon, oncologist and radiation oncologist — and they all see you. The thing that impressed me was they'd seen my records; they'd obviously talked to each other before coming in. They had a plan for me, and I thought, 'That's just what I need.'"
A team approach to breast cancer treatment
After the multidisciplinary appointment, Petersen had her team: Scripps Clinic radiation oncologist Kenneth Shimizu, MD; Scripps Clinic surgical oncologist Mary Wilde, MD; Scripps Clinic medical oncologist Melissa Torrey, MD; and oncology nurse navigator Bev Mangerich, RN. Together, they decided on the best course of treatment.
"The great thing about the multidisciplinary approach to breast cancer care is that the patient can see all the breast specialists in one day," Dr. Wilde says. "The physicians can confer among themselves, as well as with the patient, and many of the patient's questions can be answered immediately, without waiting for phone calls or follow-up appointments. The patient has an opportunity to address the physicians in one setting and it really reduces any crossed signals and confusion regarding the plan of action." 
Because Petersen's cancer had been caught early, she had an excellent prognosis. She would receive a lumpectomy, a surgery that removes only the tumors, along with radiation therapy. Petersen also benefited from Scripps MD Anderson's philosophy that oncologists should be specialized to specific cancer types. It's the best way for them to keep up with the new treatment information that's constantly coming out.
"Data should drive our medical decisions, and MD Anderson brings more data," Dr. Wilde says. "I treat only breast cancer, and I know a lot about breast cancer treatment. That specialization helps me focus on being an expert."
Scripps becoming part of the MD Anderson Cancer Network® also opens other opportunities, such as greater access to clinical trials and insights from some of the best cancer doctors in the world. 
"MD Anderson has brought in a community of additional colleagues who have tremendous expertise," says Melissa Torrey, MD, Petersen's medical oncologist. "We have a consultation line where we can contact our colleagues in Houston to discuss a difficult case."
A rapid recovery after lumpectomy breast cancer surgery
Fortunately, Petersen's cancer wasn't that advanced. She had outpatient surgery followed by a quick recovery. She didn't even use her pain medication, opting for just a few Motrin. One of her sisters came to help after the procedure, but had nothing to do. Petersen had her clean the kitchen, just so she could feel useful.
The prognosis is good. Petersen continues to receive regular checkups from Dr. Torrey and, so far, the cancer shows no signs of returning.
Petersen is grateful for the care she received and how seamlessly everything was handled. 
"This team approach is both miraculous and totally logical," she says. "Everyone should be doing that. How do you not do that?"

This content appeared in San Diego Health, a publication in partnership between Scripps and San Diego Magazine that celebrates the healthy spirit of San Diego.