Bone Cancer Patient Back on His Feet
Cancer surgery, experimental implant save San Diego man's life and preserve his ability to walk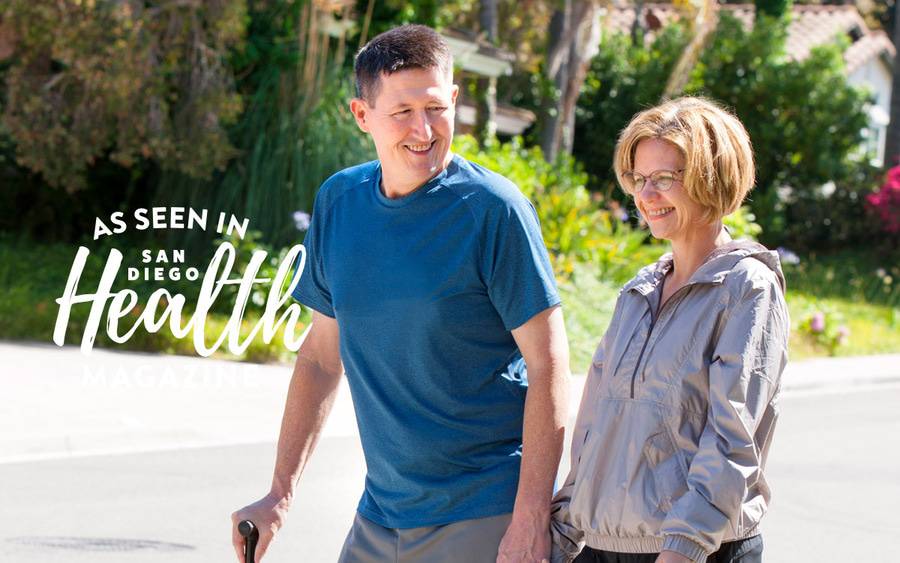 Cancer surgery, experimental implant save San Diego man's life and preserve his ability to walk
Erich Boldt got lucky. He'd had spinal fusion surgery in 2015 and was receiving regular X-rays to assess how the bone was regrowing. During one of these routine checks, the orthopedic surgeon noticed an unusual spot on his pelvis. Further investigation showed Boldt had a musculoskeletal cancer, a chondrosarcoma. 
Rare and difficult to treat, chondrosarcomas are cartilage cancers that affect around 400 people a year in the United States. The condition can only be treated surgically. 
"He had a very rare cancer in a very rare location," says Scripps Clinic orthopedic oncology surgeon Anna Kulidjian, MD. "We don't have a radiation or chemo treatment that does anything to cartilage. Treatment algorithms for this cancer stop at surgery."
But even with successful treatment, the results can vary. Because there are no follow-up treatments, surgeons must make doubly sure they remove the entire tumor, and that often means taking out much of the pelvis. Boldt's case was further complicated by the size of his tumor, which was about as big as a small melon.
Rare bone cancer treatment right here in San Diego
Rare diseases can be challenging to treat, because so few practitioners have seen them in patients. Even a surgeon in a busy cancer center might see a tumor like Boldt's only a few times in their career. Fortunately, Dr. Kulidjian has networks of colleagues to call on when she needs assistance.
"Musculoskeletal cancers are exceptionally rare," she says. "Bone cancers are among the most rare. But as part of Scripps MD Anderson Cancer Center and our partnership with MD Anderson Cancer Center, with its network of centers across the country, protocols and ability to share information and collaborate — maybe someone has seen something."
"I was fortunate to live where I do," says Boldt, "because most places in the country don't have the ability to handle this rare a cancer."
An innovative treatment for chondrosarcoma
For Dr. Kulidjian and Boldt, the cancer presented a two-part problem. The first was removing the tumor without leaving any residual cancer behind. The second was finding a way to restore function, so Boldt could avoid having to use a wheelchair for the rest of his life. 
"They resect the pelvis and leave the femur free floating," Boldt says. "You end up with a leg an inch or two shorter, and you don't walk very well or very much." 
This was not a good option for Boldt, who is eager to be active again. He wanted to be able to walk with his wife, climb the bleachers to watch his son's track meets and simply be able to get up and go to the mailbox. He did not want to spend the rest of his life in a wheelchair.
When he was making his first appointment with Dr. Kulidjian, Boldt was told she was at a conference. He found out later how important that meeting would be for his care.
The Arthroplasty Disaster International Conference is a small, invitation-only event that brings together some of the most visionary orthopedic surgeons. At the meeting, they discuss novel ways to address the most challenging cases. 
Dr. Kulidjian wanted to ask the group's advice on whether she could reconstruct Boldt's pelvis. The consensus was not promising. A series of devices had been tried over the years and all had failed. Some simply broke under the constant pressure of standing and walking. Using others had led to infection because the pelvis is so close to the gastrointestinal tract.
But she also met a man named Sander Dijkstra, an orthopedic surgeon from Leiden University in the Netherlands. Dijkstra had invented a prosthesis that acts as a bridge between what's left of a patient's pelvis and their femur. He believed the implant could help Boldt.
Undergoing complex bone cancer surgery
Undergoing complex bone cancer surgery
Though the prosthesis was available in Europe, it had not yet been approved in the U.S. Dr. Kulidjian worked closely with the company and the Food and Drug Administration (FDA) to get a waiver for compassionate use.
"When I heard it was approved, it was like a whole weight was lifted," Boldt says. "Because life wasn't going to be nearly as different and difficult as it could've been."
Then came the hard part. The pelvis contains numerous muscles, nerves and blood vessels. Dr. Kulidjian, Scripps Clinic spine surgeon Gregory Mundis, MD, and Scripps Clinic vascular surgeon David Frankel, MD, would have to navigate through all of these to reach the tumor. Then they would have to remove all the cancer, while leaving enough pelvic bone to implant the device.
"Taking out a tumor of this size and magnitude without causing neurovascular and organ damage is very hard," says Dr. Kulidjian. "We had to take it out precisely. Even a couple millimeters' difference at the margins would've made it impossible to have enough bone for the implant." 
Plus, if the implant wasn't placed perfectly, it might be unstable. Kulidjian consulted with the prosthesis engineers and practiced extensively using 3D simulation software to prepare herself and her surgical team.
Regaining mobility and resuming life
Boldt was in surgery for 10 hours and spent 17 days in the hospital before he could finally go home. His surgeons had removed the tumor and successfully implanted the prosthesis, but he still had to get through physical therapy, which started in the hospital. 
"That first day of therapy, it took an hour to get me out of bed to the walker to take a couple of steps, get back to the bed and get back in it."
But he stuck with it and gradually improved. He started out using a walker and was eager to do better. 
"He kept asking me: 'How long is it going to take to walk with a cane?'" says Dr. Kulidjian. "A lot of surgeons I spoke with thought that wasn't going to happen. Then, one day, he walked in with a cane and asked: 'When can I walk without a cane?'"
Boldt may be a little impatient, but he's happy with his progress and grateful for Dr. Kulidjian's extra effort—finding the device, gaining FDA permission and putting together a stellar surgical team for a difficult procedure.
"The ability to walk with or without a cane is really important for me," says Boldt. "I can take walks with my wife. That's a time when it's just the two of us, where we connect, where we can talk, and that's part of our time together. That's really important."
As he fights his way toward greater mobility, Boldt is especially grateful that he had access to care that would save his life and help him maintain his lifestyle. 
"This is a rare cancer," he says, "but Scripps had doctors that could treat it, knew how to treat it. That's amazing, and I'm really grateful."

This content appeared in San Diego Health, a publication in partnership between Scripps and San Diego Magazine that celebrates the healthy spirit of San Diego.