Telehealth Services in San Diego
Get care or advice now with a Scripps Video Visit, E-Visit or Online Symptom Checker
Get care or advice now with a Scripps Video Visit, E-Visit or Online Symptom Checker
With smartphones and other mobile devices, it's becoming easier to connect with your health care provider from your home, work or when you're on the go — without fighting traffic or sitting in a busy doctor's office surrounded by sick people. 
At Scripps, several telehealth options are available to returning patients — including parents seeking medical care or advice for their children ages 5 and older. You simply need a MyScripps account and a web-enabled device, such as a desktop computer, laptop, tablet or smartphone. 
Learn more about online visits and other convenient telehealth options available seven days a week from Scripps providers.
The term "telehealth" refers to the use of telecommunications technology, such as mobile health apps and video conferencing, to quickly connect people with health care professionals, services or education. For example, you might use an app on your smart phone to have a real-time video chat with a provider — from the comfort of your couch.
"Telehealth is an exciting new option available to patients," says David Wetherhold, MD, Scripps Clinic internal medicine physician and Scripps chief medical information officer for ambulatory care. He notes that online visits for minor health issues and concerns are a convenient and efficient way to get care.
"Anything where the provider can assess quick visual cues is a good fit for virtual care," Dr. Wetherhold says. Symptoms and conditions best suited for telehealth include aches and pains, urinary symptoms, rashes, bug bites, colds and flu, and other noncritical conditions.
Dr. Wetherhold cautions that not every medical condition is best addressed remotely. You should call 9-1-1 or head to the nearest emergency room if you have severe or life-threatening symptoms like chest pain or shortness of breath.
Telehealth services at Scripps
Scripps patients have access to the following virtual care options:
Video Visits are similar to office visits, but you talk to a Scripps provider via video instead of in person. These 15-minute visits are good for diagnosis and treatment of minor illnesses and injuries that don't require an in-person physical exam, such as allergies, asthma, colds and flu, minor lower back pain, and sprains and strains.
Think of E-Visits as online health questionnaires. You answer questions about your symptoms and can attach photos. Then, a Scripps provider reviews your information and sends back a written care plan. This is currently available for colds and flu, pink eye, female urinary tract infections and female yeast infections.
The Symptom Checker is an online triage tool to determine your best route of care. When you're unsure whether you should see a provider, this helps you decide whether to seek care now or later, in person or online. Simply answer some questions about your symptoms and get recommendations on when and where to receive care.
How to access online care at Scripps
You must have a MyScripps account to use any of Scripps virtual care options. If you're not enrolled, sign up for MyScripps now. 
To participate in a video visit, you'll need to install the MyScripps app on your mobile device. This free app is available in the Apple App Store (iOS) and Google Play Store (Android). 
Parents can use Scripps telehealth services for their children ages 5 and older — you start the virtual visit from your child's MyScripps account and then use your child's account. If you don't already have access to your child's account (called "proxy access"), you can request it online.
For more information about Scripps telehealth options, including costs, age requirements and certain restrictions, review our frequently asked questions.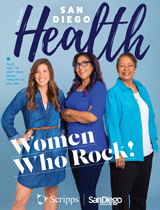 This content appeared in San Diego Health, a publication in partnership between Scripps and San Diego Magazine that celebrates the healthy spirit of San Diego.