Breast Cancer Survivor Grateful for Care
A San Diego woman feels fortunate and fulfilled after breast cancer treatment at Scripps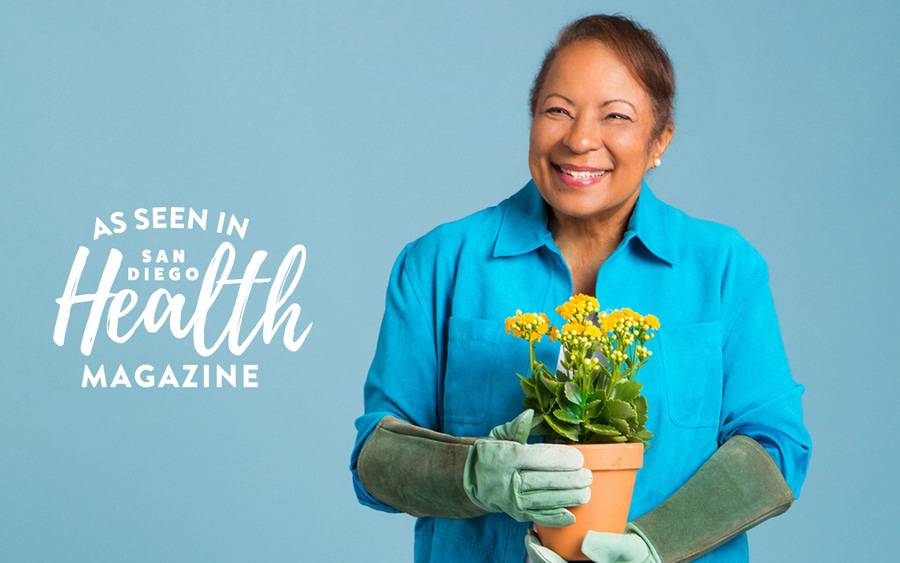 A San Diego woman feels fortunate and fulfilled after breast cancer treatment at Scripps
Carolyn Honore is so used to caring for others — like her grandchildren and her ailing husband — that caring for herself often takes a back seat. When she received the news that she had breast cancer, she thought there had to be some mistake.
"I thought the machine must have been wrong," she says. "But then I sat in my car and said to myself, 'Are you going to worry about something you can't change, or are you going to calm down and walk in faith?'"
Breast cancer team recommended lumpectomy and radiation treatment
Honore went to Scripps MD Anderson Cancer Center and met with a multidisciplinary care team. Her doctors included Ray Lin, MD, co-director of the Scripps MD Anderson breast cancer program and Scripps Clinic radiation oncologist, Ayemoethu Ma, MD, codirector of the Scripps MD Anderson breast cancer program and Scripps Clinic breast surgeon, Sonia Ali, MD, Scripps MD Anderson and Scripps Clinic medical oncologist, and Beverly Mangerich, RN, nurse navigator.
Together, they decided on a treatment plan, which included a lumpectomy to remove her tumor, followed by radiation.
Nurse navigator offers guidance and support
Nurse navigator offers guidance and support
Honore's entire care plan was seamless, thanks to support from her nurse navigator.
"A nurse navigator assists the patient in forming a team around her care, answers questions regarding a new diagnosis, assists with numerous appointments that are needed and accesses any resources the patient may need," Mangerich explains. "As a navigator, it's very rewarding to call a patient who is stressed about their diagnosis and see their anxiety dramatically decrease."
For Honore, who at age 66 is accustomed to helping others, not accepting help herself, the assistance was a welcome surprise.
"Beverly — do I love her or what?" she says. "She called me to say, 'We're here for you and we'll help guide you along the way.' I said, 'I'm the giver, I'm not used to taking,' but she said, 'No, this is your time, and we're going to take care of you.'"
A positive attitude promotes healing
And that's exactly what they did. Honore's treatment went smoothly, and she's now cancer free and back to caring for others, with a new appreciation for receiving care and a new commitment to allowing herself the "me time" she needs to heal.
"What made Carolyn such a unique patient was her attitude — how she was able to go through treatment for a life-threatening disease so gracefully while also caring for a husband on hospice care," says Dr. Ma. "Whenever we have a very good outcome, part of the reason is because of that patient. If the patient has faith in us and puts their trust in us as a provider, it means a lot."
Dr. Lin adds, "Carolyn is a special lady, with courage and positivity that radiate to everyone around her."
Scripps breast cancer patients are in caring, capable hands
The confidence that Honore had in her care team is a direct result of what differentiates Scripps MD Anderson from other cancer programs. Multidisciplinary teams and leading-edge treatments combined with medical expertise and compassionate care set Scripps MD Anderson apart and help ensure an exceptional patient experience.
"One of the best things about our program is that we have resources many other programs do not have," says Dr. Ma. "Thanks to the nurse navigator, the whole process in cancer care is very streamlined. We get patients in for studies quickly and that helps them get treated quickly. Plus, the collaboration of the multidisciplinary team allows us to meet with a patient and determine their personalized care plan on the first visit."
What this means for Honore and so many others like her is that every member of the team they meet has their best interests in mind — and they're not afraid to show it, through their caring demeanor and their specialized expertise.
"Everyone at Scripps MD Anderson was so fabulous," she says. "They were like a warm blanket to me. They looked at me with compassion in their eyes and covered me like angels with their wings. That's what's called walking the good walk and having people being placed there to help me. I thought, 'This is kind of cool. Cancer's not cool, but having all those people around me hugging me, holding my hand and telling me everything was going to be okay — that was special."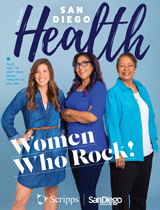 This content appeared in San Diego Health, a publication in partnership between Scripps and San Diego Magazine that celebrates the healthy spirit of San Diego.