Expert Cancer Treatment Close to Home
Marco Cisneros didn't have to travel far for cancer care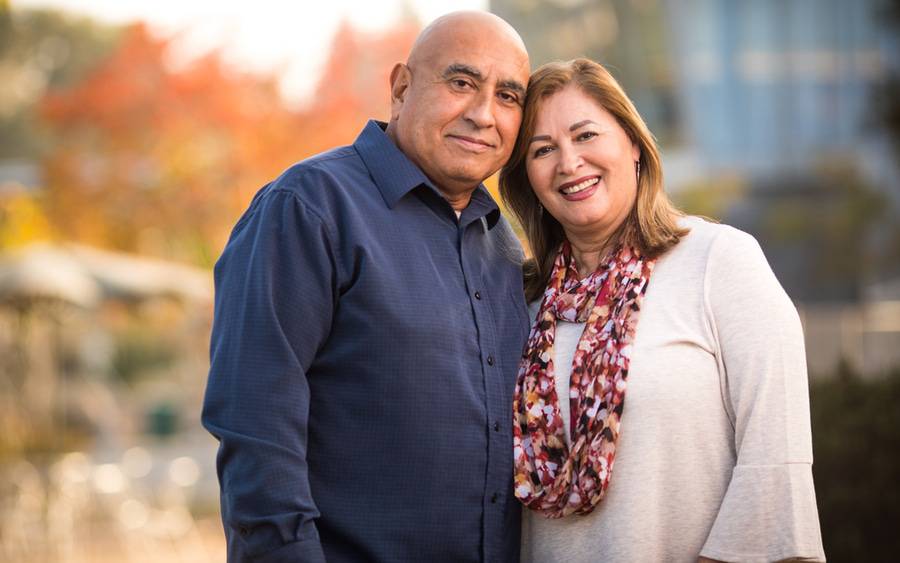 Marco Cisneros didn't have to travel far for cancer care
When Marco Cisneros learned he had a rare form of cancer, he feared he would have to travel far from his home and family for treatment. Then, he found the experts he needed right in his hometown.
Marco, 66, moved to San Diego from Mexico at age 15 with his family. He and his wife have raised a son and a daughter here, and have four granddaughters ranging in age from 4 to 19.
In 2014, Marco was diagnosed with mantle cell lymphoma, a rare and aggressive form of non-Hodgkin lymphoma. Frequently diagnosed at an advanced stage, mantle cell lymphoma most often involves the gastrointestinal tract and bone marrow. While there is no cure, treatment can help patients live longer.
"I was kind of in shock when my doctor told us about it, and at one point I didn't want to believe it," Marco says. "But they did all the tests and it came out positive. My wife was devastated."
Marco's wife, a Scripps Health employee, began the search for an oncologist. The couple found Marin Xavier, a hematologist and medical oncologist with Scripps MD Anderson Cancer Center. "The first time you hear cancer you know nothing. You need someone who really knows about it," Marco says. "The first time I talked to Dr. Xavier, I felt really confident."
Dr. Xavier led a team of cancer specialists in developing a personalized treatment plan for Marco that took into consideration the type of cancer he had, how advanced it was, and his age and overall health. Marco received intensive treatment with a chemotherapy regimen invented at MD Anderson Cancer Center over five days and nights at Scripps Mercy Hospital, San Diego, with the goal of putting the cancer in remission for a long period of time. The therapy was repeated every 21 days for a total of six treatments.  
"I knew I would get the best treatment they could come up with right here in San Diego," says Marco. "Having your family with you [during treatment] is so important. I feel that because I had my family with me it helped me go through it a lot easier." 
Typically, mantle cell leukemia goes into remission for about 18 months before it reappears. Marco has been in remission for nearly six years. He has ongoing chemotherapy treatments at an outpatient infusion center every two months; each treatment takes about eight hours. He is also on a chronic pill treatment to keep him in remission with a great quality of life — a treatment partially developed from MD Anderson research.
"I feel like the luckiest guy because at one point I thought I wasn't going to make it," says Marco. "About a month after I got diagnosed, my son and daughter-in-law told me they were expecting and I thought, wow, I'm not going to get to see this baby. But thank God and thank Dr. Xavier, my granddaughter is four years old and I'm still here."
In fact, Marco cares for his granddaughter several hours a day. "She keeps me on my toes. We do a little homework, and she likes watching Peppa Pig, it's her favorite."
Marco calls Dr. Xavier "my angel" and says his whole team was wonderful. "It is a very special place. From the minute I walked in, the front desk the person greets me with a smile. The nurses are fantastic, I called them my angels of mercy, they took care of me like I was the only one there," he says. "I have so much gratitude toward them."
Through the years, Marco has met people through his cancer support group and says everyone agrees Scripps MD Anderson is one of the best. He has referred several people to Scripps MD Anderson for treatment.
"It's a hard fight. My first treatment I almost gave up, but my wife and family supported me and pushed me to keep fighting and I'm very grateful, otherwise I wouldn't be taking care of my little granddaughter," Marco says. "I'm still here and I plan to be here a long time."