Accessing Rare Cancer Care During COVID
Scripps helps patient with stage 4 liposarcoma continue experimental therapy despite pandemic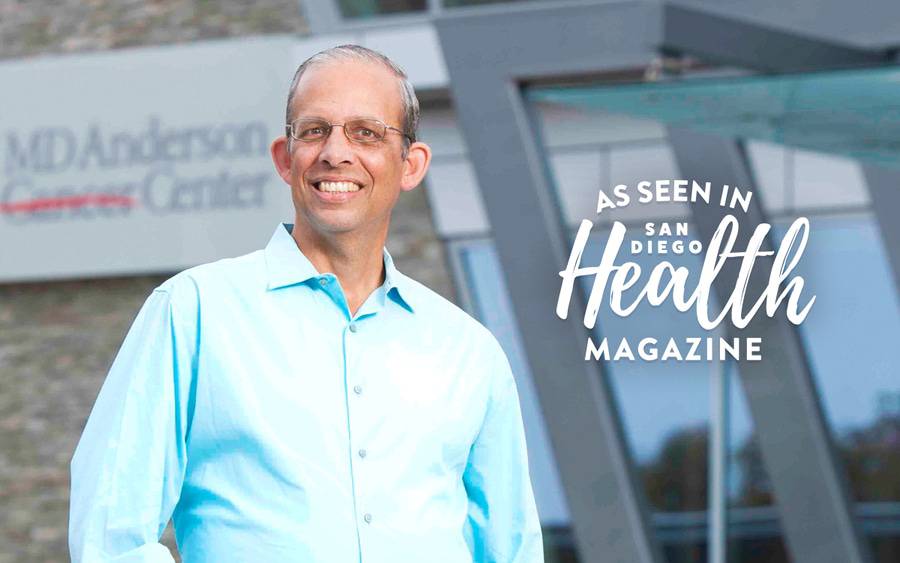 Scripps helps patient with stage 4 liposarcoma continue experimental therapy despite pandemic
Jim Gonzales has a positive attitude toward most things — which is amazing, given what he's been through. Since 2014, Gonzales has been fighting a rare form of cancer called liposarcoma. Most liposarcomas grow in an arm or leg, but Gonzales is facing an even rarer form that nested in his abdomen.
"Lucky me, right?" he says, laughing.
There's no cure for stage IV liposarcoma; oncologists try to keep it in check with chemotherapy and surgery. When the disease is in a limb, the surgery is relatively straightforward. But when it's located in the abdomen, surrounded by vital organs, nerves and blood vessels, this cancer has often defied treatment. 
Searching for effective liposarcoma treatments
Searching for effective liposarcoma treatments
Gonzales thought he had appendicitis, until a CT scan found a football-size mass in his abdomen. Along with 15 tumors, the surgeons had to remove two feet of his small intestine. Chemotherapy slowed the cancer's growth but didn't stop it. Another surgery removed more tumors and more intestine. A clinical trial in Berkeley proved ineffective.
Gonzales sought care at a cancer center on the East Coast. They discussed further surgery, but the tumor was close to a major artery.
"My doctors said, 'The last thing we want to do is surgery, because if we hit the artery, we have to remove your bowel, and that's a major life change,'" says Gonzales. "I said, 'No, I'm going to need that.'"
But his options were getting sparse. 
"I had five seconds left on the shot clock, and I needed to make a three-pointer," he adds.
A cancer clinical trial that could work
A cancer clinical trial that could work
Jim's wife, Joanne, was hunting for clinical trials, and she found one at MD Anderson Cancer Center in Houston, Texas. The trial was designed for lymphoma patients, but Gonzales' cancer exhibited the same alterations the two-drug combination was targeting. It was a good fit, and though the trial didn't reverse the tumors, it stopped them from growing.
"His type of sarcoma has an overexpression of a protein called MDM2 that indirectly promotes tumor growth," says Kathryn Bollin, MD, a Scripps MD Anderson Cancer Center oncologist and Scripps Clinic physician who specializes in sarcomas. "The clinical trial agent Jim started in Houston is an MDM2 inhibitor, which was designed for specific cancers with overexpression of this protein. Jim has been fortunate to receive what is classified as a 'targeted therapy' against a molecule quite specific to his type of cancer that has proven to effectively stop his cancer in its tracks."
Gonzales began a new odyssey: regular trips to Houston to receive his infusions. And while he was more than willing to endure the long travel days, the emergence of the novel coronavirus added a new wrinkle. His treatments had made him immunocompromised, and air travel put him at even greater risk. Still, even then, he was determined to pursue these treatments at whatever cost.
"I was practically shrink-wrapping myself to get on the plane," Gonzales says. 
Ultimately, due in large part to COVID-19, the treatment regimen that had been keeping his cancer under control suddenly became unavailable.
Cancer specialists team up to provide treatment
Cancer specialists team up to provide treatment
"There were probably 30 people or more involved in getting him his infusions in San Diego."
Kathryn Bollin, MD, Scripps Clinic
Gonzales was not willing to accept this outcome. He knew Scripps Health and MD Anderson were affiliated and began asking questions. Could this partnership get him his much-needed cancer therapy? It wasn't a simple solution, but the answer was yes.
"There were more than 30 people involved in arranging his infusions in San Diego," says Dr. Bollin. "We worked with the pharmaceutical company to acquire the drug, the FDA for regulatory permission and with MD Anderson for our team to learn about the trial protocol and how to safely administer Jim's treatment."
Scripps' long-term relationship with MD Anderson played a pivotal role in getting the drugs and trial information transferred. Teams in Houston and San Diego put their heads together to make the process as seamless as possible.
"MD Anderson's support was critical," says Dr. Bollin, "providing us all the details in a very timely fashion and coordinating with me and our nursing and pharmacy staff. We were able to get Jim back on track with only a few weeks' delay."
Continued optimism boosts outlook
Continued optimism boosts outlook
For Gonzales, this was the best possible outcome and an unforeseen silver lining during the pandemic. As a husband and a father to two daughters, he has been able to travel less, spend more time with family and plan for the next school year as the director of student life at MiraCosta College.
Despite this success, he knows his journey is far from over. While his condition is now stable, he still has a volleyball-size tumor in his abdomen.
"Sometimes I want to eat a full plate of spaghetti," Gonzales says. "Can I eat a full plate of spaghetti? Probably not."
This is Gonzales' seventh treatment regimen, and it probably won't be the last. But his positive outlook, and willingness to search far and wide for new treatments, has served him well.
"His outlook is good," Dr. Bollin says, "since through the years as his cancer has evolved to the point where a treatment failed, he has pursued novel therapies available through clinical trials and seen success. There is every reason for continued optimism because of the rate of new developments in cancer therapeutics. If the current approach fails, there's hope that something else will be ready for him around the corner."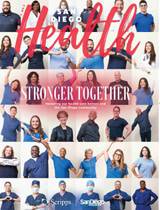 This content appeared in San Diego Health, a publication in partnership between Scripps and San Diego Magazine that celebrates the healthy spirit of San Diego.