Facing Thyroid Cancer During Pregnancy
Scripps helps San Diego patient have a healthy pregnancy while preparing for thyroid cancer surgery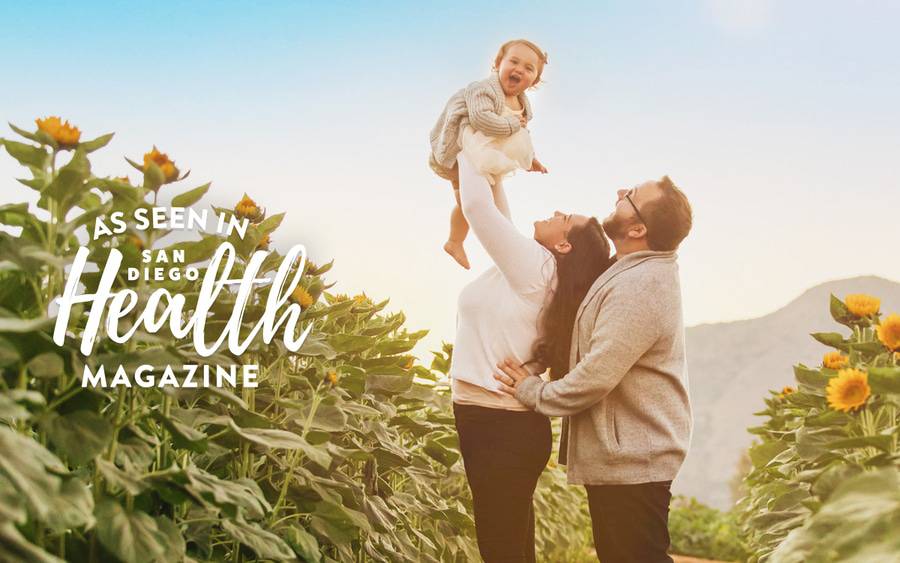 Scripps helps San Diego patient have a healthy pregnancy while preparing for thyroid cancer surgery
For many people, butterflies are a symbol of life, representing transformation, endurance and hope through adversity. To the medical community, a butterfly resembles the thyroid, which is located at the base of the neck, below the Adam's apple. 
For Vista resident Annaliessa Newman-Wise, butterflies mean both. She was diagnosed with thyroid cancer on Thanksgiving in 2018 – and just a week later, she and her husband, Josh, learned the good news that she was four weeks pregnant with their first child. Faced with difficult decisions and the promise of new life ahead of her, Annaliessa leaned on her Scripps team of health care providers, her family and her faith for support. 
Today, she reflects on the gifts she's been given: a healthy baby girl, a hopeful prognosis and a heart full of gratitude.
The First Sign of Thyroid Cancer
When Annaliessa discovered a lump that summer, her family thought she should get it checked out. 
"But I was so young and healthy, I thought I could hold off getting checked," she says. "When I went in to see my primary care doctor that October, she noticed it and said I should go for bloodwork and an ultrasound. The blood came back perfect — I was super healthy — and I thought I was in the clear. But when I went in for the ultrasound, it lit up like crazy!" 
Annaliessa had six massive tumors covering the inside of her thyroid, a gland that's responsible for delivering hormones that regulate metabolism, body temperature, and growth and development throughout the body. She scheduled an appointment with Brendan Gaylis, MD, a Scripps Clinic specialist and Scripps MD Anderson Cancer Center otolaryngologist. It was Dr. Gaylis who gave her the diagnosis she wasn't expecting to hear. 
"I was diagnosed on Thanksgiving Day 2018 — that was quite the phone call!" Annaliessa says. "I was so overwhelmed." 
The diagnosis and the pregnancy were both unexpected. Newly married and just four weeks along, she and her husband Josh had some critical decisions to make. They put their trust in their doctors and their faith to help guide them down the right path. 
"I went through every possible emotion you can think of," she says. "I had a long way to go with the baby and the cancer treatment, but Dr. Gaylis was so encouraging. I was so fortunate to be provided with such an incredibly supportive man, both medically and emotionally."
Weighing her Thyroid Cancer Treatment Options
Weighing her Thyroid Cancer Treatment Options
While Annaliessa had quite a fight ahead of her — staying healthy for both herself and her unborn baby — Dr. Gaylis was optimistic about her chances. Her tumor may have been large, but her type of cancer was common, affecting roughly 50,000 people each year.
"Annaliessa had what's called a papillary tumor — the most common type we see," Dr. Gaylis says. "It's generally quite slow-growing in most people and has a very good prognosis when treated adequately with surgery followed by radioactive iodine therapy. But after I evaluated her, I told her that any surgery in the first trimester of pregnancy is very risky for the baby. This was traumatic for her, so we all worked together with her endocrinologist and her OB-GYN to come up with the best care plan."
In early January 2019, Annaliessa met with Christopher Marx, MD, an endocrinologist with Scripps Clinic, to assess the size of the tumors and the potential risk of waiting to operate. 
"Hers was certainly not the average case," Dr. Marx says. "It was an extensive disease, compounded by the fact that she was in her first trimester. If she wasn't pregnant, it would have been a no-brainer to send her to surgery right away, but she had the very difficult decision: Have surgery that might put the baby at risk, or wait to remove the cancer until she delivered?
"It has been noted that in pregnancy, thyroid tumors very often do not progress, and patients have successfully waited," adds Dr. Marx. "Ultimately, it was her decision, and I was able to help her and her husband by monitoring the tumors' growth throughout. It was a hard decision, and it was difficult to see her struggling, but because thyroid cancer is not the type to grow or spread quickly — where days or weeks make a big difference — it was reasonable to wait, and it worked out for the best."
Expert Care for Cancer During Pregnancy
Expert Care for Cancer During Pregnancy
Besides Dr. Gaylis and Dr. Marx, Annaliessa was also under the watchful eye of Kevin McNeely, MD, a Scripps Clinic obstetrician and gynecologist, who likewise supported holding off surgery to ensure the viability of her pregnancy. The risks to the baby far outweighed the risks of the cancer. 
"We always try to avoid any surgery during the first trimester for several reasons," Dr. McNeely explains. "As with any surgery, there are risks related to anesthesia. There are also risks that the baby's heart would stop beating. The second trimester is less risky due to changes with the anesthesia, but the threshold for babies in the neonatal intensive care unit is 22 or 23 weeks."
Dr. McNeely added that if something were to happen during surgery and a baby younger than the NICU threshold required an emergency delivery, its chance of survival would be slim.
"The decision was to weigh all these complications versus the risk of waiting," he says. "All of the doctors and Annaliessa and her family thought it was a reasonable decision to wait."
Complete, Collaborative Support from Scripps
Complete, Collaborative Support from Scripps
"I remember the first nurse I met on my first visit...She was so concerned about me; she started to cry, and I looked at her and smiled. 'I'm not alone in this battle. Everything is going to be okay.'"
Annaliessa Newman-Wise, Patient
Thankfully, the only major complication Annaliessa ran into during the rest of her pregnancy was an unpleasant bout of hyperemesis gravidarum, a rare condition that caused severe morning sickness, required antinausea medications and resulted in a 20-pound weight loss. 
She continued to be in regular contact with her care team, which included a consultation with the perinatology team and a general surgeon, to determine the best plan of action.
"It worked really well to have everything planned," says Dr. McNeely. "As soon as we knew what day we were going to induce her pregnancy and give her time to recover, we all collaborated really well in planning the surgery to remove the tumors. It made things easier for the patient to have things planned out and know when every step was going to occur."
For her part, Annaliessa felt confident in the support she was receiving from her entire Scripps team, from the doctors to the nurses, whom she praises wholeheartedly for their care and compassion. 
"I remember the first nurse I met on my first visit with Dr. Gaylis — Michelle," says Annaliessa. "She was so concerned about me; she started to cry, and I looked at her and smiled. 'I'm not alone in this battle. Everything is going to be okay.' She hugged me and just lit up, knowing that if I choose joy, anything is possible. It's all in your mental state. I didn't realize at the time that what I told the nurse would be the words I'd hold on to for the next year. But that's what got me though. That interaction was very special. The nurses had so much compassion and made me feel like I wasn't alone." 
As the next eight months went by, Annaliessa continued to rely on her doctors, her husband, her parents and her in-laws, her younger sister Katarina, God, her church and at her core, her faith. 
"When I was first diagnosed, I did wonder why both at the same time," she says. "I was heartbroken, but I knew I was fighting for two lives —my battle wasn't just for me; it was also for the little person inside me. My baby girl didn't have a choice, so I had to do it for her."
Undergoing Safe, Successful Thyroid Cancer Surgery
Finally, at 38 weeks, Dr. McNeely induced labor. On July 22, 2019, Annaliessa welcomed a healthy 7-pound, 4-ounce baby girl named Lillie Izabella into the world. Just over three weeks later, on August 15, Annaliessa went into surgery to remove her thyroid.
Although the whole team had been closely monitoring the tumors' size via ultrasound and they had stopped growing, Dr. Gaylis discovered during surgery that the cancer had spread to her lymph nodes. As a precaution, they removed 40 lymph nodes; 15 of them were later confirmed to be cancerous. 
Despite the spread to the lymph nodes, Dr. Gaylis is confident in Annaliessa's prognosis for a healthy future. 
"Thyroid cancer is not like other, more invasive cancers in which the lymph nodes affect survival," he says. "We were able to remove all the disease, and she's doing great."
Enjoying a New Baby — and a New Lease on Life
Three months after the surgery, Annaliessa underwent treatment with radioactive iodine, the final step in her cancer journey to date. She is grateful to have been able to breastfeed baby Lillie for the first four months of her life, and she enjoyed building that bond even as she was working to get her own body back to full health. She finished her treatment on Thanksgiving Day 2019, one year after her first diagnosis. By Thanksgiving 2020, she was preparing to celebrate a full year cancer-free. 
Annaliessa will have to take thyroid hormone medication for the rest of her life and continue regular checkups with blood tests and ultrasounds — but her entire care team is optimistic that she'll live a long, healthy life with her husband and beautiful baby. 
Looking back on the past two years, Annaliessa is thankful for the lessons she learned about life, transformation, hope and possibility — all things the butterfly symbolizes — and the time she's been granted to enjoy all of life's most precious gifts. 
"What an adventure," she says. "I learned so much. Before this journey, I was working a full-time job and just rushing through life. Through this experience I learned to not take for granted the time I have with the people I love. The battle was always worth fighting, and I have so much to be thankful for."
This content appeared in San Diego Health, a publication in partnership between Scripps and San Diego Magazine that celebrates the healthy spirit of San Diego.