A Breast Cancer Survivor's Path to Health and Healing
Carrie Steele found care she needed at Scripps MD Anderson Cancer Center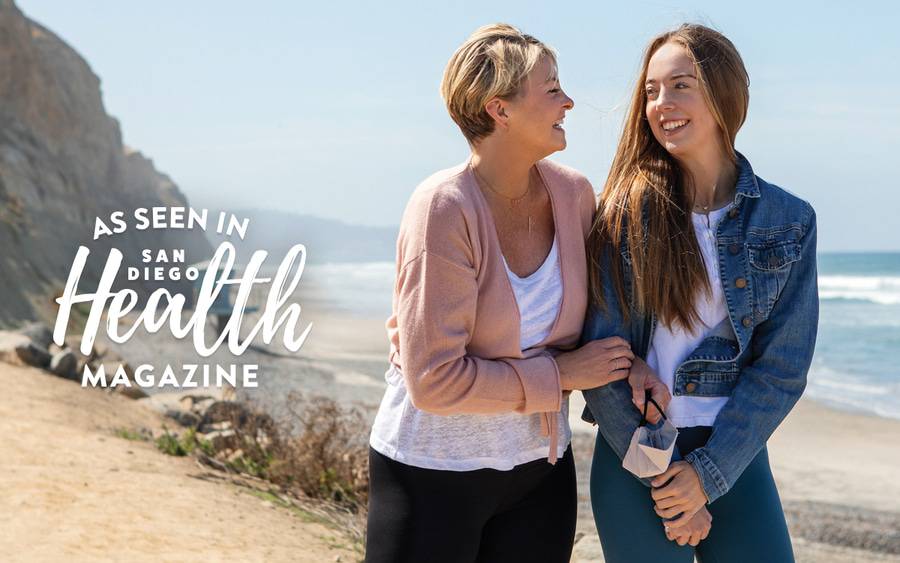 Carrie Steele found care she needed at Scripps MD Anderson Cancer Center
For Carrie Steele, celebrating her 50th birthday was a big milestone. But the celebrations were cut short just two weeks later, when she made a startling discovery that forever changed her life.
"I found a lump in my breast in the shower. It was so big I was shocked that I hadn't felt it before," she recalls. She pushed to see her doctor as soon as possible, and when the results of her diagnostic mammogram came in, they were unmistakable. 
It was June 2019, and Carrie was diagnosed with HER2-positive, hormone-positive breast cancer. At the time, her tumor measured 9.2 centimeters — putting her at stage IIIC — an aggressively growing tumor at a fairly advanced stage. She knew she had to act fast.
Receiving a cancer diagnosis
"When I first heard that I had cancer, I was alone. It was terrifying," says Carrie, a single mother to 16-year-old Sam. "I immediately reached out to some good friends — some of whom were breast cancer survivors themselves — and my good friend, who is also a pediatrician, and I started getting some names of physicians. I pulled my circle together and got multiple opinions, because I felt strongly that I needed to be an advocate for myself and build a strong relationship with my doctor." 
She leaned on her close friend, Stefanie, who was there to tap into every resource available to help build a strong care team for the challenges ahead. Another critical team member was Carrie's brother-in-law, PGA TOUR player Brendan Steele, who referred her to Thomas Buchholz, MD, medical director at Scripps MD Anderson Cancer Center and a radiation oncologist at Scripps Clinic. 
"I was lucky enough to play a Pro-Am in Houston, which is where I met Dr. Buchholz. He has made a huge impact on the golf world and people I'm close to," Brendan says. "He has a reputation of not only being the best doctor, but also a great person — people around me said, 'Hopefully you never need him, but if you ever do, he's the one to talk to.'" 
When Carrie received her diagnosis, Brendan suggested a consultation with Dr. Buchholz. 
As fate would have it, he had moved from MD Anderson Cancer Center in Houston to lead the program in San Diego — where Carrie lived. "It was meant to be," Brendan says.
Dr. Buchholz recalls their meeting: "When I was the physician-in-chief at MD Anderson in Houston, the institution became the official cancer center of the PGA TOUR to promote cancer awareness and prevention, and to be a resource for the TOUR members — the players, their families and even spectators."
"When you find out you have cancer, decisions can be overwhelming," he continues. "I want to make sure people have access to excellent care, and I've had the pleasure of helping a number of people in the PGA TOUR community."
Meeting her cancer care team
Meeting her cancer care team
"Fighting cancer requires a variety of specialists — and they have to all work as a team."
Thomas Buchholz, MD, Medical Director, Scripps MD Anderson Cancer Center
From the moment Carrie Steele made that connection with Dr. Buchholz, she knew that he — and Scripps MD Anderson — were the perfect fit. 
"He called me on the morning of my daughter's eighth-grade graduation, and he was just so lovely and comforting," she says. "At that point, I was still wavering about where I wanted to go for care, but that was when I knew how fortunate I was to have the connection to MD Anderson, and any clinical trials I might need to be part of or treatments I might need along the way. That was my moment of clarity, and I had to go with my gut." 
She met with her care team and felt like everything had clicked into place, not just with Dr. Buchholz, but with her nurses and the rest of the Scripps MD Anderson team, including Sonia Ali, MD, a medical oncologist at Scripps Clinic, and Ayemoethu Ma, MD, co-director of the breast program, and a Scripps Clinic breast surgeon.
That integrated approach to cancer care is where the benefit of the multidisciplinary team at Scripps MD Anderson truly comes into play. "I think the biggest concern you have when you hear the word 'cancer' is that you want to be assured you're going to be okay and that you're getting the very best treatment possible," Dr. Buchholz explains. "Fighting cancer requires a great team of caregivers, including a variety of specialists — the surgeon, the medical oncologist and the radiation oncologist — and they have to all work as a team.
"That's what we've started here at Scripps, modeling our multidisciplinary clinics after MD Anderson in Houston, so that patients can be assured they're getting personalized care from every specialty. Because we partner with MD Anderson, we not only have all the excellent resources in San Diego, but we also have our colleagues and resources in Houston, if there's anything particularly unusual about a case or a specific clinical trial that may be beneficial to the patient is needed. That's the best thing for someone like Carrie. We have integrated care right here in San Diego and she didn't have to travel anywhere for treatment."
Creating a breast cancer treatment plan
Once Carrie's care team was established, the team members got to work making a personalized treatment plan based on her specific type of cancer and tumor size. As Dr. Buchholz explains, "Every breast cancer case is somewhat unique. Breast cancer represents a spectrum of disease, and you need to have the expertise to judge what types of treatment to implement and how aggressively to approach them, because no two cases are alike. Our goal as a team is to provide each patient with options that minimize the side effects of treatment and put them on a survivorship path that gets them back to their normal life." 
With such a large, fast-growing tumor, the care team decided to treat Carrie with chemotherapy first, followed by surgery. "Carrie presented with fairly advanced-stage disease," says Dr. Ali. "Any time there's a breast cancer diagnosis, we test for hormone receptors: estrogen, progesterone and HER2. These receptors tell us what treatment to use and also influence the sequence of treatments.
Carrie's cancer was HER2-positive, hormone positive. HER2-positive breast cancer used to be a marker of much more aggressive tumor, but now we have specialized, targeted treatment for these tumors, which has dramatically changed the overall landscape and prognosis of the disease." 
While Carrie's tumor had likely grown quickly — which would explain why she was startled to find such a large mass that she hadn't felt before — it also shrunk quickly, to the relief of her and her care team. "I had six chemotherapy sessions and I could physically feel my tumor shrinking," she says.
"She had a really dramatic response," Dr. Ali confirms. "The tumor melted away — from 9.2 centimeters to 0.1 millimeters at the time of surgery — and as a result, her prognosis is really good. We are all really pleased. She is really strong and has the attitude of a fighter."
Dr. Ma, Carrie's surgeon, concurs: "What was unique about Carrie was that she had chemotherapy first to shrink the tumor before surgery. This is something we've been doing more and more in recent years, and we've found it increases recurrence survival in some types of cancer. Because the tumor shrank so much, we were able to do a lumpectomy, as opposed to a larger surgery, such as a mastectomy." 
Dr. Ma also worked with Jyoti Arya, MD, a Scripps Clinic plastic surgeon, to conduct an oncoplastic reconstruction, allowing for the removal of a large amount of breast tissue, which increases the chances of achieving clear margins. At the same time, the plastic surgeon performed a lift using Carrie's own tissue to make the breast look natural after surgery. It was a true multidisciplinary approach, with two surgeons working together at the same time.
Embracing cancer support help
Embracing cancer support help
"We put together a sign-up sheet and for an entire year, I had someone to walk with me almost every day." 
Carrie Steele
Once her treatment began, Carrie focused on being the best version of herself — embracing support from her circle of friends, involving her teenage daughter every step of the way, and making lifestyle changes to improve her overall health and well-being. As a sales executive for Google, Carrie was fortunate to have the support of her company immediately upon her diagnosis. She was able to take a long-term leave from her position to put all her energy toward healing, and she had the benefit of a strong network, both professionally and personally, to help her pull through.
One of the first things Carrie's friends asked was whether they could start a "food chain" to bring meals to her and her daughter. "What I said was, 'I want a walking chain — I want people to walk with me,'" she says . "We put together a sign-up sheet and for an entire year, I had someone to walk with me almost every day: I walked as soon as I got home from chemo, I walked the labyrinth at Scripps Center for Integrative Medicine; anytime I could, I got outside and walked around, and that was not only therapeutic for me emotionally, I think it also made me respond well to the treatment." 
In addition to her personal network of friends, Carrie connected with other women she met at a chemo class in Dr. Ali's office. They exchanged numbers and became one another's support system during treatment and beyond. She found solace in her Scripps nurses and the patient support services team.
She gained an abundance of knowledge from her physicians' collaborative approach to answering her questions, as well as from Dr. Buchholz's detailed explanations and drawings of her radiation treatments, which followed surgery. And through it all, she had her daughter by her side. 
"Of course, my daughter had to be part of the journey," she says. "The hardest day of the whole process was telling her I had cancer, but I decided to be open with her and take her on this journey with me. We went together to cut my hair. We went shopping for wigs. The only thing I didn't do was take her to chemo. But I really wanted to show her and her friends that I was going to be okay. I let them be a part of it, so they wouldn't be afraid."
Carrie completed her treatment in the summer of 2020 and is now cancer free. She has since changed jobs and, more importantly, changed her perspective on life and what matters most — namely, her health. 
"First and foremost, you have to take care of yourself," she says. She no longer commutes from Solana Beach to Los Angeles or works extra-long hours. She changed her diet. She rides her Peloton bike religiously. And she continues to advocate for herself. 
"I get up every day with the goal of taking care of myself," she says. "When I do that, then I'm a much better person for the rest of the day." 
As she moves forward on her survivorship path, Carrie aims to help other breast cancer patients navigate their journey, whether that's by way of the message board she created at her new employer, Reddit, or through other volunteer opportunities down the road. 
"I realize how lucky I am to have the support system I had, not only from Scripps but from my friends and the people I met along the way," she says. "This is why I want to share my experience at Scripps MD Anderson Cancer Center.
"I really can't say enough about every single one of my doctors. They all added a different dimension to my care, with different specialties and personalities, but they all worked so well together. They had the right perspective and that, in turn, helped me have a very different perspective on life. 
"Now, in my own personal way, I've been able to organically help other women in this position, because I know how important it is to find some sort of control in an uncontrollable moment. I want to encourage everyone to do monthly checkups, go see your doctor for your annual checkups, and every day, be aware of your body, advocate for yourself and take care of your health first."
This content appeared in San Diego Health, a publication in partnership between Scripps and San Diego Magazine that celebrates the healthy spirit of San Diego.