A Journey Through Ovarian Cancer
When gallbladder surgery revealed something more alarming, Edith Rodriguez turned to the experts for her care at Scripps MD Anderson Cancer Center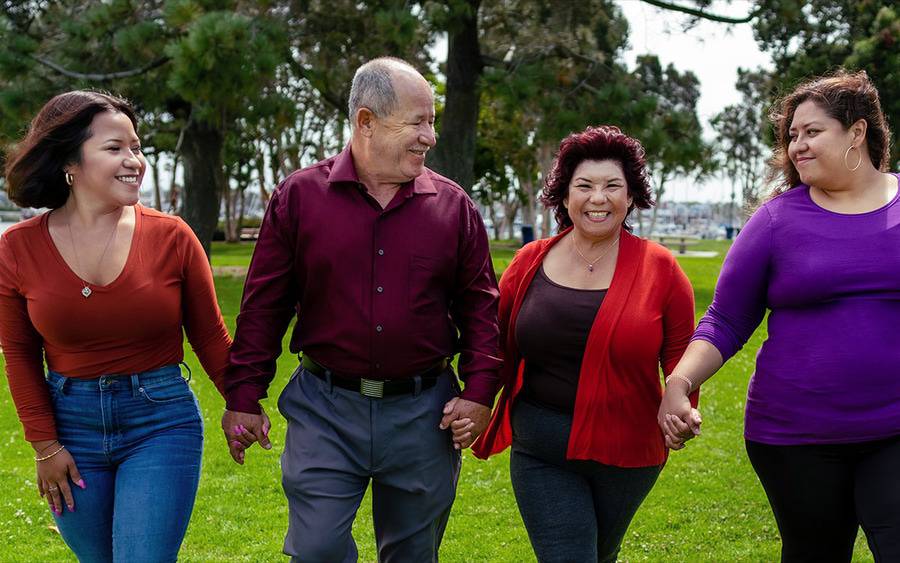 When gallbladder surgery revealed something more alarming, Edith Rodriguez turned to the experts for her care at Scripps MD Anderson Cancer Center
Edith Rodriguez had battled the intense abdominal pain associated with gallstones before. This time felt different. The profound pain was accompanied by waves of unrelenting nausea, like a severe bout of food poisoning. With a history of gallbladder issues, Edith's physician suggested a cholecystectomy — removal of the gallbladder — to quell her excruciating symptoms. 
During the laparoscopic surgery in August 2018, the small camera placed inside Edith's abdomen revealed much more than an inflamed gallbladder: small nodules of tumor and fluid filled her abdominal cavity. Edith's surgeon had discovered advanced-stage metastatic ovarian cancer. In its early stages, ovarian cancer is usually asymptomatic and generally pain-free; in this case, the pain associated with Edith's diagnosis meant the cancer had spread. 
Finding the expert care team
Edith, 54 at the time, was referred to the gynecologic oncology experts at Scripps MD Anderson Cancer Center. Gynecologic oncologist/surgeon Jo Marie Tran Janco, MD, and medical oncologist Marin Xavier, MD, worked in tandem to treat Edith surgically and medically. The first step in Edith's care plan was extensive debulking surgery, performed by Dr. Janco, to remove the majority of the cancerous tissue in her abdominal cavity. The remainder would be treated with chemotherapy. 
"I counsel my patients that once in surgery, I plan to remove what I see on their pre-surgical images, but that it's also possible that I discover tumors and cancerous tissue that are not picked up by the scans," Dr. Janco says. During Edith's debulking surgery, Dr. Janco encountered more cancer than the images revealed, including cancer that had spread to several organs. To give Edith the best chance, Dr. Janco performed a total abdominal hysterectomy and also removed Edith's appendix, spleen and omentum — the apron of fatty tissue that drapes over the stomach and intestine in the upper abdomen. She also removed as much cancer as possible by stripping away areas of the peritoneum — the lining of the abdominal cavity. 
"During debulking surgery, the goal is to remove as much of the visible cancerous tissue as possible, but one has to assume that when the cancer has already spread within the abdominal cavity, microscopic disease is still present, which is why chemotherapy is also needed." Dr. Janco explains. Edith's debulking surgery resulted in an optimal outcome. One month later, in October 2018, she began chemotherapy.
Part of Edith's treatment included screening for BRCA1 and BRCA2 — genes that produce proteins that aid in the repair of damaged DNA. Often described as tumor suppressor genes, when BRCA1 or BRCA2 have a harmful mutation, there is a much higher risk of developing cancer. 
"Roughly 20 percent of women with ovarian cancer carry inherited BRCA1 or BRCA2 genetic mutations, or other gene mutations, that increase cancer risk," Dr. Janco explains. "But the misunderstanding with BRCA1 or BRCA2 is that the mutations relate only to breast cancer and are found only in women." While the most common increased cancer risk is with breast cancer, there are increased risks of other cancers when a person inherits a BRCA gene mutation. Men can also inherit BRCA mutations. "If you carry a BRCA mutation, you have a 50-50 chance of passing the gene on to your kids, boys or girls," she says. Which is why genetic counseling for the whole family is often part of a patient's treatment plan.
Edith has a long family history of cancer, although the presence of a BRCA mutation is unknown for many family members. Her grandmother passed away after battling pancreatic cancer, an uncle from brain cancer and two nieces from breast cancer; her mother passed away because of ovarian cancer. Fortunately, Edith's sister and both daughters, ages 38 and 30, did not inherit a BRCA mutation. 
Because of the presence of the BRCA2 genetic mutation, Edith was a great candidate for a newer class of oral medications known as poly adenosine diphosphate-ribose polymerase, or PARP, inhibitors. The treatment prevents cancer cells from repairing themselves, giving patients a better chance at remaining in remission. 
"We are good at putting ovarian cancer into remission, but many will experience a recurrence," says Dr. Xavier. "So the question is, how do we retain remission? In some studies, a PARP inhibitor can extend remission in patients with ovarian cancer and a BRCA mutation by up to double the length of time it would have been without the pill. It's a huge game changer in the treatment of ovarian cancer."
Gynecologic oncology surgeons have surgical skills to treat gynecologic cancers that spread within the abdominal cavity and can perform a wide variety of procedures in addition to what one might think of as gynecologic surgery — including bowel surgery and urologic procedures. The field also encompasses minimally invasive, laparoscopic and robotic approaches to surgery.
"The field of gynecologic oncology is unique in that we are cancer surgeons who also provide oncology care," says Dr. Janco. "Rather than operate and then transfer management to a medical oncologist, we see the patient all the way through all phases of treatment, including chemotherapy administration, and continue to follow afterward." At Scripps MD Anderson, gynecologic oncologists collaborate with medical oncologists to form a multidisciplinary care team to manage patients' complex surgical and medical needs, and survivorship following cancer treatment. 
The specialized field of gynecologic oncology requires significant additional training. Gynecologic oncologists have completed a four-year obstetrics and gynecology residency and pursued further subspecialty training through a gynecologic oncology fellowship. This involves intensive training on surgical, chemotherapeutic and other medical treatments, radiation, and research techniques that are important to providing comprehensive care for patients. Physicians who complete this training are eligible to take both the obstetrics and gynecology board exam and the gynecologic oncology board exam. 
Thanks to the collaborative surgical and medical approach led by Dr. Janco and Dr. Xavier, Edith, now 57, remains in remission from ovarian cancer. She has returned to some of her normal activities, including working as a hair stylist, and even making tamales around the holidays. But because she carries the BRCA genetic mutation, she is at greater risk of other forms of cancer as well. She has plans to discuss the possibility of a prophylactic mastectomy with a breast surgeon at Scripps MD Anderson. According to the National Cancer Institute, the preventative removal of both breasts in women with a BRCA1 or BRCA2 genetic mutation can reduce the risk of breast cancer by at least 95 percent, but is an individualized decision that should be discussed with a patient's medical team. The lifetime risk for a woman with a BRCA2 mutation is about 60 percent compared with 12.5 percent for a woman of average risk.
Through her arduous fight against cancer, Edith remains resilient. "It's not my time, and my doctors have done everything they can to take care of me," she says. "I'm so grateful for everyone on my care team who takes so much time to focus on me and make sure I have everything I need. I trust them — and they are the reason I'm still here."