Cancer Diagnosis Was First Step in Journey to Health
Gloria Carrasco found comfort, support and guidance in her cancer care treatment at Scripps MD Anderson Cancer Center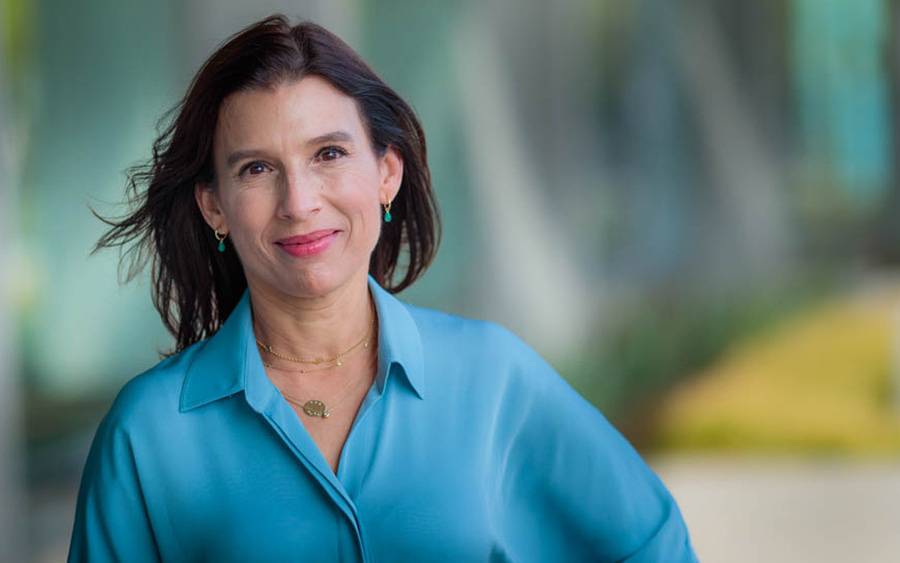 Gloria Carrasco found comfort, support and guidance in her cancer care treatment at Scripps MD Anderson Cancer Center
Spend a few minutes speaking with Gloria Carrasco and you'll understand she is a woman with boundless energy and infinite interests. Gloria's desire to expand her knowledge about the world around her and to become the best version of herself never slows — even during a nearly 15-year journey through breast cancer treatment. 
In October 2006, Gloria, just 43 at the time, received confirmation from her Scripps physician that the lump she had found in her breast was cancerous. 
"At the time, it seemed that everything in my life had been going perfectly," Gloria says. "But then I received news of this uninvited guest in my body and it really made me step back and think about how I wanted to live the rest of my life."
Gloria's daughter had just started law school in Los Angeles and her son had just taken off for Argentina to train before trying out for a Mexican soccer team. "I was alone when I received my diagnosis, but I am a woman of faith and I knew that I would be guided through the process," she says. "I was confident that whoever I needed to care for me during this journey would be put in front of me — and that's exactly what happened."
"Gloria was diagnosed with locally advanced breast cancer with multiple lymph nodes involved," says Ray Lin, MD, co-director of Scripps MD Anderson Cancer Center's breast cancer program and Scripps Clinic radiation oncologist. Locally advanced cancer means that it has spread from where the cancer originated to nearby tissue or lymph nodes. Because of the severity of her diagnosis, Gloria's treatment protocol included chemotherapy, surgery and radiation therapy. Leading up to the start of treatment, Gloria immediately began learning as much as possible about proper nutrition for optimal outcomes, including vitamins to support her immune system that wouldn't interact with her medications. She armed herself with knowledge and took a deep dive into wellness practices that helped her to relax and find peace in the moment. 
But Gloria wasn't ready to share her diagnosis with her children who had just left home to pursue their dreams. "I wanted to tell them in person," she says, and so she waited until Thanksgiving when they would all be together again. "I told them both at the same time, and because of my preparation and understating about my diagnosis, they saw me in a calm state and at peace," she says. "If they were shocked, they didn't show it." 
Dr. Lin led Gloria's treatment from the beginning. "He explained my treatment options in a way that was easy for me to understand," Gloria says. "He gave me a lot of assurance that I was in the right place with the right team — all of whom are connected and work together to give me all the information so that my decisions were easy to make." 
With no reservations, Gloria placed her trust in her Scripps care team for long-term follow-up care. She also prepared mentally for the journey ahead by creating space for healing. "I decided to place my life in their hands," she says. "I trust them. Whatever they wanted me to do I would do, but I knew that I needed to do my part, too."
Gloria is a two-time cancer survivor, having also battled endometrial cancer. Her locally advanced breast cancer diagnosis put into perspective just how fragile life can be. "For me, it turned out to be a blessing," she says. "I realized that my life is not entirely up to me, and I really began to appreciate everything because all of the sudden, life changed."
In addition to Dr. Lin, Gloria has been closely followed by Sonia Ali, MD, medical oncologist at Scripps MD Anderson and Scripps Clinic. "Gloria is a model patient," Dr. Ali says. "We know that there are certain things you can do to decrease recurrence of cancer, such as controlling weight, exercising and minimizing stress — all of which Gloria has done. She also takes vacations, enjoys traveling, and prioritizes her health and wellness. Optimism can go a long way in the treatment, and she is a shining example of that."
Gloria has been rigorous about follow up care, seeing Dr. Lin and Dr. Ali once a year, alternating between each physician every six months. The Scripps MD Anderson model provides ongoing monitoring with the added oversight of a survivorship program for patients like Gloria. 
"A patient's cancer journey extends beyond medical treatment," Dr. Ali says. "At Scripps MD Anderson, we ensure that our patients receive long-term care that is consistent; we all work together as a team to exchange information and ideas and respond to patient needs in real time. Our survivorship program adds a layer of additional care for each patient and provides answers to the complex challenges that often arise following cancer treatment."
Today, 15 years after her original breast cancer diagnosis, Gloria, now 58, is off her final medication and finds comfort in knowing her Scripps MD Anderson team continues to have her back. "When I arrive for a follow up appointment I can relax — I feel like I'm home. They know how to care for me in a complete and thorough way."
Gloria continues to learn and explore and enjoy precious time with family. She recently returned from Madrid where she completed a course on the business of Spanish wine. "Part of my healing is finding ways to avoid stressing too much or worrying about the future," she says. "I used to feel that I needed to put everyone else's needs above my own. This journey through cancer with Scripps MD Anderson by my side has taught me that I can't carry others' burdens. Healing means putting myself first because I want to see my grandchildren grow and be around for the big things. And there are a lot of big things to come."