Jesse's Journey from Fighter to Father
Ultramarathoner and IT recruiter with a baby on the way hopeful after quick response and surgery for melanoma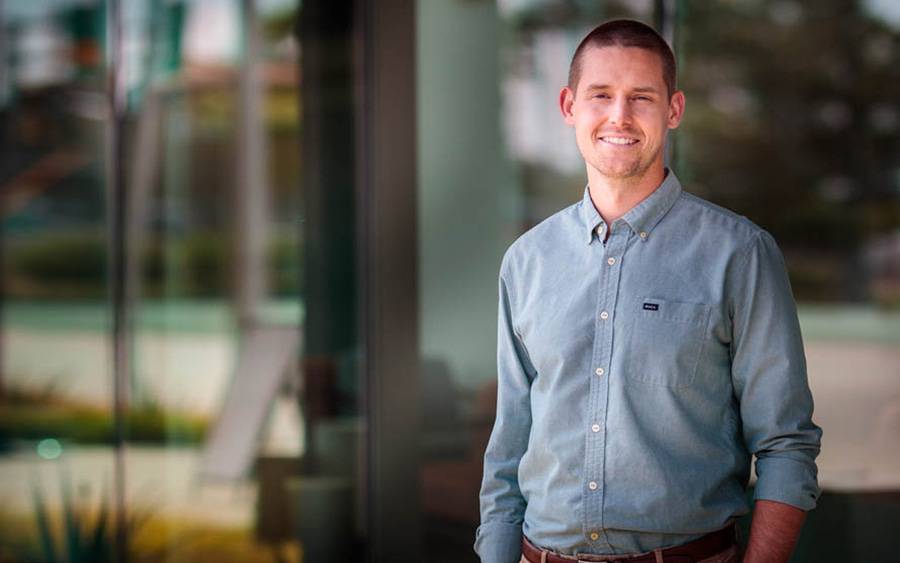 Ultramarathoner and IT recruiter with a baby on the way hopeful after quick response and surgery for melanoma
The first week of March 2021 was an emotional roller coaster for 26-year-old Jesse Oleson. Just four days after receiving a surprising cancer diagnosis, Jesse and his wife, Dottie, were elated to discover that she was pregnant with the couple's fist child.
"You can't prepare yourself to process something like that over the course of just four days," Jesse says. "But we were so thankful for a glimmer of hope in the midst of a really scary diagnosis."
In December of 2020, Jesse and Dottie returned home to San Diego after living on the east coast for two and a half years. Jesse, an IT recruiter who was still working early morning east coast hours, grew weary of his morning routine that included styling his hair for virtual meetings. He enlisted his mother-in-law to shave his head. His closely shaved head revealed two peculiar looking spots on his scalp, one the size of a quarter and the other nearly the size of dime. His mother-in-law and wife encouraged him to have the spots examined immediately. Jesse pushed their concerns aside. 
"I was running 26 miles at a time preparing for an ultramarathon," Jesse says. "I was in the best shape of my life; I would know if something was wrong."
After a month, Jesse's family threatened to hide his running shoes if he refused to have the spots checked out. He finally relented and sought the expertise of Scripps Clinic dermatologist Reza Jacob, MD. 
"One spot on Jesse's scalp concerned me," Dr. Jacob says. "I had a suspicion that it could be melanoma and wanted to remove it as soon as possible." Jesse was scheduled for in-office surgery just an hour later. 
Dr. Jacob numbed Jesse's scalp with local anesthesia and performed an excision to remove the entire visible growth as well as a small margin of normal skin. The lesion was sent to pathology where it was confirmed that Jesse had melanoma measuring 0.8mm thick. 
At 0.8mm thickness or higher, it is recommended that patients undergo a sentinel lymph node biopsy to determine if cancer has metastasized to the lymph nodes. Jesse was referred to medical oncologist Kathryn Bollin, MD, and Brendan Gaylis, MD, director of the Division of Head and Neck Oncology at Scripps MD Anderson Cancer Center and Scripps Clinic. 
Nearly a month after his initial surgery, Jesse met with Dr. Gaylis for an additional surgery consult. Dr. Gaylis would operate again to ensure optimal margins were removed from his lesions, as well as perform a sentinel node biopsy. The sentinel lymph node is the first node to which cancer cells are most likely to spread from the primary tumor. 
During surgery, Dr. Gaylis used a gamma probe to detect radiation from radioactive technetium that was injected around the tumor and absorbed into the lymph nodes. Once the node is removed, ideally there is little to no radioactivity remaining. In Jesse's case, Dr. Gaylis removed two additional lymph nodes that were slightly reactive to the gamma probe.
"We made incisions in two different areas of Jesse's neck to remove the sentinel node and two other suspicious nodes," Dr. Gaylis explains. "The removal of the additional nodes was a precaution because, in rare instances, cancer can bypass the sentinel node and spread elsewhere."
Fortunately, Jesse's cancer was found early and excision surgery was successful. His lymph nodes also were free from cancer, making further treatment such as lymph node dissection or medications unnecessary. 
Jesse was fortunate that his melanoma was discovered early, as stage 1; surgery offers a cure rate of greater than 90 percent. Since there is a small chance it could recur, Dr. Jacob will provide ongoing surveillance with an examination of his skin and regional lymph nodes every three months. He also receives regular blood tests and scans, and remains vigilant about any physical changes on his skin. He is grateful for his team of experts who guided him through treatment and kept him informed. 
"Dr. Gaylis seemed like a concerned dad — but in such a great way," Jesse says. "He was always asking how it was going for my wife and me. He was warm and welcoming and would tell me, 'Hey, this is a lot for you to process right now, but I'm here for you.'"
Jesse looks forward to the day his hair will regrow in the place the melanoma was removed. The incision on his scalp required 44 stitches. "There was a good amount of skin removed," he says. "For now, I'm keeping my head shaved to keep an eye on things."
Jesse recently returned to training for an ultramarathon and is looking forward to November 5, 2021 — the day his son is due. "Throughout everything, knowing that my son is on the way reminded me how important it is to care for my health. Having this incredible team behind me helped me stay focused. I couldn't be happier about that."