At Scripps, they help patients manage chronic conditions, prevent disease and more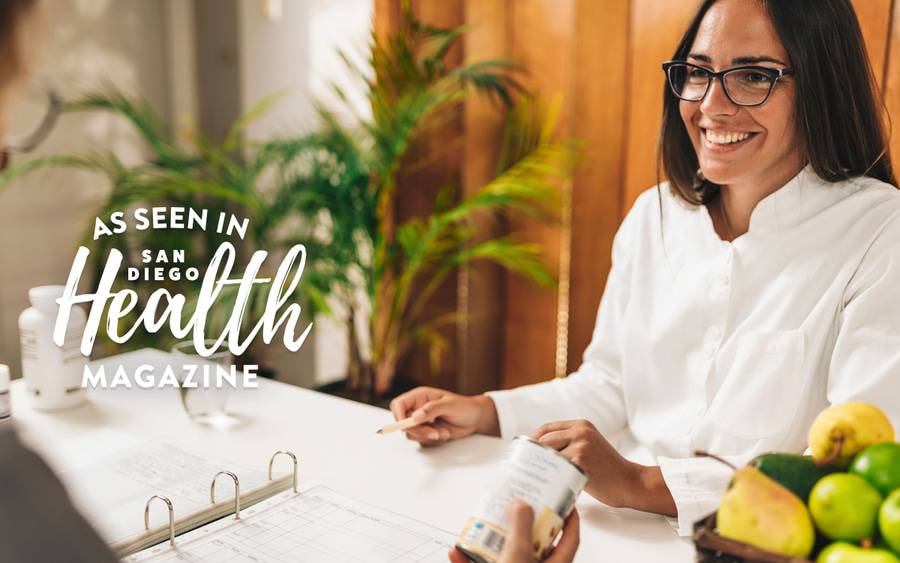 At Scripps, they help patients manage chronic conditions, prevent disease and more
Food is medicine, and what and how you eat can greatly influence your overall health. Registered dietitians (RD) and registered dietitian nutritionists (RDN) have extensive training and are recognized by the National Academy of Medicine as the most qualified food and nutrition experts.
RDs and RDNs help people manage chronic conditions, lose weight safely, control allergies, recover from eating disorders, pinpoint deficiencies, prevent disease and more. Their approach may cover diet, exercise, lifestyle and medical treatments. RDNs also counsel transplant and gastroenterology patients.
Dietitians and cancer care
Alison Meagher, RD, senior registered dietitian, Scripps MD Anderson Cancer Center, guides cancer patients though their journey, making sure they have the nutrients needed to fuel the fight at every step. She says it's all about giving patients the tools they need to adapt to changing situations, weeding out false information and finding ways patients can still enjoy the foods they love.
"One of my biggest goals is to empower and educate my patients on how to eat so they can maintain their strength during cancer treatment and tolerate it more effectively," Meagher says.
Dietitians and diabetes care
Patients with diabetes can especially benefit from working with an RDN. According to Kathryn Rosenquist, RDN and certified diabetes care and education specialist, Scripps Whittier Diabetes Institute. 
RDNs give people the knowledge and motivation they need to make a lifestyle change involving nutrition, exercise and hydration, which can help control their diabetes and, in some cases, even reverse course and send their diabetes into "remission."
"When you make a connection with somebody, they see you as more than a health care provider – they see you as a coach, a cheerleader. Then they get fired up and want to better themselves," Rosenquist says.
Dietitians and integrative medicine
Primary care physicians can also refer patients to integrative medicine dietitians, who are available for those seeking nutritional counseling for help with issues, such as heart disease, chronic headaches, weight loss and pain management.
Dietitians in weight management
RDNs at the Scripps Clinic Center for Weight Management and Bariatric Surgery are available to help patients with any weight-related issue, by rooting out its underlying factors and providing individualized recommendations that take into consideration their likes and dislikes, medical conditions and weight-loss goals. 
Rosenquist stresses that diets are not necessarily synonymous with restriction: "Healthy eating is more about what you can eat rather than what you can't. It's about seeing the food we eat as the fuel we need to nourish our bodies."
This content appeared in San Diego Health, a publication in partnership between Scripps and San Diego Magazine that celebrates the healthy spirit of San Diego.