Bariatric Surgery Success Story: Elizabeth Mireles Riggs
Gastric bypass, weight-loss surgery makes dramatic difference
At 56 years old, Elizabeth Mireles Riggs is the picture of health. The petite brunette with a bubbly personality does Pilates, bicycles, walks and weight trains regularly. 
When she prepares meals, lean proteins and colorful vegetables take center stage. It's tough to believe that just two years ago, Riggs was 115 pounds heavier, walked with a cane and took multiple medications daily. But that was before she found Scripps. 
Like many people who are overweight or obese, Riggs had struggled with her weight for decades, testing out various diets with little to no success. She had joined commercial weight loss programs, cut carbs and gluten, and even went vegetarian for many years, and then vegan for a time, but nothing worked. 
"I tried everything," she says. 
When bariatric surgery became an option
When bariatric surgery became an option
The food she was subsisting on lacked nutrients, so she was routinely too tired to exercise or take the time to prepare healthy food. The cycle perpetuated until she reached 245 pounds. Riggs was unhappy and unhealthy, and she knew something had to change soon.
As her weight continued to climb, Riggs' self-esteem plummeted. She dreaded social situations and felt ashamed and undeserving. Her health declined, too. She had numerous health issues, including a heart condition, hormone imbalance and painful arthritis in her knee that needed surgery. 
The food she was subsisting on lacked nutrients, so she was routinely too tired to exercise or take the time to prepare healthy food. The cycle perpetuated until she reached 245 pounds. Riggs was unhappy and unhealthy, and she knew something had to change soon. 
After a stint in the emergency room, she began to seriously consider surgical options with full support from her husband Michael and daughter Brianna. 
"If you saw me two years ago, it's not the woman that's in front of you right now — she was like 30 years older than I am," Riggs says. "That is when I said I need to do something about my weight and health, because it's not only my arthritis, it's not only my swelling, it's something deeper." 
"That moment was when I said enough is enough. I need to be proactive because it's my health," Riggs says. 
Riggs switched her health care to Scripps. It was a decision that likely prolonged her life. Scripps' bariatric surgery program combines outstanding clinical care and experience. Scripps surgeons have performed more than 20,000 bariatric surgeries — with support services that help patients with each step of their weight loss journey. 
Following a bariatric pre-surgery diet
Riggs had to wrap her head around a completely new way of eating following surgery. For the first five to seven days, she was allowed only clear liquids and protein drinks so her stomach could heal. 
She progressed to small portions of puréed foods three to six times a day. Then with her doctor's OK, she was able to start adding soft foods and eventually solid foods, focusing on high-protein and low sugar and fat. Portions were limited to about a quarter to half a cup at first and eventually average one to two cups — or about the same size you would serve a toddler. 
"It's her working on it before the surgery, which made her so successful," says Nash. "She started on this new life before the surgery." 
Understanding bariatric surgery options
Riggs demonstrated her dedication to changing her life for the healthier, and her surgery was scheduled for October 6, 2020. 
She was in good hands with William Fuller, MD, a bariatric surgeon at Scripps Clinic. Dr. Fuller and his fellow Scripps surgeons are among the most experienced in Southern California and have lengthy track records of high success rates. They consistently meet or exceed strict safety standards. 
The two most common bariatric procedures are vertical sleeve gastrectomy and Roux-en-Y gastric bypass surgery. 
In a vertical sleeve gastrectomy, also known as gastric sleeve, the surgeon removes 80 percent of the stomach, leaving only a tube-shaped pouch that can hold around two ounces of food.
In gastric bypass surgery, the surgeon creates a small pouch at the top of the stomach and then attaches it to the middle portion of the small intestine, "bypassing" the top part of the small intestine, which reduces the amount of calories and nutrients that are absorbed. 
Gastric bypass was recommended for Riggs as the most effective weight loss surgery for her. 
"Many people who are overweight or obese spend years trying to take off the weight through diet and exercise but have no success. In those cases, weight-loss surgery can be life-extending," says Dr. Fuller. 
Life after bariatric surgery
Patients typically begin losing weight immediately after bariatric surgery and continue to do so because the procedure works in two ways: it physically restricts how much a patient's stomach can hold and it also recalibrates intestinal hormones that trigger appetite. 
Riggs had to put her newfound nutrition know-how and lifestyle habits to the test. She focused on foods that are high in fiber and protein and low in sugar and carbohydrates, avoided processed foods and stuck with her gluten-free preferences. 
She cooks most everything from scratch, switches up her cooking styles so she doesn't get bored, and meal preps a week at a time, so she has more time to spend with family and doing things she enjoys. 
"It's incredible how the kind of food that you eat impacts your energy. Now I know, now I'm understanding and I'm learning every single day that discipline and perseverance are key to my success," she says. 
Bariatric surgery support groups
Riggs hasn't had to face her new challenges alone. Scripps offers ongoing support for its bariatric surgery patients, such as support groups and classes, and she continues to work with Nash and see Dr. Fuller. 
"Surgery isn't an ending because weight loss for many of our patients will be an ongoing process that they have to continually be mindful about after surgery and monitor very carefully," says Dr. Fuller. 
"One aspect of our program that distinguishes us from other programs is that we have more of an infrastructure that allows us to maintain long-term relationships with our patients. 
"Though many of those patients will have achieved their weight loss goals, we keep seeing our patients and keep treating them so that we can have better outcomes for our patients." 
Nash agrees and meets with Riggs regularly to help keep her on track.
"She knows that the default is weight regain and that's why it's so hard. She knows that unless you're doing something every day for the rest of your life, you can't have that continued success. You have to be on your A-game every day," Nash says. 
Exercise after bariatric surgery
Regular exercise is also an important component of long-term weight-loss success. Riggs regularly walks, rides a bicycle, weight trains and does Pilates. Over time, her weight dropped from 245 to 129, her BMI fell to a healthy 24 and she went from wearing a size 18 to a size 2. She has also been able to stop all but one medication and no longer needs knee surgery. 
Her health has done a complete 180, which, for many patients, is not unusual. Dr. Fuller has seen patients' musculoskeletal problems improve after bariatric surgery. People who needed assistance with walking no longer need their canes, walkers or scooters, and certain patients with diabetes, hypertension and obstructive sleep apnea make dramatic improvements or their issues resolve entirely. 
"We see this routinely as bariatric surgeons, the kind of success that Elizabeth had," he says. "It's been widely promulgated now about the successes of these surgeries as a treatment for individuals with that level of obesity as a disease. This is not unusual. This is what we expect for our patients."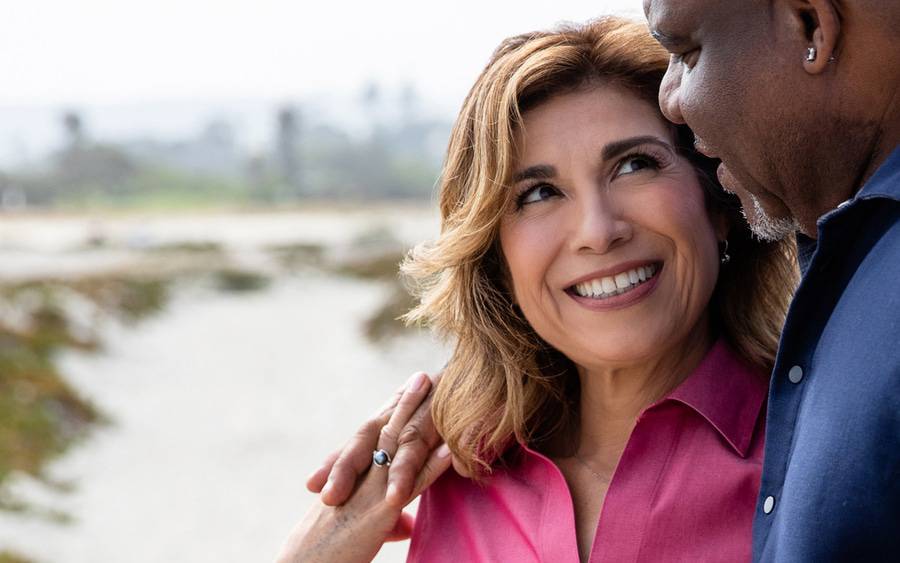 Riggs' self-confidence has improved. Her smile is bigger, her eyes are brighter and she's finally able to enjoy shopping for clothing that makes her feel happy and flatters her newly slim figure. 
"I've been dealing with my weight for so many years. I realized I've been buying clothes for almost 26 years, just buying for the moment. Half of my life, I've been dealing with that, but I did not understand," she says. "If you asked me two and a half years ago, 'Are you thinking about bariatric surgery?' I would say no because it's something very drastic. I feel very grateful and blessed that I had this change in my life." 
Like other bariatric surgery patients with success stories, Riggs feels it's her duty to share her experience in hopes of inspiring others. 
She says when she discovered there was a lack of information and first-person accounts directed toward the Spanish-speaking community, she made it her mission to contribute her own and write a Spanish-language book that details her journey through childhood, marriage, starting a family, divorce, finding love again, and all the feelings that came with it — good and bad. 
"It's a lot of good memories, other ones, not too good," she says. "But they are all part of one life that goes through so many things that at the end was what took me to health." 
Caring team at home and at Scripps
She also gives special thanks to her "amazing" Scripps care team that includes Dr. Fuller and Janet Nash; as well as others including her internal medicine physician, cardiologist, orthopedic surgeon, endocrinologist, pulmonologist and weight management and nutrition specialist. 
It has also been important for her to have a strong support system at home — her husband, Michael, daughter, Brianna, and grandson, Diego, have been cheering her on and supporting her new way of life. 
Fuller says he hopes Riggs' transformation can show others that health is possible. 
"Seeing the progress from a patient like Elizabeth and seeing the joy and hearing about all of the things that she's doing now that she wasn't doing prior to surgery and how it has altered her life in an extraordinarily positive way, I hope is a motivating factor for the patients out there who are struggling," says Dr. Fuller.
"Elizabeth is an inspiration. You can tell from the moment you meet her that there is a spark to her." 
Scripps is a recognized leader in the field and prides itself on providing care that's safe and effective. People throughout the San Diego region turn to Scripps for help transforming their lives and regaining their health.  

This content appeared in San Diego Health, a publication in partnership between Scripps and San Diego Magazine that celebrates the healthy spirit of San Diego.