Artificial Intelligence Used to Improve Patient Care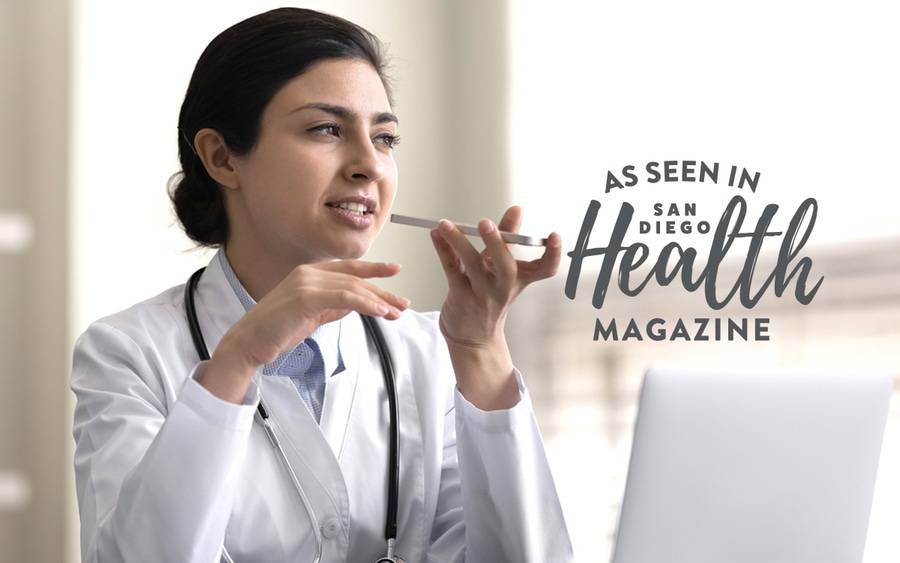 An intelligent recording device is one of the latest tools Scripps providers are using to improve the patient experience. Dragon Ambient eXperience (DAX) allows caregivers to seamlessly record and document a visit while focusing on the patient. 
Once the patient provides consent, the program securely records speech during visits, processes it, then uses artificial intelligence (AI) to transcribe the notes into the patient's MyScripps electronic health record, thus saving precious moments that can be better used for patient care. 
"When I go back and see how well the note is populated and how accurate it is and how much it mirrors my own notes without adding time to my day and actually giving me time back — it's been a game changer," says Saima Lodhi, MD, an internal medicine physician at Scripps Coastal Medical Center Hillcrest. 
Dr. Lodhi says she is often able to add additional patient visits during the day due to the time savings. 
The average Scripps physician spends 52 minutes each day typing notes in electronic medical records, according to David Wetherhold, MD, chief medical information officer for ambulatory systems at Scripps Health, and an internal medicine physician at Scripps Clinic Anderson Medical Pavilion in La Jolla. Now a group of 50 doctors in a variety of specialties are the first to test the app, with the goal to expand its use to physicians across the Scripps system. 
Scripps is the first health care system in San Diego County to use DAX, says Kalpit Shah, MD, an orthopedic surgeon at Scripps Clinic Torrey Pines, Scripps Clinic Encinitas and Scripps Clinic Jefferson in Oceanside. 
"Our patients are excited to see this is another way Scripps is at the leading-edge of technology and innovation," Dr. Shah says. 

This content appeared in San Diego Health, a publication in partnership between Scripps and San Diego Magazine that celebrates the healthy spirit of San Diego.