How Does Diabetes Affect Your Mental Health?
Behavior health therapists can help with depression and anxiety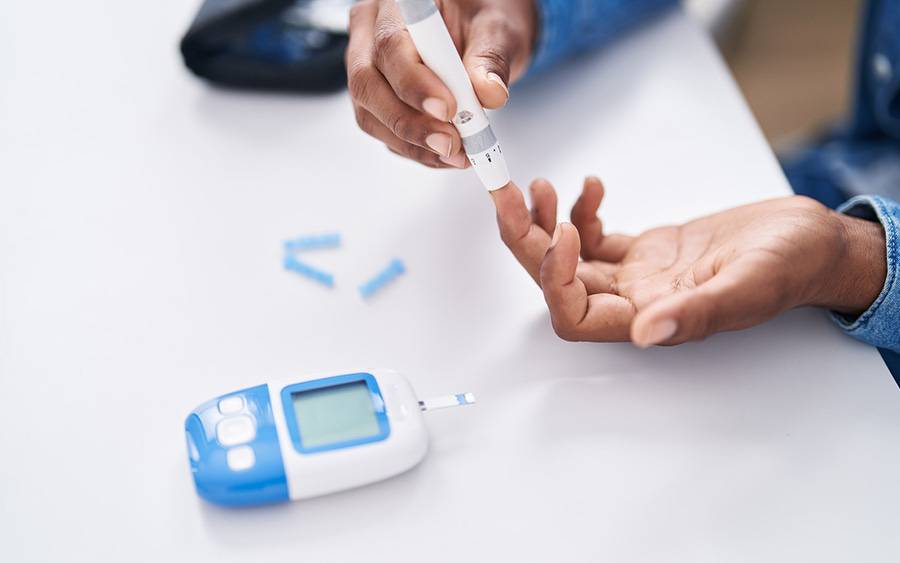 Behavior health therapists can help with depression and anxiety
Anyone living with diabetes knows that successfully managing the condition isn't easy.
Diabetes self-care can involve eating a diabetes-friendly diet, getting enough exercise, measuring your blood sugar levels, taking medication or insulin and more.
Moreover, diabetes doesn't just impact your physical health. It can be challenging for your mental health, too. This includes your thoughts, emotions, beliefs about your life and how you perceive the world around you. Even the way you "talk to yourself" — whether you do so with kindness or criticism — is part of your mental health. 
"If you have difficulty keeping your diabetes safe, it can negatively affect how you think and feel about yourself," says Karla Espinosa De Los Monteros, PhD, a clinical health psychologist who specializes in diabetes behavioral health at the Scripps Whittier Diabetes Institute.
"The opposite is also true: If you are experiencing mental health challenges, you may find it more difficult to manage your diabetes. This can raise your risk for diabetes complications like heart disease and nerve damage," Dr. Espinosa De Los Monteros says.
Let's look at a few of the most common mental health challenges faced by people living with diabetes.
Symptoms of depression often include feeling sad or hopeless, a loss of interest in activities you normally enjoy, fatigue or lack of energy, and trouble concentrating or making decisions. Any of these can make life feel more difficult, including managing your diabetes.
Chronic stress can also take a toll on your mental health. Some stress is a normal part of life, but when it starts to feel like more than you can handle or becomes a chronic state, you may find it harder to care for yourself.
Stress also can affect your blood sugar levels. Stress hormones can cause unpredictable blood sugar spikes, and when stress becomes chronic this unpredictability can make blood sugar management more challenging and frustrating.
For some, the stress of managing a chronic illness like diabetes leads to increased fear and worry also referred to as anxiety. In fact, people with diabetes are 20 percent more likely to feel anxiety.
Fortunately, with treatment, you may feel better as well as find it easier to manage your diabetes. Behavioral health therapists, including psychologists and psychiatrists, can help people with depression or anxiety through counseling and, in some cases, medication.
What is diabetes distress?
While depression and anxiety can affect anyone, a condition known as "diabetes distress" may specifically affect people living with diabetes.
People experiencing diabetes distress sometimes feel discouraged, worried, or simply tired of managing their diabetes care. This is especially common if you are not making progress in your diabetes care, or you develop complications despite taking good care of yourself.
You may be less committed to your diabetes care if you're feeling discouraged. For example, you may not measure your blood sugar regularly, skip doctor's appointments or make diet choices that you know are not healthy for you.
Up to half of people with diabetes may experience diabetes distress. Though the symptoms may feel like depression or anxiety, diabetes distress doesn't respond to medications. However, these four steps have been shown to help:
If you are not already seeing an endocrinologist for your diabetes care, make an appointment. Endocrinologists specialize in diabetes care and may have more tools to help you than your primary care physician.
Instead of trying to tackle everything yourself, prioritize your concerns and address them one at a time.
Work with a diabetes educator to find ways to make your diabetes care more manageable.
Join a diabetes support group where you can share your issues with others and find answers together.
"Often people find relief in simply knowing that they are not alone in struggling with diabetes and this can be the first step in their journey towards healing says Dr. Espinosa De Los Monteros. "Along the way they may also learn helpful tips and strategies that will make their life with diabetes less difficult."
Behavioral health support for diabetes patients
Dr. Espinosa De Los Monteros also recommends finding programs that offer behavioral and emotional support targeted to the needs of people living with diabetes.
Through the Behavioral Health Integration (BeHIP) Program, offered through the Scripps Whittier Diabetes Program, clinical psychologists are available to help support you as you work on making important health behavior changes to improve your diabetes management. The program offers both individual and group-based therapy options.
If you have diabetes and are interested in behavioral health support, talk with your physician or diabetes educator.