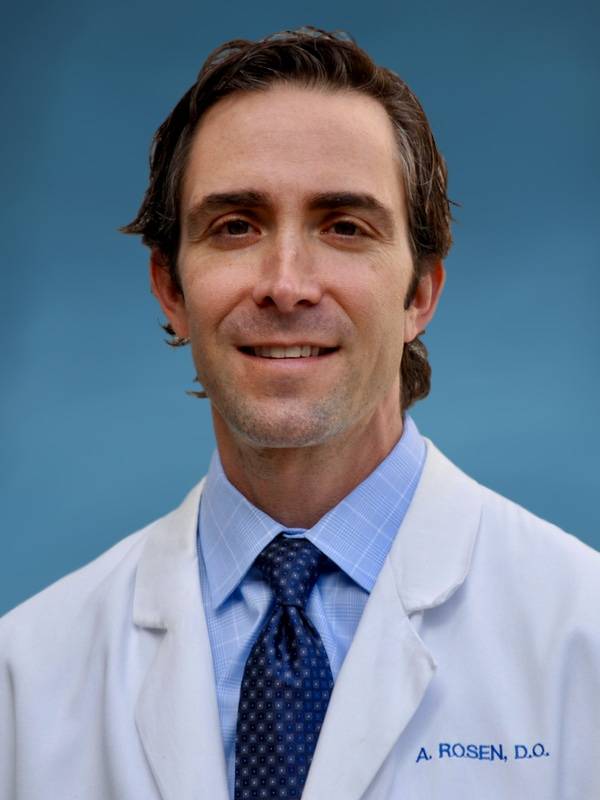 Specialties
Orthopaedic Surgery
Adult Reconstructive Orthopaedic Surgery
Expertise
Joint Reconstructive Surgery
Orthopaedic Surgery
Specialties
Orthopaedic Surgery
Adult Reconstructive Orthopaedic Surgery
Adam Rosen, DO, is an orthopedic surgeon with expertise in total knee replacement, total hip replacement, complex revisions of total hip and knee replacements and lower extremity trauma, including fractures and tendon ruptures. He is also interested in treatment for arthritis of the knee and hip.
Board Certifications
American Osteopathic Board of Orthopedic Surgery, Orthopaedic Surgery, 2008
Medical Education
Philadelphia College of Osteopathic Medicine, DO, 2000
Residencies
Philadelphia College of Osteopathic Medicine, Orthopaedic Surgery, 2005
Fellowships
Scripps Clinic, Joint Reconstructive Surgery, 2006
Publications
See a listing of Adam Rosen's publications on PubMed, a service of the National Library of Medicine.
PubMed is a third-party website with no affiliation with Scripps Health.